Auburn coaching staff... Calipari made you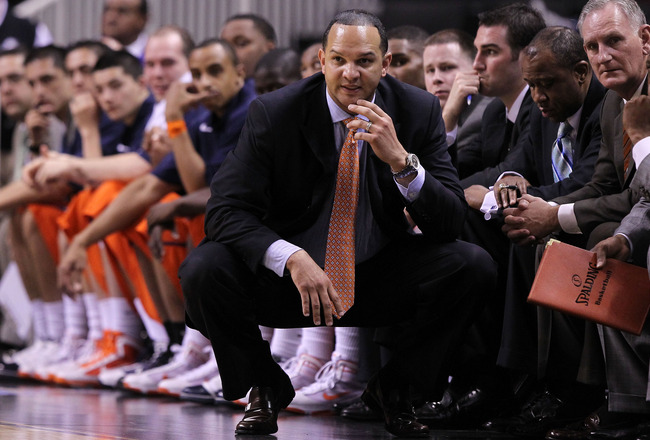 Coach Cal will see a lot of familiar faces on the Auburn bench tonight when the Tigers come into Rupp Arena to try to score more than six points in the first half.  
Five members of the Auburn coaching staff have Calipari ties
, including head coach Tony Barbee who says he still talks to Calipari at least three times a week.  And I think he means they actually have conversations, not just that he listens to Coach Cal's Lexicast. If by some Auburn miracle this game is close, expect to here Coach Cal shouting, "I brought you into this game and I can you take you out!" towards the Auburn bench. -------------------------------------------------
Tony Barbee, Head Coach
Auburn head coach Tony Barbee played four seasons at UMass for Calipari from 89-93 where he was a two-time Atlantic-10 second team selection and helped lead UMass to the A-10 Tournament Championships in 1992 and 1993.  Barbee rejoined the Minutemen in 1996 as a graduate assistant on the Final Four team with Marcus Camby that posted a 35-2 record.  When Coach Cal took the Memphis job, he brought Barbee along with him as an assistant where Barbee coached for six years before taking the head coaching job at UTEP in 2006. The two opposing coaches are so close that Calipari let Barbee sit in on Kentucky's practice yesterday.  Surely that's not a common practice in conference games.
Milt Wagner, Assistant Coach
Auburn assistant Milt Wagner was the coordinator of basketball operations at Memphis for six years with Calipari and Barbee from 2000-06.  He's also the father of DaJuan Wagner, one of Coach Cal's first big time NBA prospects.  On a non-Calipari note, Milt Wagner played guard for Louisville and averaged 15.7 points per game against Kentucky from 1983-1986.  Small world, huh?
Steve Smith, Executive Director of Basketball
Calipari was the best man at Smith's wedding.  Their relationship goes back to the UMass days when Smith was Cal's personal assistant.
Mike Babul, Director of Basketball Operations
Babul signed to play for Coach Cal at UMass in the fall of 1995 but missed out on Calipari when he jumped to the NBA to coach the Nets.  The two were reunited in Memphis when Babul was hired as an administrative assistant for the 2003-2004 season.  The following year, Babul was a full-time assistant for John Robic (current UK assistant) at Youngstown State.
Nathaniel Root, Video Coordinator
It's not all NBA preparation and head coach mentoring, Coach Cal molds young video coordinating minds too.  Auburn's video coordinator played at Memphis during Coach Cal's first four seasons on the job from 2000 to 2004.