Ball movement, spacing must improve for Kentucky: "Run something"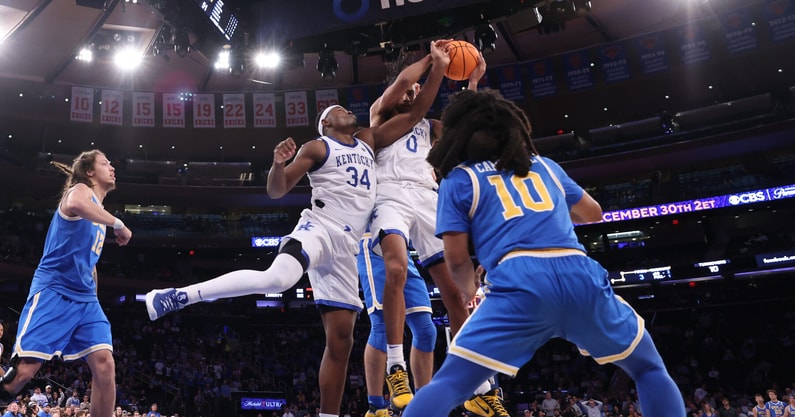 Kentucky's offense is a disaster, now ranked No. 187 overall in terms of efficiency vs. quality competition. It could only muster up 77 points in a double-overtime loss to Michigan State in the Champions Classic, 72 in a 16-point blowout loss at Gonzaga, 73 in a gutsy win vs. Michigan in London and 63 in the loss to UCLA in the CBS Sports Classic. The Wildcats haven't eclipsed the 74-point mark in a month, a stretch of four games that also included 60- and 69-point slogs vs. Bellarmine and Yale, respectively.
UK continues to regress as an offense, the latest outing being the clearest example. Zero points in the last 4:31 of the 63-53 loss inside Madison Square Garden, missing all 11 field-goal attempts — nine being jumpers.
The Wildcats continued to launch difficult shots with no clear plan, resembling a group of random strangers playing pick-up trying to score on game point. Certainly not a team of five-stars and high-profile transfers.
"We've got a good team, we just have to know and figure out how to play together," star center Oscar Tshiebwe told KSR on Tuesday. "In the last couple of minutes, it can't just be about taking crazy shots. We didn't score in the last four, five minutes. You just can't end a game like that."
It's about putting the ball in the basket through the "rough and tough," Kentucky's frontcourt star made clear. "We have to slow down and run something. We have to get a good basket, get points."
Slow down. Run something.
That's the thing. Kentucky didn't run much of anything, specifically in the second half. It was a gameplan the Bruins were baffled by overall, sources close to the UCLA program tell KSR. They couldn't believe how little the ball moved and how much standing around there is on the perimeter with this group.
No screens away from the ball, no cuts to the basket for weakside dump-downs, no movement. Rather, it's four players standing around while one dribbles the air out of the basketball before driving inside for a layup or floater. If that's not there, a reverse pivot in the paint for a loft back out to the perimeter where defenders are face-guarding the Wildcats — an easy task considering off-ball movement is minimal, at best — at the end of the shot clock, setting up a desperation heave.
With surefire pros, it's easy. They can create for themselves, and the dribble drive is perfect for setting up those opportunities. That's not what this team is — and that's not necessarily a bad thing. Limited NBA upside, sure, but oozing with very good college talent capable of winning games and making a run. Behind the scenes, UCLA sees it as a clear top-five roster in the nation, one that simply shouldn't be struggling the way it is.
More specifically, those inside the program couldn't believe the Bruins shot that poorly — 45.8% overall (27-59), 25.0% from three (2-8) and 46.7% at the line (7-15) — and still won that game against that level of talent. Hell, UCLA didn't make a basket between the 4:11 and :42 marks and missed five of eight attempts at the free-throw line in the final 5:37. Still won by double-digits.
Ball movement is poor and creativity is lacking. Then when open shot opportunities do present themselves, they're not falling. Everything is difficult right now for the Wildcats at all three levels, no easy buckets to build momentum and confidence. What about lobs? Where are the above-rim looks for Kentucky's best athletes? Spacing is limiting that, as well.
Tshiebwe noticed just how congested things are for him in particular, swarmed on every touch. It was a key part of UCLA's gameplan going into the matchup, knowing off-ball movement wouldn't burn the Bruins when they took risks defensively. If Kentucky adjusted, they would too. But that adjustment never came.
"The UCLA coaches said, 'If we can stop Oscar from scoring, it's going to be tough for them to win,'" Tshiebwe said. "So I said, 'Coach (Calipari), it's too crowded.' If we can space it out and they triple- and double-team me, I can kick it out. I want them to be ready to shoot the ball with confidence, but it was too late for that. We'll get it figured out."
Another noticeable issue with the Wildcats? Body language. There's simply not the typical joy or swagger you see from Kentucky teams, the things that separate this program from others. Energy on the bench is low, no high-fives and chest bumps after made shots or big defensive stops, no celebrating teammate success and uplifting one another. Teams are capitalizing on that lack of energy, UCLA being the latest example.
The Bruins saw it as blood in the water. Standout forward Jaime Jaquez Jr. presented a clear early mismatch, going right at Jacob Toppin and cooking in iso situations. It forced the Kentucky senior off the floor, presenting opportunities for both Chris Livingston and Lance Ware, both stepping up and giving the Wildcats a shot in the second half.
Then down the stretch, the offensive slog returned and stayed through the final buzzer.
"We watched film and everything is good. We'll keep playing," Tshiebwe said. "I'm really enjoying this time. There was a team last year that would lose, lose, lose and then in the end, they went to the title. We beat North Carolina by 40, Kansas by 30-something, and they were in the final (game). For us, this was just a tough game, we struggled in the last four minutes. If we can slow down and do something great, we win that game.
"We shot bad, really bad. Everyone was shooting so horribly. We'll be good. I believe in my coaches and I believe in myself, we're going to do great things."
How does that change happen? John Calipari says he's shaking up the starting lineup and minutes overall. He's defining roles, hoping it creates a "smoothness" to Kentucky's offense that simply hasn't been there against real competition this season.
"The bench is the best teacher there really is," he said during his call-in radio show Monday.
As out-of-reach 80 points per game feels right now, that's Calipari's goal, just as it was to open the season. It starts by playing "the tough guys," he says. "We're not going to get bullied by teams. If you're getting bullied, I'm not playing you."
Calipari singled out Chris Livingston as a guy who needs to play more while also praising Lance Ware's efforts. He added that Adou Thiero deserves a shot and will get one soon. At the very least, Kentucky's head coach is acknowledging change is necessary. Numbers don't lie — and neither does the eye test.
"I know we're not OK offensively right now and I know we've got to tweak some things," he said. "We've got to play a little differently."
It starts with finding an identity. What are the team's offensive principles right now? What are the goals? Can you with confidence explain what the Wildcats are doing in the half-court? Why are they not scoring in transition (zero points in that area vs. UCLA)? The questions are coming easier than the answers right now.
"The key is to slow down and run something instead of rushing," Tshiebwe said.
That's certainly a start.