Bat 'Cats blow out No. 14 Georgia; win first SEC series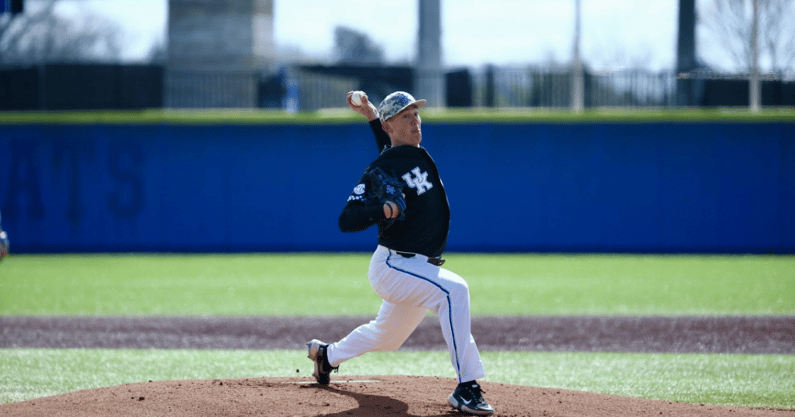 Led by Tyler Bosma and a season-high 18-run, 20-hit performance from the lineup, Kentucky Baseball blew out No. 14 Georgia 18-5 en route to a series victory on Sunday afternoon. The win marked their fourth over a top-15 ranked team already this season, breeding a sense of optimism at Kentucky Proud Park that was desperately missing a few days ago.
Bats take advantage of bullpen day for Bulldogs
Rather than the dramatics and theatrics of a comeback effort that the 'Cats put on Saturday, Kentucky jumped out in front immediately and never looked back in the series-clinching win.
"Especially with not having the weekend we wanted [at Arkansas] this was obviously crucial. We had to win this series," Head Coach Nick Mingione said after the victory.
Georgia has been dealing with their own pitching issues all season, leading them to use Sunday afternoon's contest as a bullpen day, throwing seven arms. It absolutely did not work.
Hunter Jump started off with a leadoff single. Two walks later and Alonzo Rubalcaba moseyed on over to the plate with the bases loaded. The catcher launched a grand slam over the left-field fence for his third home run of the year. Batting over .300 now after a three-hit day, Rubalcaba continues to be a reliable option at the plate. If that trend stays, he becomes incredibly valuable to this team's overall aspirations.
The Wildcats tacked on one more in the following frame. Jake Plastiak cashed in with an RBI bloop single to left-center on a two-strike, two-out situation.
After earning National Player of the Week honors a couple of weeks ago, Estep had a rough start to the SEC tilt going 2-17 through the first four conference games. The Corbin, KY native seems to be getting his groove back, however. After scoring a couple of runs in Saturday's win, the third basemen pulled a two-run shot to the right-field bullpen on Sunday to make it a 7-0 game after four innings.
Highlighted by a bases-clearing RBI triple by Ryan Ritter, Kentucky put up a six-spot in the sixth inning to take the double-digit lead.
Adam Fogel and Estep both capped off three-hit, three-RBI days with RBI doubles to help make it an 18-2 game after seven.
"I think it's just a continuous adjustment," Estep said about how he and the team are getting used to the SEC level pitching. "Obviously people like Hunter Jump and Adam Fogel are now coming alive… I think everyone is starting to take pressure off each other."
Bosma continues to look impressive in Sunday role
Despite the devastating news that Kentucky is losing starter Cole Stupp for the rest of the year, it wasn't all bad on the pitching side for the Wildcats. Tyler Bosma dazzled once again in his third straight start against Power 5 competition.
The Miami (OH) transfer threw his best outing in a Kentucky uniform, shutting down a top-15 team in the rubber match. Bosma ended up going a career-long six innings, striking out five while only giving up four hits and walking just one. He moves to 3-1 on the year with a 3.04 ERA in five starts as a Wildcat. Whether he stays in the Sunday role is unknown with the news of Stupp, but Bosma is becoming one of the more reliable options for Mingione on the weekend.
"I mean he was fantastic. Threw the ball as good as he has all year and he got us going on the right foot," Mingione said about his starter.
Wyatt Hudepohl and Austin Strickland each struggled in their innings after coming in for relief, giving up two and three runs respectively. Zack Lee completed a scoreless ninth to finish off the contest.
Now sitting at 17-8 with a 2-4 conference record following the victory, we next see Kentucky this Tuesday against an in-state foe located right down I-75. The one-game stint against Eastern Kentucky is set to start at 6:30 p.m. EST on the SEC Network+.