BBNBA: Anthony Davis and Lakers continue to slide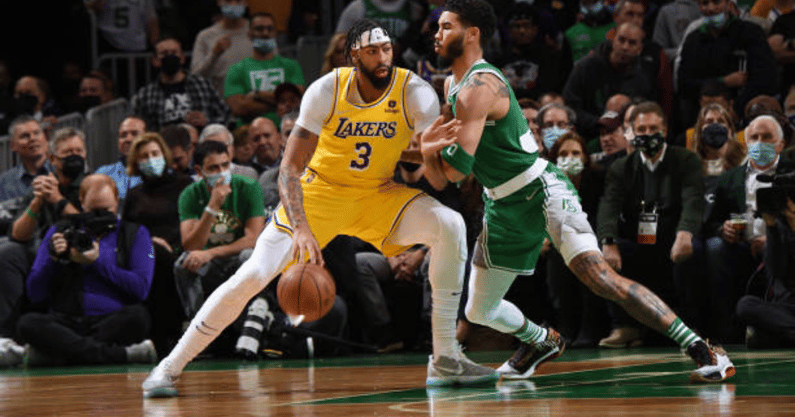 Another packed night in the NBA last night. Lots to get in to, let's dive in.
Davis pours in 31 but Lakers continue to struggle
Anthony Davis went semi-viral the other day when he openly said that LA simply will not be champions if they continue to play as they have. It's starting to look like he may be preaching the truth. Sitting at 8-9 now after the 130-108 blowout against the Celtics, the Lakers are really struggling to mesh and gel as a team.
Anthony Davis is literally the lone bright spot coming out of Staples–sorry, Crypto.com Arena. The former 'Cat has clearly been the best player on the Lakers this year, averaging over 24 points and 10 rebounds on the year. Last night, Davis poured in 31 points on 12-21 shooting to do as much as he could to try and get a win. All losses are hard to deal with; losing by 22 to the Celtics after being up eight and the end of the first quarter is especially tough.
Jayson Tatum has gotten back to his usual shenanigans after struggling to start the season. The former Duke product dropped 37 for the Celtics to help secure the victory. It's still far too early to panic about the Lakers and make catastrophic changes to the roster, but that's something we're all going to want to monitor as the season moves on.
Team effort guides Booker and Suns past the Mavericks
The Suns continued their absolute tear against the NBA on Friday by defeating the Mavericks 112-104 for their 11th straight win. Sitting at 12-3 now, Phoenix had a total team effort in this one. Including Devin Booker with his 19 points, the Suns had six player reach double digits last night, not one of them breaking 20 points.
People all offseason were wondering if Phoenix's run to the Finals last season was a fluke. And before the calendar hits December, we already have our answer. Booker and the Suns are legit contenders once again in the West. With the amount of parity and uncertainty around the conference, there's a great opportunity for them to take command of the West once again.
Booker didn't even have one of his monster games and they still cruise to another win. The Suns are dangerous once again, now we just wait to see if they ever lose again.
Statistics
| | | | | | | | | | | |
| --- | --- | --- | --- | --- | --- | --- | --- | --- | --- | --- |
| Player | Result | Points | FG (3PA) | Rebounds | Assists | Steals | Blocks | TOs | Mins | +/- |
| Anthony Davis (LAL) | 130-108 L @ BOS | 31 | 12-21 (0-3) | 6 | 2 | 0 | 3 | 1 | 37 | -14 |
| Devin Booker (PHX) | 112-104 W vs. DAL | 19 | 7-20 (3-8) | 1 | 1 | 0 | 1 | 4 | 31 | -7 |
| Shai Gilgeous-Alexander (OKC) | 89-86 L @ MIL | 17 | 5-20 (2-12) | 6 | 3 | 1 | 0 | 2 | 36 | -14 |
| De'Aaron Fox (SAC) | 108-89 L vs. TOR | 17 | 8-13 (0-1) | 1 | 3 | 2 | 0 | 2 | 27 | -22 |
| Hamidou Diallo (DET) | 105-102 L vs. GSW | 10 | 1-3 (0-1) | 5 | 1 | 0 | 1 | 4 | 13 | 2 |
| Malik Monk (LAL) | 130-108 L @ BOS | 9 | 3-7 (2-4) | 1 | 2 | 0 | 1 | 0 | 25 | -16 |
| Willie Cauley-Stein (DAL) | 112-104 L @ PHX | 8 | 3-8 (1-3) | 3 | 1 | 0 | 0 | 0 | 9 | 11 |
| Eric Bledsoe (LAC) | 94-81 L @ NOP | 7 | 3-10 (0-3) | 5 | 3 | 2 | 0 | 2 | 28 | -10 |
| Enes Kanter (BOS) | 130-108 L @ BOS | 5 | 1-3 (1-1) | 7 | 1 | 0 | 0 | 3 | 16 | 21 |
| Trey lyles (DET) | 105-102 L vs. GSW | 4 | 1-3 (0-1) | 3 | 2 | 0 | 0 | 1 | 17 | 1 |
| Nick Richards (CHA) | 121-118 W vs. IND | 1 | 0-1 | 1 | 2 | 0 | 0 | 0 | 5 | 2 |
| Rajon Rondo (LAL) | 130-108 L @ BOS | 0 | 0-2 (0-1) | 0 | 2 | 1 | 0 | 1 | 11 | -10 |
| B.J. Boston (LAC) | 94-81 L @ NOP | 0 | 0-1 | 0 | 0 | 0 | 0 | 0 | 2 | -2 |
| Mychal Mulder (ORL) | 115-113 L @ BKN | DNP – CD | – | – | – | – | – | – | – | – |
| P.J. Washington (CHA) | 121-118 W vs. IND | DNP – Elbow | – | – | – | – | – | – | – | – |
| Isaiah Jackson (IND) | 121-118 L @ CHA | DNP – Knee | – | – | – | – | – | – | – | – |
Today in the NBA
5:00: Rockets @ Knicks (Randle, Noel, Quickley, Knox)
7:00: Heat (Adebayo, Herro) @ Wizards
7:00: Pelicans @ Pacers (Jackson)
7:30 (NBATV): Hornets (Washington, Richards) @ Hawks
7:30: Thunder (Gilgeous-Alexander) @ Celtics (Kanter)
8:00: Grizzlies @ Timberwolves (Towns, Vanderbilt)
8:00: Magic (Mulder) @ Bucks
10:00: 76ers (Maxey) @ Trail Blazers
10:00: Jazz @ Kings (Fox)