BBNBA: De'Aaron Fox proving All-Star worthy as Kings win 7th straight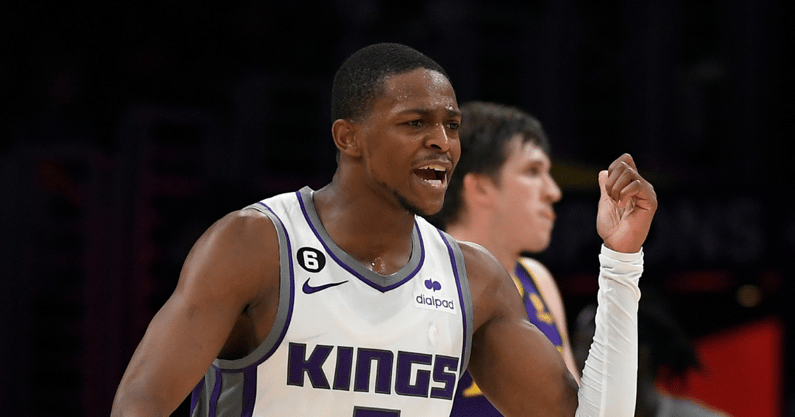 The basketball team in Sacramento is hot for the first time since the Nintendo Wii was released. Kings fans have spent a very long time being the laughingstock of the NBA, but laugh no more.
On Tuesday night, Kings defeated the Ja Morant-led Grizzlies on the road 113-109. Thus sending a clear message to the entire NBA…watch out. A reinvigorated De'Aaron Fox has led the Kings' seven-game win streak. Swipa had 32 points, six assists, and eight rebounds, all while guarding one of the best guards in all of basketball in Morant.
The Kings are a very easy team for Big Blue Nation to get behind. Fox is flanked by his Kentucky backcourt-mate Malik Monk, and former Wildcat Trey Lyles plays significant minutes. While Lyles finished the game with zero points, he had the best +/- on the entire team (+8). It seems as though Lyles has finally found his niche on a Kings roster that desperately needed someone of his skill set. He gives them another edge on the glass and provides fight to a team that has plenty of flair.
Malik Monk keeps catching fire
Speaking of flair, Malik Monk has become a Sacramento favorite due to his unwavering ability to score. As all of Big Blue Nation knows, when Monk catches fire, there's nothing you can do about it (ask Roy Williams about Las Vegas). Monk finished the game with 14 points, two rebounds, and four assists. It's very obvious to tell how comfortable Monk is with this Sacramento offense, as they allow him to be free.
A great moment happened toward the end of the game between Ja and Malik…
If you are a casual NBA viewer (or even NBA hater), I implore you to watch the Kings play basketball. The people of Sacramento deserve it, and every UK fan deserves to watch a fun offense (Unfortunately, we don't get to in Lexington). They also have the coolest nickname in the entire league, "The Beam Team". After every Kings win, a purple beam is shot out of the Golden 1 Center.
Devin Booker leads the Suns over Lakers
Devin Booker continued his top-10 scoring dominance by putting 25 points on the less-than-stellar Los Angeles Lakers. The game had a lot of extra heat due to the always-pesky Patrick Beverley. After a mid-game tie-up between Booker and a Laker, Pat Bev decided to get Deandre Ayton away from the situation his way. It seemed to go from zero to 100 out of nowhere.
Safe to say that Booker was fully prepared to "talk that talk" after the game. Luckily, In a postgame interview on TNT, Booker did not hold back. This feels more like an OVW promo than a postgame presser.
The Brow is back
Despite the loss, Anthony Davis had one of his best games of the year. A vintage Brow performance of 37 points, 21 rebounds, five steals, and five blocks. He was far and away the best player on the court, and he's been showing that with LeBron James out with an injury.
It has been a common theme over the years with AD in LA that at times he looks much better without the King on the court. To be fair, the pair won a championship together, but injuries and poor chemistry have kept AD looking less than great over the last few years. The Lakers have fallen to 5-11 on the year after the loss, so something will have to change, and fast.
Other BBNBA notes
Kevin Knox looked super impressive in a Detroit Pistons win over Jamal Murray's Nuggets. Knox finished the game with 17 points on 8-11 shooting. Hamidou Diallo was able to add six points for the Pistons with a +12 plus-minus on the game. However, Murray had a rough night as he only scored 10 points on a rough 3-12 from the field.
11/23/2022 Statistics
| | | | | | | | | | | |
| --- | --- | --- | --- | --- | --- | --- | --- | --- | --- | --- |
| Player | Score | PTS | FG (3PT) | REB | AST | STL | BLK | TO | MIN  | +/- |
| Anthony Davis (LAL) | 105-115 L @ PHX | 37 | 11-17 (0-0) | 21 | 2 | 5 | 5 | 6 | 38 | -3 |
| De'Aaron Fox (SAC) | 113-109 W @ MEM | 32 | 11-21 (5-8) | 8 | 6 | 4 | 0 | 1 | 35 | -4 |
| Devin Booker (PHX) | 115-105 W vs. LAL | 25 | 10-24 (2-6) | 4 | 5 | 0 | 0 | 4 | 35 | +4 |
| Kevin Knox II (DET) | 110-108 W @ DEN | 17 | 8-11 (1-4) | 8 | 1 | 1 | 0 | 1 | 25 | +12 |
| Malik Monk (SAC) | 113-109 W @ MEM | 14 | 5-13 (2-8) | 2 | 4 | 1 | 0 | 3 | 23 | +6 |
| Jamal Murray (DEN) | 108-110 L vs. DET | 10 | 3-12 (0-2) | 1 | 8 | 2 | 1 | 2 | 34 | +13 |
| Hamidou Diallo (DET) | 110-108 W @ DEN | 6 | 3-5 (0-1) | 2 | 0 | 0 | 0 | 0 | 16 | +12 |
| Trey Lyles (SAC) | 113-109 W @ MEM | 0 | 0-1 (0-1) | 3 | 0 | 0 | 1 | 1 | 15 | +8 |
| Wenyen Gabriel (LAL) | 105-115 L @ PHX | 0 | 0-3 (0-1) | 2 | 0 | 0 | 0 | 0 | 7 | -3 |
| Nerlens Noel (DET) | 110-108 W @ DEN | DNP- CD | | | | | | | | |
| Tyrese Maxey (PHI) | 115-106 W vs. BKN | DNP- Foot | | | | | | | | |
Tonight in the NBA
7:00 Sixers (Maxey: out) @ Hornets (Richards, PJ Washington)
7:00 Trail Blazers (Sharpe) @ Cavaliers
7:00 Timberwolves (Towns) @ Pacers (Jackson)
7:30 Kings (Fox, Lyles, Monk) @ Hawks
7:30 (ESPN): Mavericks @ Celtics
7:30 Wizards @ Heat (Adebayo: probable, Herro: questionable)
7:30 Nets @ Raptors
8:00 Bulls @ Bucks
8:00 Nuggets (Murray: questionable) @ Thunder (Gilgeous-Alexander)
8:00 Pelicans @ Spurs (Johnson)
9:00 Pistons (Diallo, Knox, Noel) @ Jazz (Vanderbilt)
10:00 (ESPN): Clippers (Wall) @ Warriors