BBNBA: Devin Booker drops 50-piece in just three quarters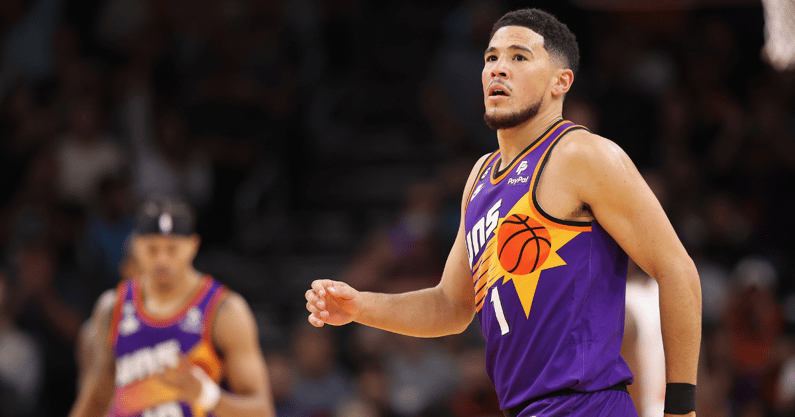 Another week, another masterpiece of performances dropped by Phoenix's Devin Booker. The 26-year-old had himself a monster game on Wednesday night, leading the Suns to a 132-112 victory at home over the Chicago Bulls. Booker's 51-point evening was the second time this week that he's popped off. On Monday night, he added 44 points in a comfortable win against the Kings.
The crazy thing about last night's display of dominance was it only took D-Book three quarters to get to 51. Booker had 25 at the half, and the red-hot shooting would continue the next quarter. Three quarters was all it took for Booker to reach his career-high in points for the season. Keep in mind, he's posted 44-, 49-, and 51-point games all in the last month.
Booker is averaging 29 PPG this season, which is just about five PPG more than his career numbers. His MVP shouts have only gotten louder this week with the Suns playing like world-beaters. It's pretty simple: if Booker is on, Phoenix is a contender. Currently, the Suns sit in first place in the Western Conference with a 15-6 record. They've won their last six games and are heating up going into the holidays. If Booker continues this bonkers trend of scoring, he'll have a 60-point game by Christmas.
Grab your earplugs because the MVP noise for Devin Booker is getting deafening.
What a sweet sight
It was almost as if you were transported into a time machine where a seasoned veteran looked like he did years ago. John Wall had himself a night in Salt Lake City, scoring 26 points in a 125-112 loss for the LA Clippers against the Utah Jazz. Wednesday night was Wall's season-high in scoring on the year, but he's been looking like the vintage Dougie-dancing kid that everyone grew to love.
Wall had 23 points six days ago against Denver and now his 26-point outing gives the Clippers loads of hope going forward. With Paul George out last night, Wall's massive performance off the bench could be an omen that LA can score with whomever. Speaking of scoring with whomever, Brandon Boston Jr. showcased just what he's capable of when given an opportunity. Boston had a season-high in points and minutes last night with 10 points in 22 minutes played. If the Clippers continue to roll without their superstars, expect the ex-Kentucky duo of Boston-Wall to get meaningful minutes down the stretch.
On the winning side, Utah's Jarred Vanderbilt put in a solid shift, providing the Jazz with a much-needed double-double. Vanderbilt posted 14 points and 12 rebounds in the victory as the Jazz picked up their first win since November 19. Truly an interesting team to watch, considering they started off the season so well, looking like a team that had been together for three years. When in reality, this Utah squad was assembled frantically in the offseason like a lego set that was about to be thrown away.
BBNBA rolling on the West Coast
Make sure that you're staying up late because the BBNBA is balling late at night. In Los Angeles, Anthony Davis posted a double-double that helped the Lakers get in done 128-109 against the Portland Trail Blazers. Davis' 27-point, 12-rebound night on 9-17 shooting helped the Purple and Gold pull away in the third quarter. Wenyen Gabriel saw a few minutes of action as well, making the most out of his selective time. Gabriel added six points in 10 minutes of play.
For the Blazers, Shaedon Sharpe made sure to add a highlight reel moment in the loss on Wednesday night. None of his 16 points would be more memorable than his monster jam, though. Sharpe snuck into the paint on a rebound that fell between Russell Westbrook and Thomas Bryant. With the ball coming off the rim, Sharpe slammed it home with a one-handed hammer in a matter of seconds which led to a SportsCenter post for the rookie.
Elsewhere, Jamal Murray led all scorers last night in the Denver Nuggets's 120-100 win over the Houston Rockets. The Canadian dropped 26 points in the cruising win, demonstrating good signs of his health after returning earlier this year from a long-term injury. Murray's averaging 17.8 PPG in 17 games played so far. Not quite All-Star numbers, but certainly a positive sign for Denver's postseason hopes.
Other BBNBA notes
11/30 Statistics
| | | | | | | | | | | |
| --- | --- | --- | --- | --- | --- | --- | --- | --- | --- | --- |
| Player | Score | PTS | FG (3PT) | REB | AST | STL | BLK | TO | MIN | +/- |
| Devin Booker (PHX) | 132-112 W vs. CHI | 51 | 20-25 (6-7) | 4 | 6 | 1 | 0 | 2 | 30 | +23 |
| Anthony Davis (LAL) | 128-109 W vs. POR | 27 | 9-17 (1-2) | 12 | 1 | 1 | 3 | 2 | 29 | +8 |
| John Wall (LAC) | 125-112 L @ UTA | 26 | 7-19 (0-5) | 2 | 5 | 0 | 1 | 2 | 25 | -9 |
| Jamal Murray (DEN) | 120-100 W vs. HOU | 26 | 9-15 (4-6) | 4 | 2 | 0 | 0 | 0 | 30 | +8 |
| Bam Adebayo (MIA) | 134-121 L @ BOS | 23 | 10-19 (1-1) | 6 | 5 | 2 | 0 | 5 | 38 | -6 |
| Tyler Herro (MIA) | 134-121 L @ BOS | 22 | 9-17 (2-6) | 6 | 9 | 0 | 1 | 4 | 37 | -10 |
| Malik Monk (SAC) | 137-114 W vs. IND | 20 | 6-9 (3-6) | 4 | 6 | 2 | 0 | 4 | 20 | +12 |
| Keldon Johnson (SAS) | 119-111 L @ OKC | 19 | 5-22 (4-13) | 7 | 6 | 0 | 0 | 1 | 35 | -8 |
| De'Aaron Fox (SAC) | 137-114 W vs. IND | 19 | 7-11 (1-1) | 5 | 6 | 0 | 0 | 3 | 27 | +20 |
| Julius Randle (NYK) | 109-103 L vs. MIL | 18 | 8-24 (1-8) | 8 | 5 | 0 | 0 | 1 | 38 | -7 |
| Shaedon Sharpe (POR) | 128-109 L @ LAL | 16 | 7-12 (1-4) | 3 | 0 | 0 | 0 | 1 | 27 | -14 |
| Jarred Vanderbilt (UTA) | 125-112 W vs. LAC | 14 | 7-10 (0-1) | 12 | 2 | 2 | 0 | 1 | 24 | +5 |
| Brandon Boston Jr. (LAC) | 125-112 L @ UTA | 10 | 4-12 (1-2) | 2 | 1 | 1 | 0 | 1 | 22 | +10 |
| Wenyen Gabriel (LAL) | 128-109 W vs. POR | 6 | 2-2 (0-0) | 4 | 0 | 1 | 0 | 0 | 10 | +11 |
| Isaiah Jackson (IND) | 137-114 L @ SAC | 5 | 1-5 (0-0) | 6 | 2 | 0 | 0 | 0 | 12 | +1 |
| Immanuel Quickley (NYK) | 109-103 L vs. MIL | 4 | 2-9 (0-5) | 6 | 2 | 0 | 0 | 0 | 18 | -3 |
| Trey Lyles (SAC) | 137-114 W vs. IND | DNP | — | — | — | — | — | — | — | — |
| Tyrese Maxey (PHI) | 113-85 L @ CLE | DNP | — | — | — | — | — | — | — | — |
| TyTy Washington (HOU) | 120-100 L @ DEN | DNP | — | — | — | — | — | — | — | — |
| Shai Gilegous-Alexander (OKC) | 119-111 W vs. SAS | DNP | – | – | – | – | – | – | – | – |
| Karl-Anthony Towns (MIN) | 109-101 W vs. MEM | DNP | – | – | – | – | – | – | – | – |
Tonight in the NBA
7:00 (NBA TV): Dallas Mavericks @ Detroit Pistons (Diallo, Knox, Noel)