Bela Karolyi's Tuesday News and Views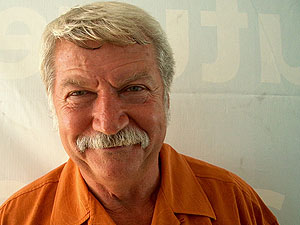 While everyone is focusing on Micheal Phelps, we are missing other important stories in the Olympic Games.....specifically
just how awesome Bela Karolyi is every night.
Bela is everything you could want in a television personality. He is loud, funny, full of energy, has a great accent and a stupendous moustache. In short, he is perfect. He has taken a sport that I generally avoid (gymnastics) and made it must-see viewing. To hear him rant about the judges' scoring and the age of the Chinese gymnasts is priceless. However nothing matches watching Bela watch the Olympics. While I have often said that the top-rated radio program in Kentucky could be an unedited version of the Kentucky Sports Radio crew watching a UKTV telecast of a Kentucky basketball game, the one thing that may top it is simply watchin Bela watch the Olympics. As Mosley suggested to me tonight, they should just send Bela to the bad events, put a camera on him and watch him scream at a weightlifter in his thick Eastern European accent, "LIFT...YOU CAN DO IT....YOU ARE PRECIOUS.....CLEAN, NOW JERK....YES SHE IS AN OLYMPIC CHAMPION!!!!!" NBC has obviously seen all that Bela can bring....he is on television every night. But Bela needs to be more than an "every four year" guy. There is too much untapped comedy. BELA, BELA, BELA!!!! To the news..........
(1)
: Tonight we had Morgan Newton's father on the show and it is looking more and more like
Morgan Newton will end up in Lexington.
After an interview filled with a group of puns that might have made even Dane Cook groan, Dr. Newton suggested to the Sports Night crew that UK was the one to beat. He mentioned that reports that his mother might favor Clemson could be misinterpreted, which would be a CATastrophe. He then stated at the end that on Thursday, "the CAT will be let out of the bag." Couple that with some reports I am hearing from other high school coaches and it looks like Newton may have even already given word of his commitment to the coaches. Of course we never know for sure until the decision has been made, but things continue to look positive for the Big Blue. It continues to seem almost surreal that UK could get two top 10 QBs (by at least one service) in this class. If it happens, it will be a pull like none other in recent UK history. Set those clocks for Thursday at 10:30 AM.
(2)
: A less celebrated, but equally interesting, interview we did tonight was with the UK DB coach, who talked about the potential replacements for Paul Warford at CB. From the conversation, it looked as if
David Jones
is the leader at this time for the starting spot. While Shomari Moore and Freshman Randall Burden will see time (and Cartier Rice may find the field as well), Jones remains the early starter for the position. With yet another injury to a UL wide receiver today, this position could get a break in the first game, but with Trevard Lindley on the other side, the ball will be thrown often in the direction of whoever fills the spot....making the need for one to step up, so much more important.
(3)
: I am hearing more and more that
Daniel Orton is planning on waiting until the Spring.
No official word, but most of the people that had pointed me to an early decision are now suggesting that it will likely be Spring before he makes his final call. Here is hoping that info is false as UK could use the news sooner rather than later. We will have more throughout the day. The Intern returns with his SEC Preview at noon....we introduce the first KSR girl later in the afternoon.....Beisner is running from the hurricane so cross your fingers for him....and "The Hills" are back with Spencer as awful as ever. All is well in the KSR world........