KSR Today: Bellarmine Gives Kentucky a Much-Needed Wake-Up Call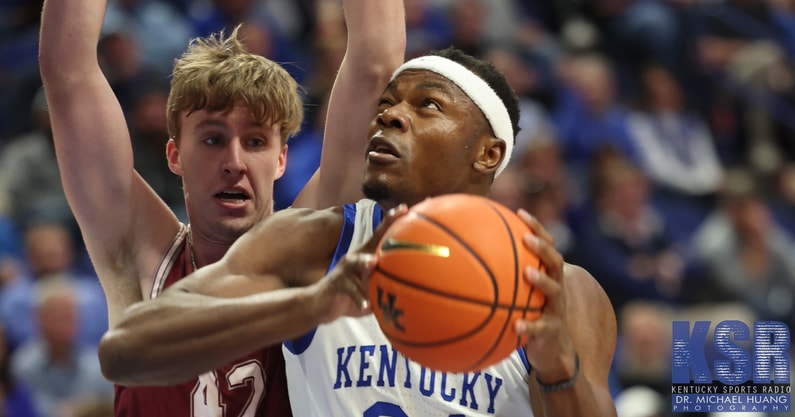 Bellarmine went to Rupp Arena and did what they do best. They made Kentucky work, for everything. It's the last thing the Wildcats wanted to see, but it's exactly what they needed to see.
For 24 minutes Bellarmine moved the ball with minimal dribbles, forcing Kentucky to defend for 20+ seconds into every shot clock. When the Wildcats finally got the ball back, the lazy cuts and dribble hand-offs did not get anyone open. The Knights' help defense stuffed up the middle of the court and the straight line drives could not get to the basket.
Kentucky's struggling offense became anemic. They trailed 6-0 after four minutes, 10-6 after eight and the ball game was tied 21-21 at half.
To generate offense, and momentum, the Wildcats fought fire with fire. They did exactly what Bellarmine was doing. They went to work.
Kentucky pressured the ball, they got into passing lanes, and most importantly, they made life difficult for their opponent. Cal's Cats turned defense into offense, scoring 10 points off 12 second half turnovers. Bellarmine led by four points at the first media timeout of the second half. Kentucky went on an 11-0 run, then raced away from the Knights, ultimately out-scoring the small Louisville Catholic school 32-9 to close out the game.
Nothing has come easily for the Wildcats on offense in 2022. They have not made life difficult their opponent on defense. Bellarmine taught them what that feels like Tuesday night. Hopefully it's a lesson that sticks with the Cats.
Hello, Jacob Toppin
Second Half Jacob Toppin is basically Junior Nick Richards. Jacob Toppin scored all 12 of his points after intermission. He went on a 6-0 run by himself to extend the UK lead to double-digits for good. The problem is, like in the Gonzaga game, the sense of urgency to go into the post, get to the rim and score was not there until Kentucky absolutely needed it. Jacob Toppin is an outstanding athlete. He needs to remember that and go out-athlete some of his opponents.
Another Rough Night for Sahvir Wheeler
The Kentucky point guard is a lightning rod for hot takes. Some think he's one of the best point guards in America, others think he's the worst. The truth lies somewhere in the middle, but last night was not his best work. In 35 minutes Sahvir Wheeler had 6 points on 6 shots, 6 assists and 4 turnovers. One particular moment stands out from the second half. Wheeler was leading the ball up the floor and Oscar Tshiebwe was sprinting down the lane. With two hands up, he called for the ball. Instead of passing it to the big man, he attacked the left side of the lane and dribbled it off his foot out bound. A look at the complete box score: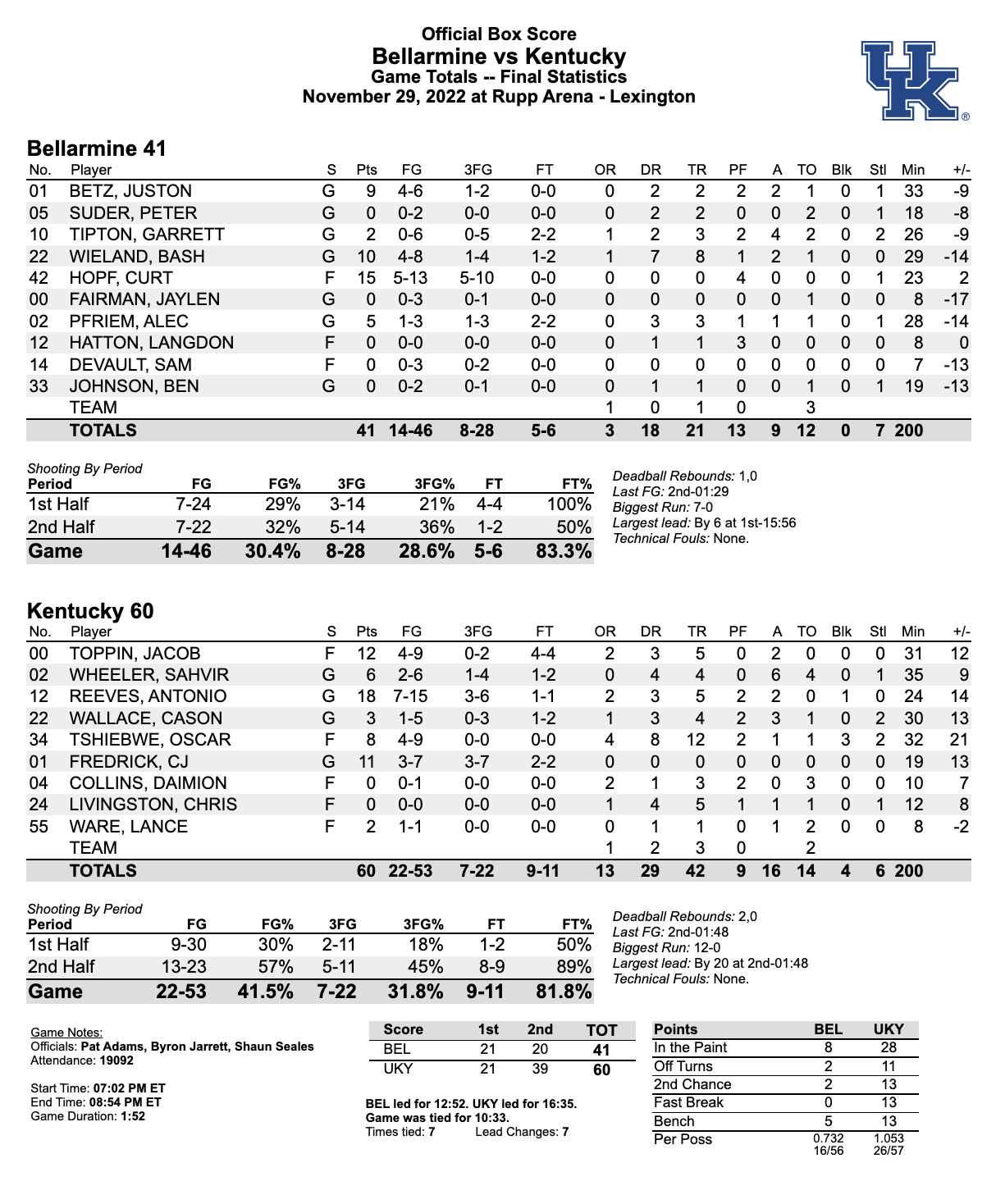 "This is like going to the dentist"
That was one of the things John Calipari said after the game. He was actually talking about preparing for Bellarmine's offense, but it more aptly describes the way the Wildcats are playing right now. See everything he had to say in his postgame press conference on the KSR YouTube Channel.
Tyler Ulis is the Y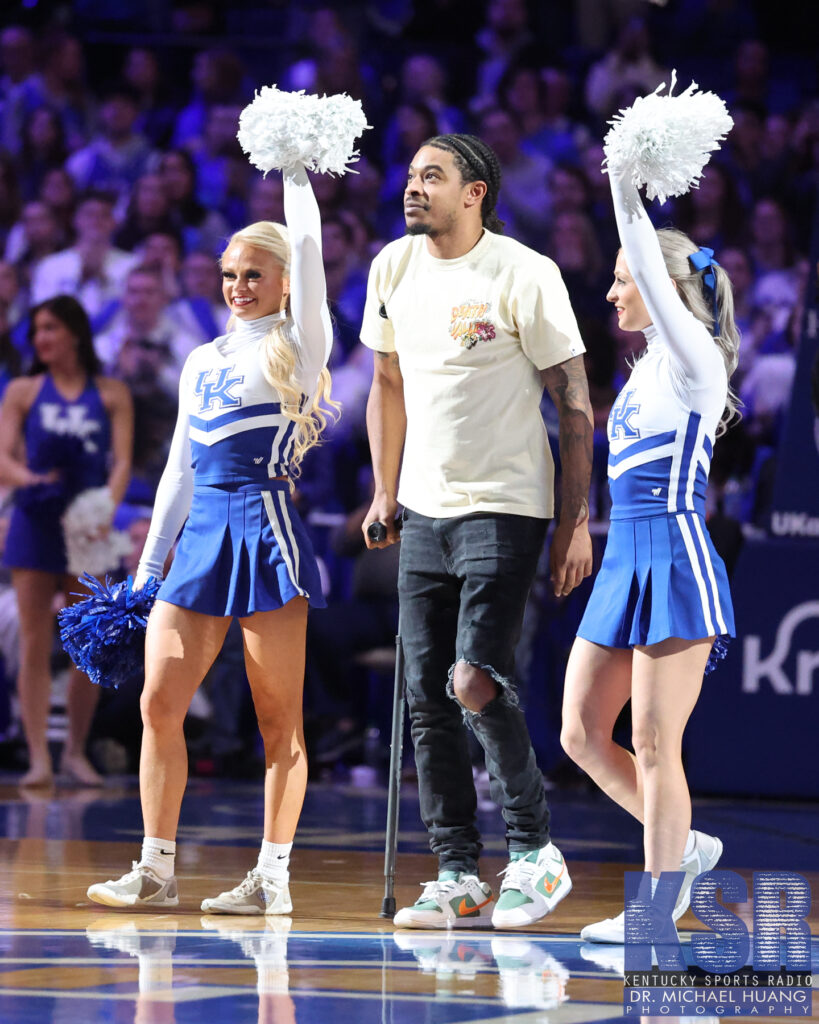 Tyler Ulis was back on his feet at Rupp Arena. The former All-American point guard was seriously injured in an automobile accident early in 2022. Back in Lexington, Kentucky fans gave him a standing ovation as he strolled to center court to be the 'Y' during last night's game. Enjoy more views from Rupp Arena before the Wildcats take their talents across the pond.
Up Next, Michigan Across the Pond
Kentucky will not have much time to exhale before John Calipari takes his Wildcats to London to match up with Michigan, Sunday at 1 pm EST. The Wolverines' final tune up was anything but a walk in the park. Facing third-ranked Virginia, Juwan Howard's team let an upset slip away. Michigan led entering the final minute of the game, before ultimately falling 70-68 in the ACC-Big Ten Challenge. Michigan shot 53.1% from the field in the loss, led by Hunter Dickinson's 23 points and 7 rebounds.
Rich Scangarello is Out, Kentucky OC Search is On
After taking a day off, Mark Stoops removed offensive assistants on back-to-back days. John Settle was let go on Monday, followed by Rich Scangarello on Tuesday. It was a move that needed to be made. The numbers speak for themselves.
| | | |
| --- | --- | --- |
| Stat | 2021 | 2022 |
| Points per Game | 32.3 (35th FBS) | 22.1 (105th) |
| Rushing Offense | 199.54 (25th) | 120.3 (109th) |
| Passing Offense | 224.5 (73rd) | 216.1 (88th) |
| Yards per Play | 6.4 (21st) | 5.43 (86th) |
| Total Offense | 424.1 (50th) | 333.6 (107th) |
| Red Zone TD% | 72.2 (8th) | 53.2 (103rd) |
There were reasons to believe Rich Scangarello could maintain continuity and keep the Wildcats' offense moving forward with Will Levis and Chris Rodriguez back in the fold, paired with talented, young wide receivers. Instead, the opposite happen. The Wildcats regressed, not just from year-to-year, but throughout the season.
Four different offensive coordinators in four years is the last place Mark Stoops wanted to be, but it was necessary move that needed to be made. There are plenty of qualified candidates on the market, maybe even one or two who are already familiar with Lexington.
Team USA Advances in the World Cup
Christian Pulisic put his nuts on the line, quite literally, to propel the Americans through Group B with a 1-0 win over Iran. It's the first time Team USA has posted back-to-back World Cup shutouts since 1930. Back in the knockout stage, team USA will play the Netherlands Saturday at 10 am EST.