Big Blue Nation in the Red, White, and Blue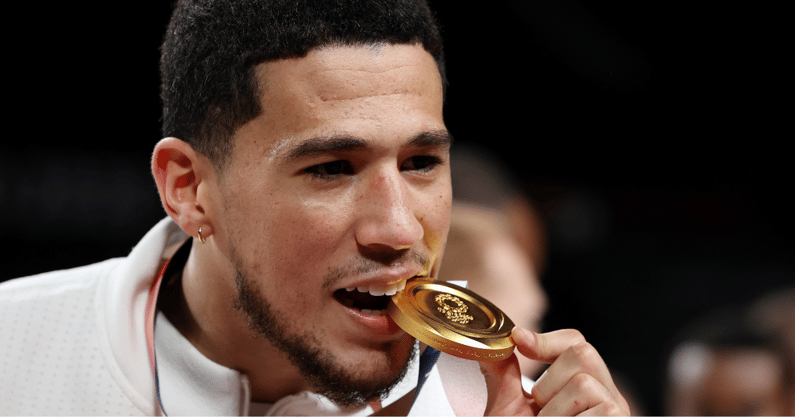 As we celebrate the Fourth of July this holiday weekend, we at KSR are reflecting on the outstanding representation Coach Calipari and Kentucky Basketball have had for Team USA.
Kentucky, alongside winning a national championship, has had four players in the Calipari-era compete at the Olympic level on behalf of the U-S-of-A.
2012 London Olympics
Fresh off of a national championship with Kentucky, a young Anthony Davis was selected to compete for Team USA at the 2012 Olympics in London, England.
Davis was in good company, playing alongside the likes of legends including Kobe Bryant and LeBron James.
The young unibrow held its own among legends and other countries alike, serving up a combined 26 points and 19 rebounds during his play to go along with three blocks.
USA went on to win the Olympics with a 107-100 win over Spain to cinch the gold medal, making Davis the first of Cal's 'Cats to become a gold medalist.
2016 Rio Olympics
Following Davis' success on the world stage, Cal-favorite DeMarcus Cousins traveled to the 2016 Olympic Games hosted in Rio De Janeiro, Brazil.
Cousins posted a whopping 73 combined points for Team USA as well as 46 rebounds, averaging 9.1 points per game.
The United States again took home the gold medal in the 2016 games, making Cousins the second in the Calipari era to become a gold medalist.
Fun fact: the 99-66 victory over Serbia for Team USA in 2016 was the largest margin of victory in a championship game since the 1992 Summer Games in Barcelona.
2020 Tokyo Olympics
After a delayed 2020 Summer Olympics, Kentucky was represented by three players — Bam Adebayo, Devin Booker, and Keldon Johnson — in Tokyo.
Team USA again reigned supreme, taking the gold medal over France 87-82.
Booker had 66 total points for USA, as well as 19 rebounds. Adebayo went for 38 total points with 34 rebounds for Team USA. Johnson was recruited by Team USA after original team member Bradley Beal tested positive for Covid-19, pulling in four points and three rebounds for his home country.
---
In total, that brings the total number of Olympic gold medalists for Cal to a whopping five within the last 10 years and the total number of Kentucky points contributed to over 200.
It's fair to say, Kentucky still rules the world. The only question remaining is who will represent the 'Cats next at the 2024 Paris Olympics?
Long live the Red, White, and Big Blue Nation!
Enjoy the long weekend, KSR readers!