Blair Green gives back to the community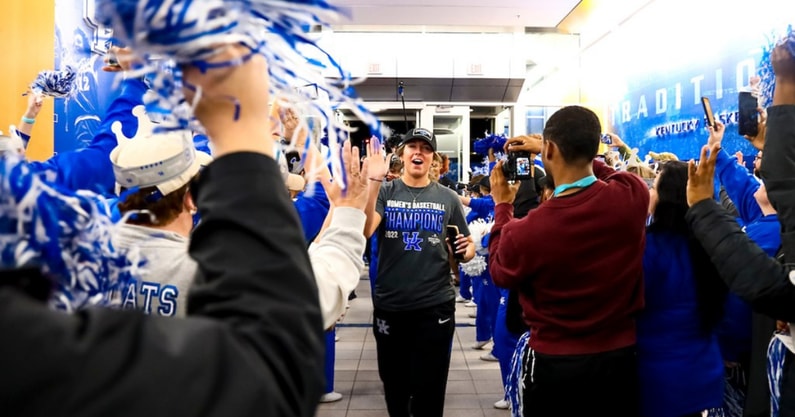 Blair Green is more than a basketball player. She's a life role model.
On Friday, the Kentucky fifth-year senior went just outside Lexington to share her veteran knowledge with the Franklin County Lady Flyers. The 2022 11th Region champs hosted Green for a team workout. Franklin County head coach Joey Thacker expressed his gratitude on Twitter.
"Thankful for [Blair Green] and the attention she gave our players today. She was organized, enthusiastic and detailed with great feedback for our kids. We look forward to our next get together!" Thacker wrote.
Green responded with a tweet of her own, indicating future practices with the team.
"Thanks for having me! They were awesome! Can't wait to get back in the gym with them," the 5th year senior wrote.
Blair Green's leadership last season
Leadership off the hardwood isn't new to Green. The Harlan County native was forced to watch last season from the sidelines after rupturing her Achilles tendon in a preseason scrimmage against Eastern Kentucky University. Nonetheless, she didn't let her injury stop her from making a significant impact.
Green was on the sidelines every game, providing moral support and constructive criticism. The 6-foot-2 wing took her role so seriously that she earned a new title: Coach Green. Head coach Kyra Elzy embraced Green's new role and provided her with the supplies to excel at it.
"She's seeing the game from a different perspective. We call her Coach Green," Elzy said after Kentucky defeated North Alabama on Nov. 11, 2022. "She walks around with a practice plan now. She's watching film."
Despite her injury, the sideline was not a satisfactory view for Green. She would help warm up her best friend, Rhyne Howard, every game. Even when Green was confined to her scooter, she would still wheel her way to the far side of the court to do passing drills with Howard.
The last ride
Passion like that can't be contained, and this season, it won't be. Green will be instrumental to next season's success. In her junior season (2020-21), she averaged 6.0 points and 1.6 rebounds per game while shooting 33% from beyond the arc.
In preseason showings last year, Green looked like a top-three player on the team. If she's fully recovered, she could be the team's best player this season. No matter how she plays next year, one thing is certain: Green will be a leader.
Elzy wanted Green's leadership last season. With six incoming freshmen and four transfers this year, she'll need it.
"[Green's teammates] have a great respect for her," Elzy said in Nov. 2021. "There's something about a coach telling you something and your peer. She gives them a different perspective. So, we're counting on her leadership big time."