Boogie Fland emerges as a top guard option for Kentucky in '24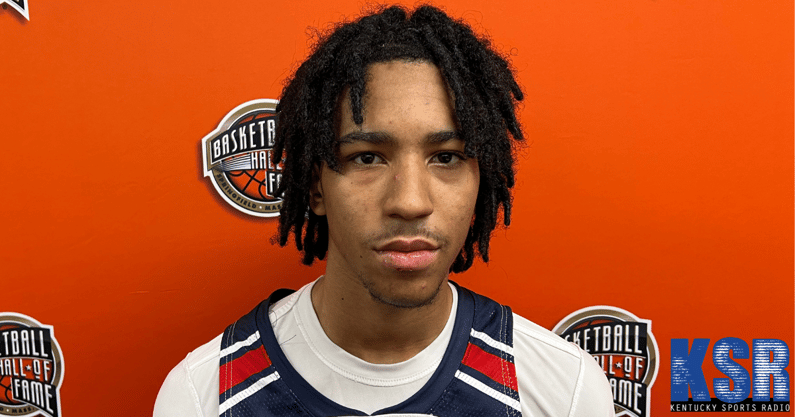 Johnuel "Boogie" Fland caught the Kentucky coaching staff's eye during the 2022 U17 FIBA World Cup, helping lead Team USA to a gold medal in Spain. Not even entering his junior year in high school at the time, the 6-foot-3 guard out of White Plains, NY averaged 4.6 points, 2.7 rebounds, 3.6 assists, and 2.1 steals per game off the bench. A scholarship offer from John Calipari came shortly after his arrival back to the States.
It was a moment that put a smile on the playmaking guard's face.
"That was a good one [his conversation with Calipari], about 30 minutes, just talking about the school, talking about him, talking about me," Fland told KSR at the time. "It was nothing basketball related. It was all just getting to know each other and building a relationship. But I would definitely say it was a good one. Definitely put a smile on my face.
"Coach Cal is a good coach. It's an honor to even get in contact with him."
Fland was among the first wave of '24 prospects to hear from Kentucky once the contact period opened on June 15. He was part of an even smaller group to receive an offer during the summer. A few new prospects have picked up scholarships since then while some of the other early names of interest haven't heard much from the school since. The Archbishop Stepinac (NY) standout certainly doesn't fit in the latter category. In fact, Fland is among Kentucky's top recruiting targets in the junior class, specifically at the guard position.
And now that five-star combo guard Ian Jackson is off the board and headed to North Carolina, he may just be the program's No. 1 priority among primary ball handlers.
Where do things stand with his recruitment? KSR caught up with Fland this past weekend at the Spalding Hoophall Classic in Springfield, Mass. Check out the five-star guard's complete Q&A session with the media below.
---
What is Kentucky's pitch to you right now?
They're telling me they want me at their school, they're definitely interested. They're showing me they're interested by watching me play. They want me at their program.
What do you know about the Kentucky program?
It's a winning program, Coach Cal has been there a long time. He's put a lot of guys one-and-done in the NBA. He just knows how to get guys into the NBA, so that's a real advantage.
Is that a priority for you, going somewhere you know will help you get to the league?
It's definitely in my mind. I wouldn't say that's the main thing.
Is a visit to Lexington in the works? Or is UK at least a school you'd like to visit?
Oh, most likely, yes. Definitely.
Who are you hearing from at Kentucky and what is their message to you?
The head coach and the main assistant, Coach Cal and Coach Orlando Antigua. They're interested, very interested. They want me to come down for a visit. They're telling me that they're interested, and they're showing interest in me by coming to watch. They are showing me that they want me at their program.
What aspects of your game have you been working on lately?
I would say everything. I try to do as much as possible on the court for me, my team, my family. Just getting guys involved, leadership. We have young talent — it's a young group — so leadership goes a long way. Last year, I learned from the vets. We had a much older group. Now that we have a younger group, I have to take that role upon myself.
Is there a player you model your game after?
My favorite player is Ja Morant. What he does with his team, I try to look up to that. You can tell they're like a family there. You can see it on social media, you can see it when they play. That's how I try to get the guys on my team to be.
Do you have any other trips planned as of today?
We're talking about more visits coming soon. Those will get released when they get released.
There has been some speculation regarding a reclassification to 2023. Is that something you're interested in?
Nah. If you didn't hear it from me, it's not credible [laughs].
What other programs are you hearing from right now?
Definitely Oregon, Kansas, Virginia Tech, UConn, so many other schools. But those are the main ones right now.
Indiana has gotten involved here recently. What is their pitch and what do you know about the Hoosiers?
Telling me to come visit and that they want me in their program. They're physically telling me they want me in their program. Just coming to things like this [Hoophall Classic] to watch me play, that goes a long way. They're kind of a new school, so I don't really know too much yet, but I know it's a winning program and he takes pride in his defense
Does Mike Woodson's experience in the NBA appeal to you?
Someone coming from coaching in the NBA to college basketball, they've got the tips, everything you need to help you get to that next level. The player development program to get you to the next level is high over there with a head coach that has coached in the NBA. It puts you ahead of some other programs that don't have that advantage.
What are you looking for in a school?
I'm looking for everything, you know? Play style, location, how I fit into their program. Are they a winning program? How are they in the locker room? Do they like each other? That's the main thing. I mean, if you don't like each other, it'll show on the court.
Is there a playing style that fits your game the best?
I can adapt to any playing style, that can be with anybody. As long as you put your mind to it and do what your coaches tell you to do, you can fit into any play style.
---
Fland is rated as the No. 5 overall prospect and No. 1 point guard in the 2024 On3 player rankings. Could he wind up in Lexington?
Kentucky is certainly making a push.