Bruce Pearl breaks down Kentucky's roster: "They've got all the pieces"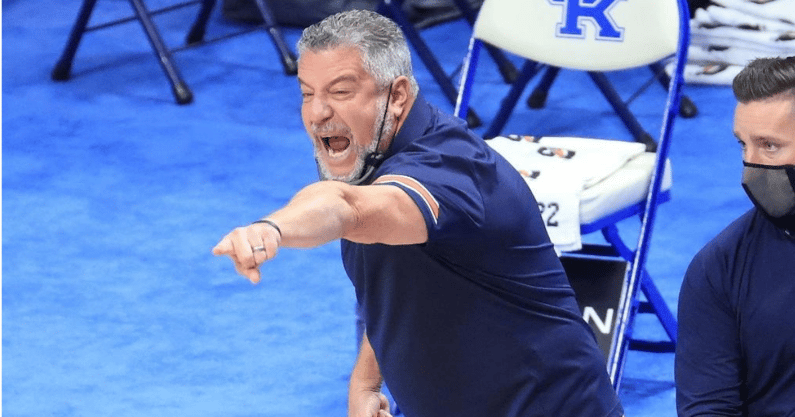 Bruce Pearl started his Zoom previewing Saturday's game vs. No. 12 Kentucky with a disclaimer. Fresh off Auburn's 83-60 win over Georgia, he was just now digging into his recon on the Cats.
"As we speak, it's Thursday at noon. So, I've had about six hours of Kentucky; I need about 24 more. So if you expect me to tell you how we're gonna guard them, or what we're gonna run offensively, or how I'm going to press them, I don't even have a clue right now. But I'll get there by Saturday."
That said, Pearl's six hours of film study yielded a pretty good understanding of the 2021-22 Cats so far. Efficient offense. Fast pace. The best rebounder in college basketball in Oscar Tshiebwe. Here's his roster breakdown.
"Real fast. John Wall-type" fast
"Good team. Really good team. You look at their offensive numbers. They're different than most Kentucky teams I've coached against. It's the number one offense in our league. Number one in assists, number one in their transition offense. It's the best. They got three dynamic shooters that are shooting great percentages and shooting them well. Two great point guards and TyTy Washington and Sahvir Wheeler.
"The big kid in the middle could be the Player of the Year in the country. Best rebounder in the country that we've seen in a long, long time. Athletic forwards that will be excited about trying to guard Jabari Smith and shut off his water. So it's a great offensive rebounding team, a great rebounding team. Their rebounding margins are off the charts."
Between his time at Tennessee (2005-11) and his time at Auburn (2014-present), this is Pearl's 14th season coaching against Kentucky. Ten of those years have been against John Calipari's squads. Pearl said this group of Wildcats reminds him of Calipari's first Kentucky team in terms of speed.
"They're playing at a faster pace than — they're playing at a pace like the Kentucky teams I used to coach against when I was at Tennessee. Real fast. John Wall type, push the break, get up the floor. Let those guys make plays. And when you have wings that can shoot it and a post [Oscar] that can rim-run. He's the best rim runner in the country."
Oscar Tshiebwe: "Every 50/50 ball is his"
"He's the biggest, strongest, fastest player running up and down the floor. And we actually have got three centers in [Babatunde Akingbola] and Dylan [Cardwell] and Walker [Kessler] that can really run also. That's going to be an interesting track meet to watch that all game long. And then they've got [Lance] Ware that comes in behind him and [Daimion] Collins, so they've got three centers that do the same thing. He is just — he's got five defensive rebounds. So that means if he's around the basket and you miss, he's gonna get the rebound. You know, so everybody will try to pull it away from the basket. Yeah, it's easier said than done.
"And then on the offensive end when Dylan or Walker go over to try to block a shot, which they've been known to do a time or two, he's just going to be gobbling up the backside of every miss. So, you kind of damned if you do, you're damned if you don't if you rotate over to try to block a shot. So, he's a handful and he puts two hands on everything. Two hands on everything. And two hands on his catches, two hands on his rebounds. And that's what great rebounders do. Every 50/50 ball is his."
TyTy Washington: Most Improved
Auburn pursued TyTy Washington after he de-committed from Creighton last year. Then, TyTy turned in a breakout performance in the GEICO Nationals. With more attention pouring in from more programs, namely Kentucky, Washington did not include Auburn in his final six a few weeks later.
"We're familiar with TyTy too because we recruited him pretty heavily in the springtime," Pearl said. "And you know he's — from, probably the last year cycle, his season at Arizona Compass and then his beginning at Kentucky, he'd be one of those players you'd say, top five most improved basketball players from his senior year high school to his freshman year of college. He can do it all. He can do it all. He's not afraid of the moment either."
Sahvir Wheeler/Wendell Green comparison
Pearl said Sahvir Wheeler reminds him of Auburn guard Wendell Green, who transferred in from Eastern Kentucky. Green is 5'11", 175 lbs., and averages 13.1 points, 5.1 assists, and 4.0 rebounds per game. Like Wheeler, he can get to the bucket in a hurry.
"Wheeler is such an unusual coverage because he's so fast. He's a lot like Wendell [Green]. He doesn't shoot it like Wendell but he can get downhill like Wendell. He's a lot quicker than he looks like Wendell and like Wendell, is not afraid.
"And so they've got a couple, like we do, a couple of really courageous, dynamic, playmaking, scoring point guards that you've got to wrestle with, and then they got those wings that can shoot it, Brooks. And they've got monsters in the middle. They've got all the pieces."