Bruce Pearl has built Auburn into an SEC Powerhouse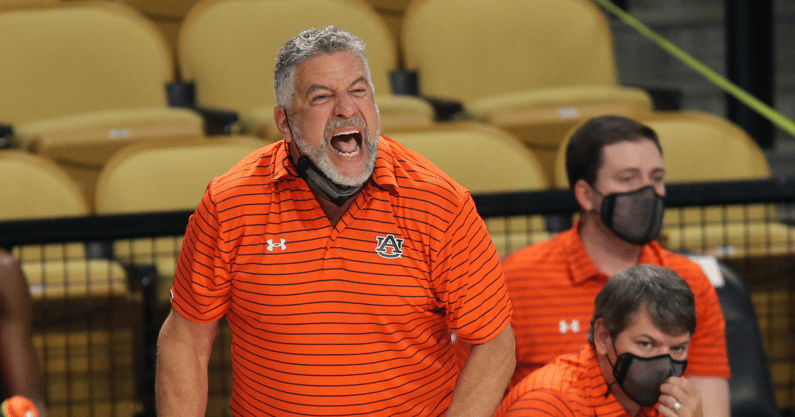 For practically all of its existence, the SEC has belonged to Kentucky on the basketball court. But Bruce Pearl has built a historically dormant Auburn program into the 1B of the conference next to UK. Over the past five years, the Tigers may have an argument as 1A.
For all his sleazy dealings with recruits and boisterous behavior on the sidelines, Bruce Pearl is unquestionably a terrific basketball coach. Next to John Calipari, he's arguably the best of the century in the SEC, having now built two traditionally mediocre programs into national powers. Pearl holds four regular-season SEC crowns during his time as a coach at Tennessee and Auburn.
He's Calipari's most competitive rival in the league. The only one to beat Kentucky in the NCAA Tournament under Cal. Since 2018, Auburn's success nearly matches Kentucky's, and may even surpass it in some areas.
Let's stack it up.
Since 2018, these are Kentucky's and Auburn's records by year, their NCAA Tournament success and the head-to-head matchups:
| Year | Kentucky | Auburn | Head to Head |
| --- | --- | --- | --- |
| 2017-18 | 26-11 (Sweet 16) | 26-8 (Second Round) | 1-0 Auburn |
| 2018-19 | 30-7 (Elite Eight) | 30-10 (Final Four) | 2-1 Kentucky |
| 2019-20 | 25-6 (COVID) | 25-6 (COVID) | 1-1 |
| 2020-21 | 9-16 (Missed NCAAT) | 13-14 (Self-Ban) | 1-1 |
| 2021-22 | 15-3 (12th in AP Poll) | 17-1 (2nd in AP Poll) | None |
That's about as close as two programs can be. UK and Auburn both had successful 2018 seasons, though the Tigers earned a higher seed but went out earlier in the Tournament. The teams split head-to-head matchups and had the same record in 2020 and each sucked in 2021 before rebounding this season.
The tie-breaker is that Elite Eight game in Kansas City back in 2019, where Bryce Brown, Jared Harper and Pearl led Auburn to their first-ever Final Four, doing so by beating Kentucky.
Five years of history set the stage for a massive showdown Saturday afternoon. Kentucky has a chance at revenge and a resume-defining win in the plains. For Auburn, a win over a hot Kentucky team likely catapults them to their first AP No. 1 ranking in program history–a place UK hasn't been in January or later since 2015.
So there you have it. Crazy as it would have seemed a few years ago, the Auburn Tigers are a fully-awoken basketball giant in the SEC. They don't have Kentucky's history or fanbase size, but they have had just as much recent success.
That's in no way to diminish John Calipari or Kentucky, which have been more successful than 99% of the country over that span. Instead, let's credit Pearl and Auburn for a truly unbelievable run at Auburn. The SEC is more fun and competitive with when UK isn't the only national contender.