BTI's Rants and Ramblings: How to pick the 1st two rounds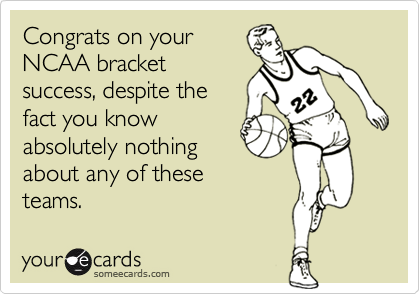 Some trends and tips to keep in mind when trying to pick the 1st two rounds of the NCAA Tournament.  And if you take this advice and make money in your pools, I get a 15 percent royalty.  All of these numbers come from trends from the last 10 NCAA Tournaments. 
1ST ROUND
1. Pick around 8 upsets in the first round
-There have been a total of 80 "upsets" in the 1st round of the NCAA Tournament over the last 10 years, or an average of 8 a year for you psychology majors.  And by upset, I simply mean a worse seeded team beating a better seeded team, including 9's over 8's.  There have been as many as 13 upsets in the first round (2001) and as few as 4 upsets (2004).
2. Avoid the 15 and 16 seeds
-Duh.  But just to emphasize that point, only once in the last 10 years has a 15 or 16 seed won a game, and that was Hampton in 2001.  Not worth the risk.  Again duh.
3. Pick two 8 seeds and two 9 seeds
-Since 2001, a total of 40 games have been played between 8 and 9 seeds.  The count is 20-20.  So, the best way to handle that would be to pick 2 of each seed.  Whatever you do, don't pick the same seed in all 4 games.  It's only happened twice in 10 years, the 8 seeds in 2002 and the 9 seeds in 2001.
The best picks: Michigan, George Mason, Illinois, Old Dominion
4. Always pick a 12, just don't go crazy with them
-The old rule always says that a 12 seed beats a 5 seed.  And it's almost true.  In the last 10 years, a 12 has won at least 1 game in 9 of those years.  But all total, 12 seeds are just 17-23 against the 5 seeds.  Point being, make sure you pick a 12 seed, but don't pick more than 2.
The pick: Utah State
5. Pick ONE 13 seed to win a game
-10 years, 10 wins.  That is what the 13 seeds have.  They have a win in 8 of the 10 seasons used.  Find your strongest 13 seed and pick them.  Then avoid the rest.
The pick: Belmont
2ND ROUND
1. Avoid picking against the 1 seed
-In the last 10 years, there have been 40 total 1-seeds.  Only FOUR have not reached the Sweet 16.  Amazingly, twice it was the overall #1 seed.  But anyway, it is far too risky to pick against the 1-seeds in the 2nd round.  May as well move them straight to the Sweet 16.
2. A 2-seed will get beat
-Only once in 10 years has every 2 seed advanced to the Sweet 16.  A total of 15 times a 2 seed has been beaten.  It will almost surely happen.  So while it might be tough to pick a Temple or UCLA to get to the Sweet 16, it never fails that there will be at least 1 surprise with the 2 seeds.  But, don't go out of control with those upsets.  In each of the 10 years, at least two of the 2 seeds has advanced.  So, don't over think it too much.
The 2-seed to get beat: North Carolina
3. Picking a 13 seed or 12 seed to make the Sweet 16 is risky
-It's only happened 7 times in the last 10 years, and in only 4 of those did the 12/13 seed have to beat the 4 AND 5 seeds to make it there.  Point is, unless you have a 12 and 13 meeting in the 2nd round, it is not likely one of those teams will advance past the 2nd round.