BTI's Rants and Ramblings: KSR 2010 Survey (Part 5 of 5)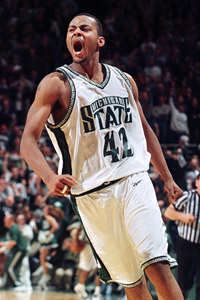 You know, I gotta admit, this whole 5 questions with the KSR writers thing turned out better than I planned.  These simple questions seemed to spark some good (and some nerdy) debate on the site, and thats all I was looking to do.  Today's question is maybe the toughest of all for UK fans:
WHAT IS THE MAIN REASON THAT KENTUCKY HAS NOT BEEN TO A FINAL FOUR SINCE 1998?
Patrick Barker
After the Randolph Morris situation, it seemed like Tubby quit caring about recruiting.  You can have one down class, but having two in a row sets you back considerably.  In reality (and I love all our players) only one player, Jodie Meeks, was a UK-caliber player in two years.  Then BCG happened and we got even further behind.  People forget that Tubby went to 3 more Elite 8s after he won the title.  So I guess a little bit of bad luck happened, too. ___________________________________________
Dustin Rumbaugh
I think it was due to Tubby's failure to hire a good team of assistants. They didn't do their work on the recruiting trail. Tubby also could have marketed UK a little stronger (see Calipari). Tubby consistently got the best out of the players he had but he never had the level of athletes or players to compete with the top 10 programs on a year in/year out basis. That is what I feel led to the final four drought. ____________________________________________
Christopher Johns
Keith Bogan's Ankle.  Not only did it cost us a Final Four, it cost us a championship. ____________________________________________
Hunter Campbell
Really, it's luck. Our best chances (2003, 2005 and this season) all came down to games that were seriously unusual. 2003 had D-Wade/Anklegate, 2005 had the insane MSU game where one rebound could have won it for us, and this year had us missing 20 straight threes to start the game and shooting an awful percentage from the line. We've had plenty of chances, but for one ridiculous reason or another we haven't been able to finish the job. Of course, Tubby's recruiting over the last two seasons didn't give us much reason to hope the drought was getting any closer to ending. ______________________________________________
Katie Martin
While I was disappointed with Tubby at the end, the man caught some bad breaks throughout his tenure (e.g. Bogan's ankle, Dwayne Wade).  Parity? meh.  Just don't think much of parity when the same teams are winning championships (e.g. Duke, Kansas, North Carolina) that have always won championships.  How is it that they can overcome the parity but UK can't? Not sure the exact reason, but hopefully we're on the right track to correcting that. ________________________________________________
BTI
Morris Peterson, Dwayne Wade, Steve Novak, Squeaky Johnson, Deshawn Butler.  Basically, sometimes the other teams best player is good enough to beat the better team.  It seems to happen more to Kentucky than other teams, but thats just how the chips have fallen.  The '05 team is the one that hurts the worst because they had so many chances during that game to put it away and couldn't.  But in every other Elite Eight game the Cats have been to, they just got beat, plain and simple.  Blaming Tubby is silly.  Tubby had some medicore teams during his tenure, and that rests on him.  But the 3 Elite Eight losses rest on the players.