Bye Week Blues: What to Watch With The Cats At Home
Well the Cats have a bye week and we enter the no man's land of the college football season. It's too late in the year for marquee non-conference matchups and it's too early in the year for Conference play to be going full force. Still there will be a lot of football to be played today with several games holding major implications for the Cats. So sit back, relax, and enjoy these games while the Cats are at home: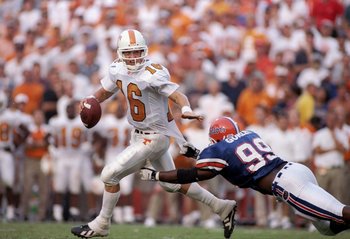 Florida Vs Tennessee
While the best outcome in this game would be a Bane-esque sinkhole opening up to swallow both teams we will have to schedule for a little bit of scouting. After losing in week 2 to an unranked Miami team Florida finally looks susceptible to an upset. Tennessee is coming off one of the worst losses in the history of the school as they rebuild under Butch Jones. There is a chance Kentucky could find a way to win against both of these teams and in order to know if that is a legit possibility this game will provide a bunch of answers. Is Florida as bad offensively as they have appeared over the last year? Can we get Will Muschamp fired? The answers to those questions will start to be resolved tomorrow.
Arizona St Vs. Stanford
I know, I know who really cares about Pac-10 football. Normally, not me. However this game is the only match-up of two top 25 teams as the number 23 Arizona State Sun Devils travel to take on the fifth ranked Cardinal of Stanford. Surprisingly, since Jim Harbaugh made the leap to the NFL Stanford has remained relevant in college football.  ASU probably shouldn't be ranked after the refs gave them a victory against Wisconsin. Come for the only ranked game stay for the smoking hot ladies of Arizona State.
North Dakota St. Vs. Delaware St
No, you're not seeing things College Gameday is really heading to Fargo, ND to watch one FCS school beat down another. Still check out the awesome environment inside the Fargodome http://www.youtube.com/watch?v=nIqTcbDq088&feature=player_embedded And watch NDSU, who are back to back FCS champs and hold a win over K-State, put on a football clinic. Should be a fun blowout to watch   Other games of note: Mack Brown coaching for his job against K-State   What games will you be watching today?