Calipari Dishes on Diallo's Decision, P.J. Washington and More at Team USA Training Camp
[caption id="" align="alignnone" width="1200"]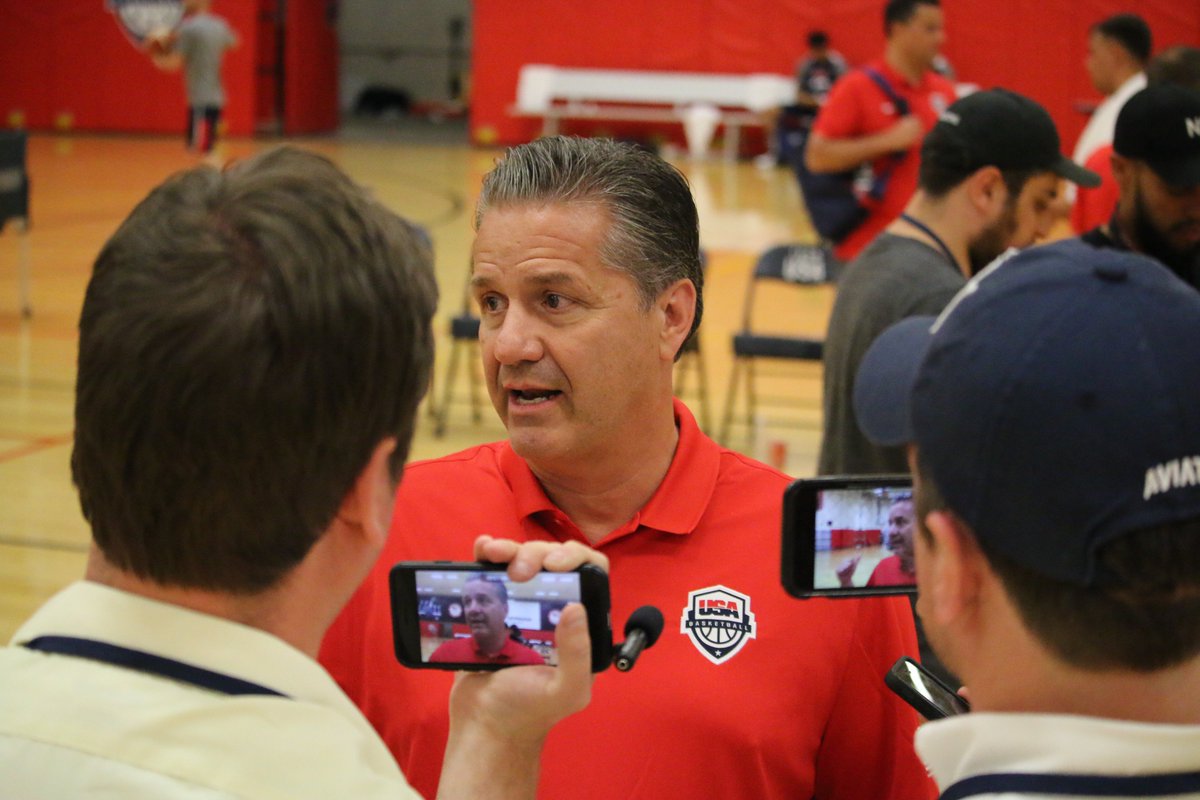 @USABasketball
[/caption] The big story from John Calipari's time as Team USA's FIBA U19 head coach are the seemingly endless advantages to this opportunity.  A topic once again today, to nobody's surprise Calipari said he enjoys getting to coach three of his players in June.
"You get a chance to see and learn about your guys before the season starts
, which is pretty good,"
Calipari told reporters
following day three at Team USA Training Camp in Colorado Springs.  "It's good, just the challenge of it is -- I have to be patient." It paid off today.  P.J. Washington struggled on the first day of camp.  Stuck playing like a traditional power forward, Calipari wanted to see him do what he recruited him to do:
play position-less basketball
. "You think about how we play and how the game where it's going; we're position-less.  Play basketball.  Take somebody on the bounce," he told P.J.  "Get in the lane.  Don't short-dribble and spin, it doesn't work.  It might've worked in high school, it doesn't work in college.  It doesn't work anywhere.  You gotta get by people.  Shoot jump shots.  Go play." John Calipari also shared what he told Hamidou Diallo on the day he decided to stay at Kentucky instead of head to the NBA Draft.  They spoke three times, and Cal made sure to point out that Diallo called him twice. "If there was somebody who would've committed to us earlier, he would've gone."  Cal told Hami: "I'm with you, whatever you want to do, but
the later you are in that first round or second round, you take all the risk and they take none.
" Now Cal is making sure Diallo uses this year to make sure he's ready to make a big jump into the draft.  So far, Diallo is doing everything Calipari asks. "He's got work to do," Cal said.  "He's not a finished product and that's why I love the fact he's here.  I walk in, he's out there early working on stuff." It appears to be working for his jump shot.  This is one of many Hami hit from long range today. https://twitter.com/KyleTucker_SEC/status/877288658650382337 Cal didn't spend much time talking about his recruits, but he did briefly mention Bol Bol.  "The first day was ridiculous.  He got a little winded, but he was still good, and I thought this morning he was good. " The following USA Basketball video was supposed to feature Cal's thoughts on his cuts, but I can't stop watching Bol's ability to effortlessly dunk.
"I'm looking for players that are going to make other players better." - @UKCoachCalipari

🇺🇸🏀 #USABMU19 pic.twitter.com/QmpI9rcDZn – USA Basketball (@usabasketball) June 21, 2017