Chris Doering, Jacob Hester say Kentucky is No. 3 in SEC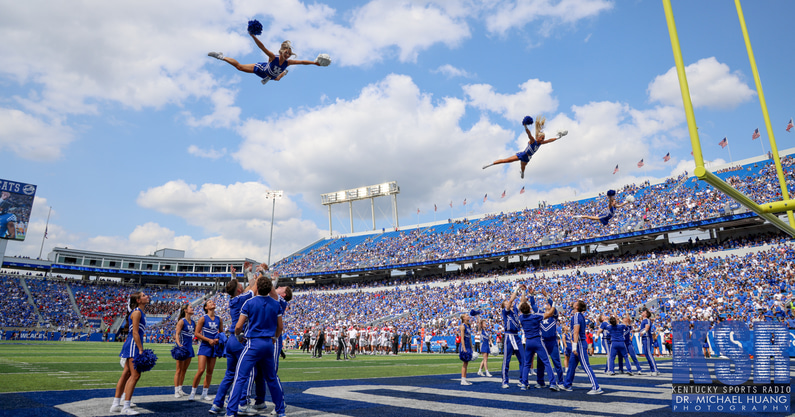 You can take your Tennessee and Arkansas hype. Keep believing in Florida or Texas A&M if you want to. Want to like Lane Kiffin and the Ole Miss Rebels? Go right ahead.
Chris Doering and Jacob Hester are taking the Kentucky Wildcats.
The former college football standouts — Doering a Gator and Hester an LSU Tiger — are all aboard the hype train, singling out Kentucky as the No. 3 team in the SEC. It's a take the two media personalities have stood behind from the start of the season, and now, they're starting to feel the buzz of others believing, as well.
"Kentucky is where they need to be and they just have to continue to stack up and get to the stepping stones that put you in rarified air," Hester, a former LSU tailback, said on Pregaming The SEC. That's when we start talking about them as the third-best team in the SEC. We think they're there already."
"You know what I'm hearing from people? I'm hearing people starting to get on that train with us," Doering, a former receiver at Florida, added. "I'm hearing people say they may be the second-best team in the East, they may be the third-best team in the conference. It's a song you and I have been singing dating way back."
"I want to push people off the train," Hester said. "Like, 'Woah, woah, woah, this thing already left the station and you weren't on it.'"
Doering didn't just stop there. The former Gator standout believes Kentucky will defeat Georgia in November, a game that could put the Wildcats in the SEC Championship Game in Atlanta in December.
That's how much he likes UK this season.
"I'll stand by this until November 19 — I believe that Kentucky's gonna beat Georgia in Lexington on November 19," Doering said. "There could be a lot on the line in that game. The best competition of the season may not Tennessee, it may not necessarily be Florida, but in fact the Kentucky Wildcats. You and I both believe that, and I think they're only going to get better as the season goes on. I can't wait to watch that game in mid-November."
Check out the complete back-and-forth below:
A lot of football left to be played before then, and it starts this evening when the Wildcats take on Northern Illinois at Kroger Field, with kickoff scheduled for 7 p.m. ET.
Time to take care of business.