Chris Lewis makes case for Most Improved Kentucky Wide Receiver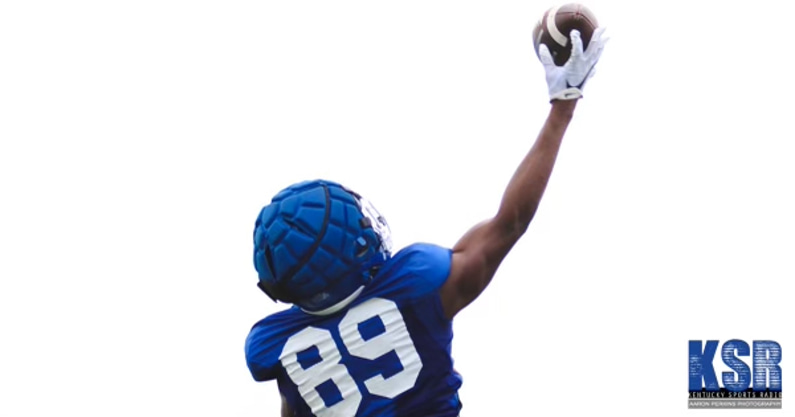 Mark Stoops often calls the 2022 class of wide receivers the deepest group he's ever had at the University of Kentucky. Wide receivers coach Scott Woodward agrees, in large part thanks to emerging redshirt freshmen like Chris Lewis. Right now Woodward is ready to roll out a six to eight-man rotation.
"They are kind of what I thought they were," Woodward said Tuesday morning. "Barion (Brown) is explosive. Tayvion (Robinson) coming from Virginia Tech is exactly what I thought he'd be, a playmaker with the ball in his hands. Dane (Key) is coming along great. All of those guys — Chauncey (Magwood), DeMarcus (Harris), C-Lew (Lewis) — all those guys are progressing in the right direction."
Of all the returning players in Woodward's wide receivers room, Lewis has made the most significant strides.
"From last spring to this camp, Chris Lewis has gotten better, the most improved in our room," said Woodward.
How Chris Lewis Developed as a Redshirt Freshman
Chris Lewis was a Top 500 prospect and an On3 Consensus four-star recruit in the class of 2021. A two-sport athlete, he was tabbed Birmingham Athlete of the Year by Al.com as a senior. He had the athletic chops, but there wasn't enough meat on his chicken wings.
"I used to get pushed around running through the middle of the field trying to get around linebackers last year," Lewis told KSR. "I feel like now when I'm running I can shoulder through those re-routes and all of that over stuff."
"When he got here he was 6-foot-4, skinny. Now he's put on some weight," said Woodward. "I always told him, 'You gotta learn to play big.' He's starting to understand his body. He is 6'4″ 215, 220 (pounds) or whatever. The kid can run. He has strong hands going through the middle. He's a smart player. You can put him in multiple positions. He's been impressive."
The man known affectionately by his teammates as C-Lew made gains in the weight room and in his playbook. The most noticeable differences he feels on the football field are between his ears.
"My first year I was coming straight from high school. I really played quarterback all my life, so I didn't really know the game as a receiver. Just coming in, learning the game behind Wan'Dale Robinson and then this year, the experience Tayvion Robinson has; learning from him and using the tips and little facts that he gives me, I feel like the knowledge of the game is one of my biggest improvements."
Chris Lewis did exactly what he needed to do as a redshirt freshman. This year he's prepared for a difficult competition in a crowded room of talented wide receivers.
"We're making big strides," Chris Lewis said. "Everybody in the room is talented, so everyday at practice you have to work. If not, then you'll get passed up by the next man. I feel like that's what's really helping us push each other because you know you have to work if you want to get on the field."