Chris Rodriguez's availability in 2022 may be in question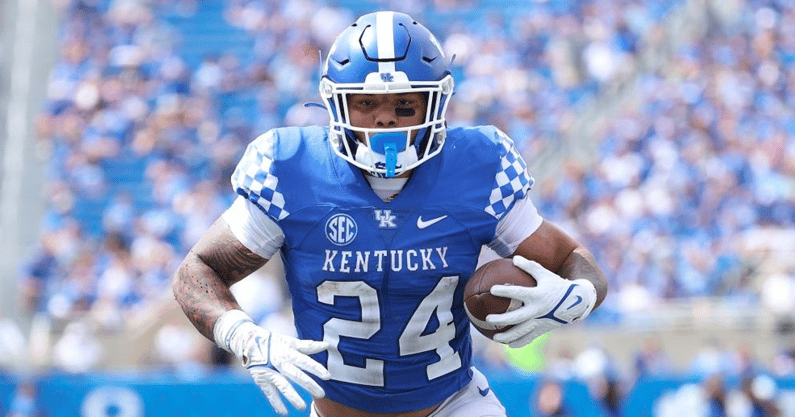 Could Kentucky football be without one of its biggest stars this season, at least for an extended period?
KSR's Matt Jones reported Friday morning that there are questions surrounding Chris Rodriguez's status going into the 2022 season. Details remain unclear at this time and nothing has been finalized, though Jones stressed that the concerns extend beyond Rodriguez's recent DUI arrest.
"I would say it's up in the air what the future of Chris Rodriguez will be at Kentucky," Jones said on KSR to open the show Friday morning. "I don't think it's decided, and to be honest with you, I'm not sure what this is, but something has occurred that is not related to the DUI that could end up making it to where he is not on the team."
Should he stay on the team, a suspension would be almost certain, says Jones. And it'd likely keep him out of Kentucky's crucial matchup against the Florida Gators in week two.
"Even if he is on the team, I think it is almost certain he will not be playing in the first few games," he added. "He may not play all year, but would almost certainly not be playing in the first four or five games, which would include the Florida game."
Earlier this month, Rodriguez was arrested for careless driving and operating a motor vehicle while under the influence of alcohol. The Kentucky star running back was pulled over at 3:15 a.m. in Fayette County on Nicholasville Road prior to Alumni Drive. The arrest citation notes that his vehicle was "not maintaining its designated operating lane" and he later admitted to consuming alcohol. There was also an alcoholic odor emitting from the vehicle, the citation reads.
The First-Team All-SEC tailback registered 1,379 total rushing yards for Kentucky during the 2021 season on 225 attempts, resulting in 10 touchdowns on the ground across his 13 appearances. In 32 career games, Rodriguez has 417 carries for 2,739 yards and 27 touchdowns, adding 15 receptions for 75 yards and three touchdowns. 
Should Rodriguez miss an extended period of time, Kentucky will be forced to lean on JuTahn McClain, Kavosiey Smoke and La'Vell Wright in the backfield. A solid group, certainly, but one missing its star.