Coach Cal: "Don't let anyone steal our joy."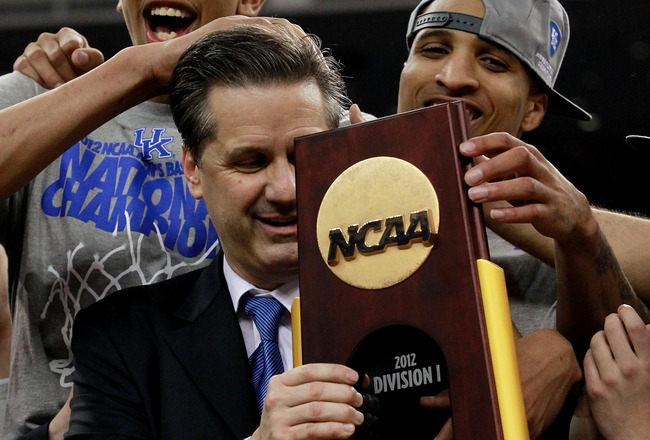 With NBA rumors flying all over Twitter from beat writers most of you have never heard of, there is only one person you need to be listening to on the subject. His name is John Vincent Calipari and he is the head coach of the University of Kentucky Wildcats. From
CoachCal.com
:
Big Blue Nation, breathe. Relax. Calm down. Enjoy the championship. I just talked to Mike DeCourcy and Andy Katz and they asked me if I was going to jump to the NBA. What?! We just won the championship a day and a half ago. The only three things I'm trying to decide on is when I'm going to go see a few recruits, how I'm going to get through all these voicemails and when do I get a chance to get some sleep. But for those of you that need to hear it again, let me repeat what I told Andy and Mike: I'm not going anywhere. I have the best job in the country. Why would I leave after we've just won a national title? We're trying to catch UCLA, folks. I've got more money than I'm ever going to need or my family can spend, so I don't have to make a decision based on finances. Let me assure you that you will see me at NBA games this summer … to watch our former players. I'm not going to give up my lifestyle based on a few rumors, and I will continue to go to NBA games to see my family, friends and former players. I'm even going to a game tonight. But relax, Big Blue Nation. Sit back and enjoy this special time. We've waited 14 years for this, so let's not let anyone ruin this for us. No one's stealing my joy or my players' joy. Don't let them steal yours.
Boom.