Coach K really doesn't want to compare Karl Towns and Jahlil Okafor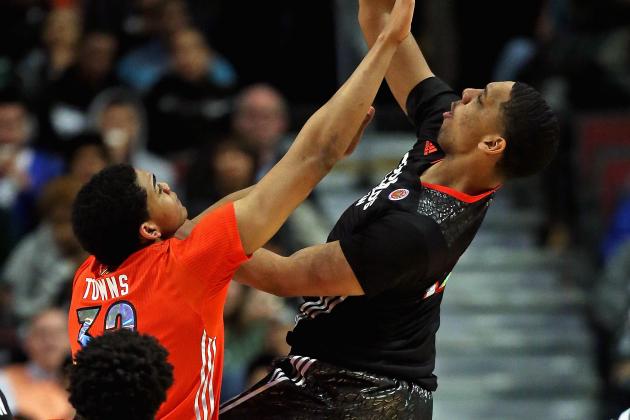 I can already tell that a popular storyline this week will be Karl Towns vs. Jahlil Okafor. The two freshmen are projected to go first and second in all the major mock drafts, with Towns recently gaining momentum for his performances in Kentucky's postseason run. If Kentucky and Duke advance to the final, the Towns vs. Okafor debate will dominate the conversation, and
this morning, Mike Krzywerkwj;kdjc implied he's already tired of it
. Coach K and a reporter had an awkward interaction in which the reporter first said he wasn't going to ask Coach K to compare Towns and Okafor, and then ended up asking him anyways. It was weird. Here's the transcript:
Q. Mike, Karl-Anthony Towns seems to be captivating a lot of imaginations. Some suggest he's the best freshman big man in your sport. I'm not asking you to compare him and Okafor. COACH KRZYZEWSKI: Thank you.
Q. You've seen enough to be pretty sure it's your guy. COACH KRZYZEWSKI: Well, you are asking me that then (laughter)? What you just said you asked, though.
Q. You're right. COACH KRZYZEWSKI: What I would tell you is, I don't watch Kentucky very much because we haven't played them. You all watch these other teams more than we do, or more than I do. I try to watch the teams that we're going to play against. I know our league. I really try to know the teams we just played, Utah and Gonzaga. But I'm not watching Kentucky like I would if we were going to play them. I know Towns. We recruited him. He played for the Dominican team. He's a great player, great young man, beautiful family. He's going to be a terrific pro. Where he stands in comparison to anybody, who knows. The people who do that are the people who are called professionals who are going to draft. But he's going to be a terrific player. Based on what I've seen of him as a youngster, what I know of his character, then the little bit that I've watched Kentucky play, he's terrific.
He really is. And he should be the number one pick over Okafor. Karl's struggled from time to time, but I don't think he's ever done this: