Commonwealth Stadium's new concessions menu and other game day info A few weeks ago, UK announced some new food items that will be available at Commonwealth Stadium this season, including Hot Brown nachos, a pork chop sandwich, a chicken and waffle cone, and a beef and cheddar croissant. This afternoon,
they sent out the entire concessions menu
, including prices. Read it and plan your culinary tour around the stadium:
Not enough food for you? Before each game,
two food trucks will be located outside Gate 11
near the plaza connecting the new training center and the stadium. This week's trucks:
Bradford BBQ
and
Mad Mike's
. To ease traffic around the stadium, UK is encouraging fans to ride share to games via Lyft and Uber, and has established a ride-sharing pickup and drop-off point on SportsCenter Drive: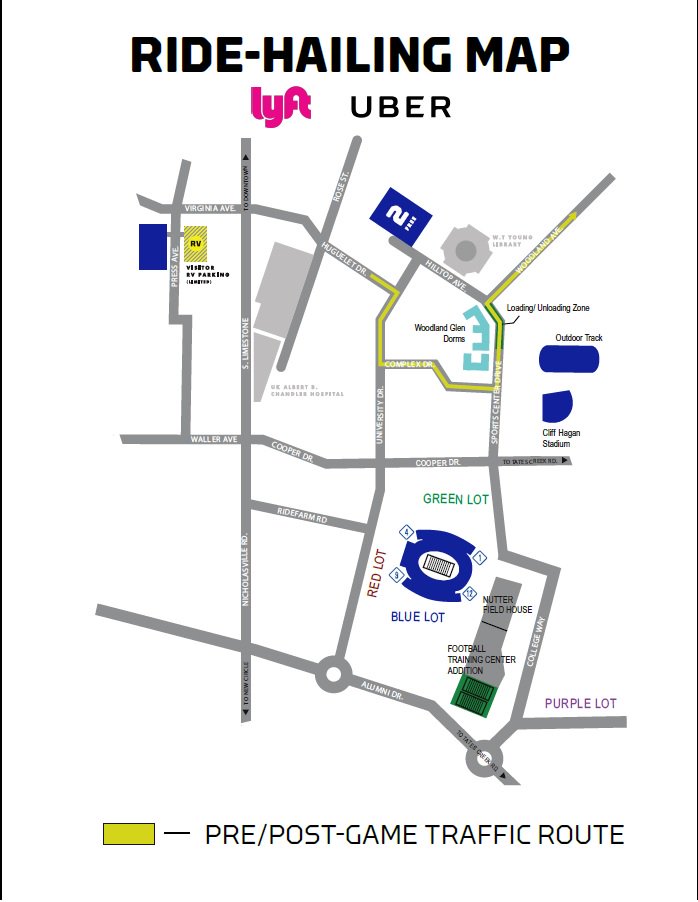 This year,
UK is implementing a voucher system for student seating
, which is now in the lower-level end zone and upper deck. Vouchers will be exchanged on a first-come, first-served basis on game days at the student entrance (Gate 15) of Commonwealth Stadium, as long as seating remains. The first 4,000 students to enter with a voucher will receive a wristband for general admission in the lower level student section, and remaining students will exchange their voucher for an upper-level assigned seat, while supplies last. For more information on the voucher system,
click here
.