The curious case of Jarred Vanderbilt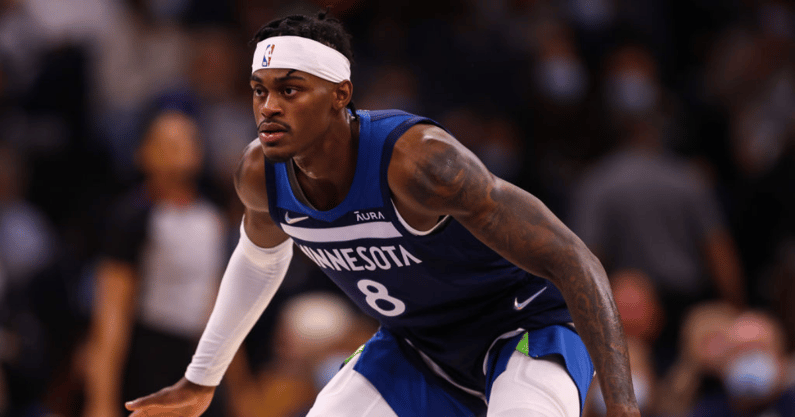 Few people rank Jarred Vanderbilt as one of their top Kentucky players in the John Calipari era. However, despite an injury-plagued freshman year, a slow start to his pro career, and an overall modest stat line everywhere, he wriggled his way into the Minnesota Timberwolves' starting lineup and an eight-digit contract.
Most Wildcat fans will commend him for this accomplishment, but they're also likely perplexed over how he went from role player at Kentucky to NBA starter.
Vanderbilt showed some promise at UK with his signature highlight coming in February 2018 when he won SEC Player of the Week honors. He earned the award after back-to-back strong performances against Arkansas and Missouri, but in total, he only suited up 14 games for the 'Cats, all coming off the bench, where he averaged just 5.9 points and 7.9 rebounds per contest.
Plagued by nagging injuries
Feet that simply didn't want to heal played a major part in his limited court time in Lexington. Vanderbilt injured his foot in September before his freshman year during a team drill and it forced him to miss the first 17 games of the season. Later, after a promising spurt of games during his return, he sprained his ankle in practice and sat out the entire 2018 postseason.
No one is going to begrudge a player for getting hurt, but rumors swirled that Vanderbilt became ultra-conservative with the management of his injury, fearing returning to game action could cause a relapse and thus jeopardize his NBA stock.
Unfortunately, the jeopardization of his NBA stock already occurred.
After getting some first-round buzz, Vanderbilt fell to 41st in the draft and landed with the Denver Nuggets.
Vanderbilt spent most of his rookie season sidelined with, you guessed it, a foot injury that required surgery. When it comes to nagging injuries for the man they call the Vandolorian, this is the way.
Vando finally made his NBA debut in January 2019 but spent the remainder of the season on the end of the bench enjoying mostly garbage time minutes for Denver.
He dropped down to the G-League for his sophomore campaign where he performed well, averaging a double-double in 20 games played. But ultimately, the Nuggets shipped him off to the Minnesota Timberwolves as a throw-in piece of a massive four-team trade involving Kentucky nemeses Shabazz Napier (infamous for snatching two titles away from Cal) and Evan Turner (responsible for stealing the Player of the Year award from John Wall).
Right team, right scheme, right time
Just when it seemed like fate destined Vanderbilt for a short-lived NBA career, something clicked during his third season. All of those attributes that got him drafted like his speed, length, athleticism, and ability to guard every position kicked into high gear.
It also probably helped that he was running on two healthy feet.
And while he still couldn't shoot, his tenacity fit perfectly beside fellow Kentucky Wildcat and silky big man shooter, Karl-Anthony Towns. No center in the NBA shot more 3s than KAT, so pairing him next to an athletic rebounder to crash the glass while Karl did work behind the arc proved to be a perfect niche for Jarred Vanderbilt.
This season, Vanderbilt either led his team or ranked in the top three in nearly every hustle stat, including screen assists, loose balls recovered, shots contested, second-chance points, and deflections. These advanced metrics cemented his place into the starting lineup, as he ranked nearly last on his team in traditional scoring categories such as points and assists.
He didn't just stand out amongst his teammates in the hustle categories. Vanderbilt ranked 13th in the entire league (minimum 50 games played) in deflections. This is impressive considering almost everyone ahead of him on this list was either a guard or MVP Nikola Jokić. That high-intensity motor and a carefully chosen jersey number earned him the nickname V8.
Getting healthy at the right time, for the right team, in the right scheme, along with some help from advanced analytics, culminated in Jarred Vanderbilt signing a three-year, $13 million contract last offseason, proving there is still room in the NBA for non-shooters in the mold of Dennis Rodman.