Cutter Boley Commits to Kentucky, Reclassifying to 2024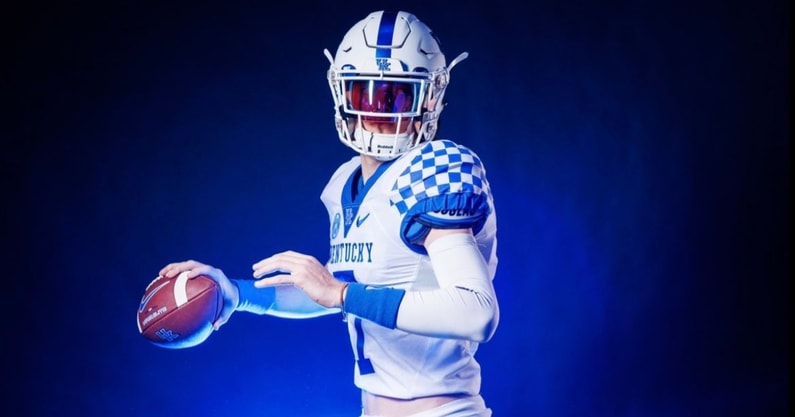 One of the top passers to ever play high school football in the state of Kentucky will be a Wildcat. Cutter Boley announced his commitment to Kentucky Thursday morning at Lexington Christian Academy. He chose the Wildcats over Tennessee, Michigan, Penn State, and Florida State. According to On3's Chad Simmons, he will also reclassify to the 2024 class. He will enroll in January.
Cutter Boley is in rare air. In the internet era of recruiting rankings (circa 2000), Boley is just the fifth top 300 prospect to play quarterback in the state of Kentucky.
The 6-foot-5 athlete is the third-ranked quarterback and No. 39 player in the 2025 recruiting class, according to the On3 Industry Ranking, a proprietary algorithm that compiles ratings and rankings from all four primary recruiting media services.
Sign up for the KSR Newsletter to get breaking news and daily headlines delivered directly to your inbox.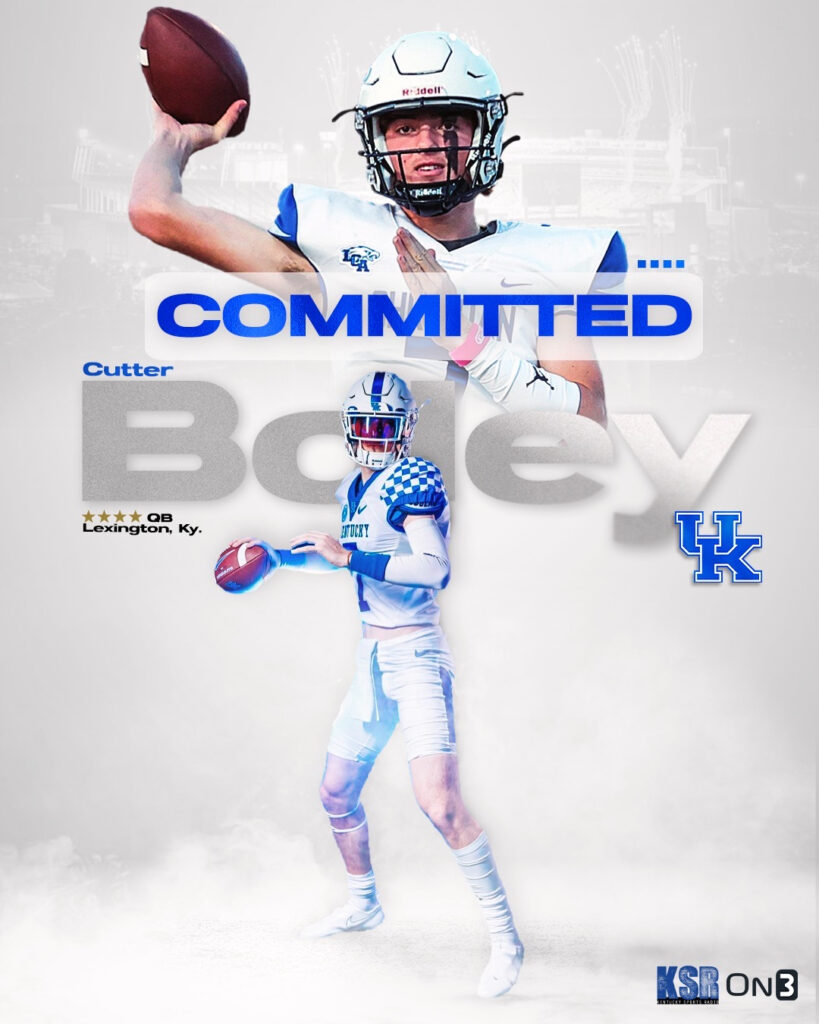 How Kentucky Landed Cutter Boley
Born in Hodgenville, he grew up in the shadow of his big sister. Erin Boley was Miss Basketball and Gatorade National Player of the Year in 2016. She played collegiately at Notre Dame and Oregon, scoring more than 1,200 points in her career.
Cutter's high school career began at LaRue County. As a freshman in 2021, he completed 83-of-165 (50.3%) passes for 1,391 yards and 11 touchdowns while rushing for six more scores. That fall he caught the eye of a few noteworthy quarterback developers. Lane Kiffin gave Boley his first scholarship offer just weeks after his freshman season ended. Shortly thereafter, Liam Coen had a scholarship offer ready for the underclassman.
Despite a move to Lexington to play for LCA in 2022, things got a little murky for the Wildcats following Coen's departure. Boley had an established relationship with the offensive coordinator, but it did not feel as natural with Rich Scangarello. He camped with the Cats and kept in contact, all while his 7-on-7 teammates from Tennessee's NPA infected Boley's brain with the thoughts of being a Volunteer. For quite some time, Tennessee was the team to beat for the four-star talent.
Fortunately, Coen made his triumphant return to Lexington in January, re-opening the door for Boley to become a Wildcat. Kentucky's offensive coordinator met with Boley early and often around town to seal the deal and keep the exceptional passer in his home state.
Subscribe to the KSR YouTube Channel for press conferences, interviews, original shows, fan features, and exclusive content.
What Boley is Bringing to UK
In just his second year of high school football, Cutter Boley was the state's leading passer. Last fall he completed 254-of-400 passes (63.5%) for 3,901 yards, 36 touchdowns, and 15 interceptions.
When looking at his biggest strengths and weaknesses, Boley's biggest weakness is his strength. He's tall and has a long frame, one that needs about 30 to 40 more pounds.
Even though he's skinny, he can still launch the football down the field with precision. Whether there's a ton of air underneath it or he's putting the ball on a line to hit a receiver in stride, the deep ball is the best part of his game. Cutter Boley appears to have a good feel for his surroundings. Far from a statue in the pocket, he uses his athleticism to evade would-be tacklers and find open receivers downfield.
All Aboard the Cutter Boley Hype Train
Cutter Boley has the highest ceiling of any quarterback that has committed to play for Mark Stoops. That alone is a significant move in the right direction for a program that's relied almost exclusively on transfers over the last decade.
The news of Boley's reclassification is huge and timely. He has an official visit scheduled for the first weekend of June, along with most of Kentucky's other top 2024 recruiting targets. The addition of Cutter Boley will spark momentum for the Wildcats this summer on the recruiting trail that will pay dividends down the road.