Darrion Henry-Young prepares to make an immediate impact at Kentucky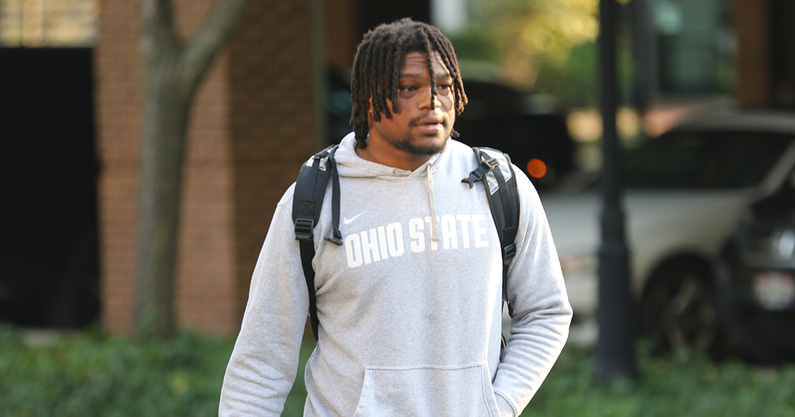 Kentucky will return approximately seven starters on each side of the line of scrimmage. There is not a great quantity of departures, but UK must replace quality players like Wan'Dale Robinson, Luke Fortner and Josh Paschal. Mark Stoops is addressing the manner in the transfer portal. Tayvion Robinson will play the slot, Tashawn Manning fills a hole in the interior of the offensive line and former Top 200 recruit Darrion Henry-Young will try to fill the large void left by Paschal.
"I want to be an immediate impact player. That's the goal. I'm just working right now, getting better everyday," Henry-Young said Thursday.
Henry-Young lacks the experience of the other two transfers, but he has the tools to fulfill those goals this fall.
"He's got high athletic talent," Brad White told the Voice of the Wildcats on The Leach Report. "He's a good mover for a person at his size: long arms, can redirect. Again, we knew of him when he came out of high school and having the opportunity to bring him in, develop him and add him to the group that we have, it's exciting."
Kentucky will lean heavily on talent from the 2020 recruiting class to fortify the defensive line in 2022. Of the 12 scholarship players in Anwar Stewart's position group, six are from the class of 2020. After waiting for their turn to shine, White believes the inexperienced group is hungry to compete this offseason.
"I think that whole room is excited to get going because they all understand the opportunity that's there. Competition makes everybody better and they love the idea that each and everyday those guys are going to compete. Coach Stewart is going to do a great job from a technique standpoint, from an effort standpoint and he's going to push those guys because we need them to step up," said White.
If it takes Henry-Young, Justin Rogers and Tre'vonn Rybka longer to come along, the defensive line has a nice safety blanket.
"The nice thing is that we're going to have some veteran linebackers behind him, so just like anything else, if we go through a little bit of growing pains or they make a mistake, we've got some linebackers that will make it right," said White.
Why Henry-Young Picked Kentucky
Vince Marrow recruited Henry-Young out of Cincinnati's Princeton High School. The defensive lineman enjoyed his trips to Lexington and put the Wildcats in his final six, but he could not pass up the chance to play for Ohio State.
"Being an Ohio kid. It's always been a dream to play at Ohio State, but with coach Marrow, it wasn't anything different. I always looked at Kentucky when I was in high school," said Henry Young. "Coach Marrow's always been the same guy."
During his first two seasons on Columbus, he struggled to crack the rotation while competing with a boatload of other four and five-star recruits. In order to maximize his potential, Henry-Young needed a change of scenery.
"I just needed a better opportunity to reach my goals to go to the next level."
When searching for a new college football team, it was an easy choice. Since his high school days, Mark Stoops has continued to push the Kentucky football program forward.
"He's building something different here and I'd like to be a part of it," said the talented defensive lineman.
Teammates Reunited
Henry-Young will be joining forces with an old friend. UK running back JuTahn McClain was a pee wee football teammate along with Ohio State offensive tackle Paris Johnson Jr. McClain and Henry-Young used to split carries in the backfield, climbing up to No. 12 in the nation in youth football rankings.
"It's great to have a guy like that — a guy I grew up with, a great player for sure and a great person — that I can go through the journey with and get better with and create history here with him," said Henry-Young.