Daveren Rayner will help 'room of concern' in 2023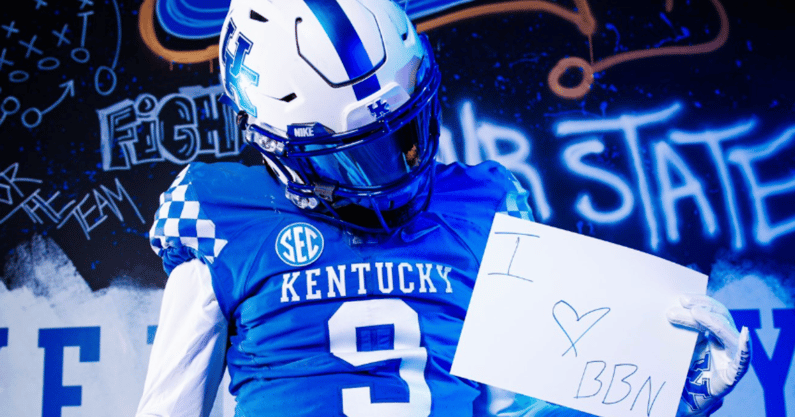 Daveren Rayner was a solid recruiting win for Kentucky in the spring transfer portal window. The former MAC linebacker will provide help instantly in Lexington.
Kentucky left the 2022 season knowing who their starters were at off-ball linebacker. D'Eryk Jackson and Trevin Wallace each closed the year strong and both South Georgia natives have multiple years of eligibility remaining. The two inside linebackers will play a critical role for Brad White's defense over the next couple of years, but depth was a concern.
The Wildcats only had four scholarship linebackers on the roster during spring practice with class of 2023 signee Jayvant Brown scheduled to join the team this summer. Off-ball linebacker was a position Kentucky needed to address in the portal. Kentucky zeroed in on Rayner recording a recruiting win over Cincinnati and Texas Tech.
White believes the true senior with two years of eligibility remaining will be a solid addition that can provide immediate depth.
"Really excited about him. He's been a multi-year starter for them over there at Northern Illinois and you know he's going to be able to come in and be a good addition to the room," White said on the latest "Behind Kentucky Football" podcast. "He's really athletic. A little bit on the lighter side, so I think the strength and development piece that we can offer and provide him will just help take his game to another level. But again, he's instinctual, he's smart, you can tell he loves ball."
Daveren Rayner recorded 118 tackles over his three years in the MAC with seven pass breakups, two interceptions, and two blocked kicks. While playing for head coach Thomas Hammock and defensive coordinator Derrick Jackson, Rayner played over 1,000 snaps and was a starter since his true freshman season in DeKalb. The multi-year starter was named NIU's linebacker of the year in 2022 after recording 71 tackles and 5.5 tackles for loss in eight games.
At a position where attrition consistently occurs, Rayner will have a chance to be LB3 at Kentucky. The transfer gives the defense experience and depth at a spot where depth is needed.
"He's going to be able to walk into that room and fit with that room and that's what we need," White said. "That was one room of concern from a depth standpoint."
Discuss This Article
Comments have moved.
Join the conversation and talk about this article and all things Kentucky Sports in the new KSR Message Board.
KSBoard