Davion Mintz and his dog Ghost signed NIL deal with a vet clinic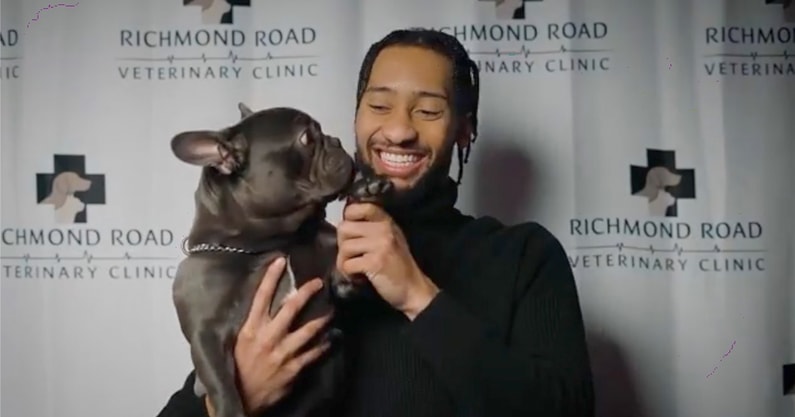 Davion Mintz and his dog, Ghost, made Name, Image, Likeness history by signing the first player-pup deal in college basketball. Mintz and Ghost signed with Richmond Road Vet Clinic in Lexington, Kentucky, picking Dr. Kevin Smith and Richmond Road Vet Clinic over two other hats (and leashes) on the Signing Day table.
"Big announceMINTZ!," the clinic announced Thursday morning. "Davion Mintz's French Bulldog Ghost has signed the first-ever NIL deal for a dog! Ghost is the Official SpokesDog of Richmond Road Veterinary Clinic in Lexington. Ghost likes the team at Richmond Road Vet Clinic – turns out all 5 doctors are Kentucky natives and all of them are CATS fans! Plus, they are open 7 days a week so his dad can still take him even with how busy his basketball schedule is. Let's make Ghost famous! Check out how Ghost made his decision in this video!"
See Ghost's commercial debut below:
More on Ghost, "the secret sauce"
At one year and three months old, and standing 16 inches long, Ghost is a French bulldog who lives in the Wildcat Lodge with Mintz and the Kentucky Basketball team as Mintz's support animal. Mintz and Ghost are very close, like all good boys and their owners, and Mintz realized how close when he and Ghost were separated as Mintz returned to school for a super-senior season. Mintz struggled early in 2021-22, then missed games with an illness, then it hit him: He needed Ghost. So Mintz filled out the paperwork and whistled for Ghost to move into the Lodge as a support dog midway through the season.
"I think he's the secret sauce to all of it," Mintz said last month after hitting five 3-pointers and scoring 19 points against Georgia. "It's been great with him around. He makes everything easier. He's probably the reason I'm actually playing well."
Up next for Ghost… maybe a Porsche next to TyTy Washington and Shaedon Sharpe, perhaps?