Dereck Lively II decision primer: Will it be Duke or Kentucky?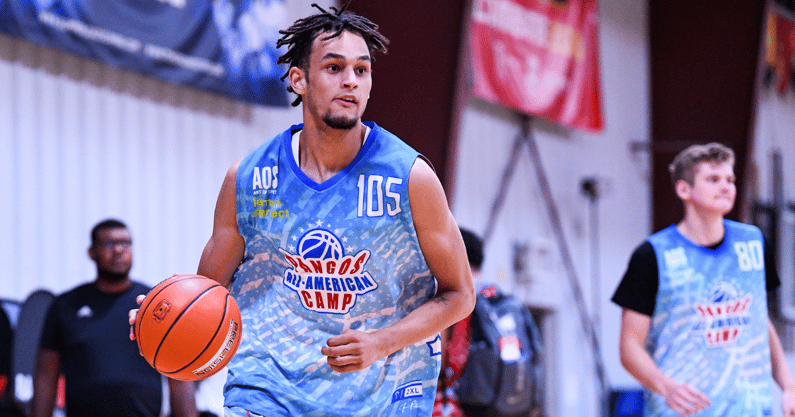 The day has come for 2022 five-star center Dereck Lively II to announce his commitment, choosing between Duke, Florida State, Kentucky, Michigan, North Carolina, Penn State, and USC.
Lively, the No. 2 overall prospect and No. 1 center in the senior class, is set to reveal his decision at 6 p.m. ET on Instagram Live.
He set his commitment date and time on Friday.
Who will land the 7-foot-2, 220-pound center out of Bellefonte, PA? And what will it mean for the program that lands his commitment?
Recruitment
Lively first started earning offers in 2019, with Penn State, UCLA, Miami (FL) being the first high-major programs to pull the trigger, followed by the likes of Ohio State, LSU, Florida State, Memphis, Georgetown, and Florida doing the same in 2020.
The major blue blood offers started rolling in in 2021, starting with North Carolina in February, followed by Duke and Kentucky in June.
Lively took his first official visit of the year to North Carolina on June 8, followed by an unofficial to Penn State on June 14. He followed it up with official visits to Kentucky on June 20 and Duke on June 29.
Coaches from Duke, Kentucky, Michigan and Penn State were all in to see Lively to open the in-person recruiting period starting September 9. UK's first stop to open the period was to meet with the five-star center in Pennsylvania.
As for a perceived leader, the trio of blue blood programs – Duke, Kentucky and North Carolina – have been seen as the leaders of the pack since the spring, with Michigan and Penn State also making strong pushes in their own right. The NBA G League also swooped in with an offer back in August, one reportedly worth $500,000.
Since the summer, though, Duke and Kentucky have been seen as the 1A and 1B options, fighting it out at the top of Lively's list in hopes of landing his commitment.
The general consensus was that Lively was planning to wait until the winter and potentially as late as the spring to make a commitment. He told KSR in June that a spring decision was "definitely" on the table.
"I think this could definitely last till the spring, even through the end of my senior year," he said. "This is a very tough decision for me and I really want to wait for the right place and the right moment."
Just three months later, Lively has clearly found the right place and moment to make a decision.
Duke vs. Kentucky
Lively will technically choose between seven final options in Duke, Florida State, Kentucky, Michigan, North Carolina, Penn State, and USC, but the consensus is that this is a battle of the Blue Devils and Wildcats.
UK was seen as the program with some of the early momentum, but lately, Duke has emerged as the anticipated favorite leading up to the announcement.
What does Lively think about both programs?
For Kentucky, Anthony Davis' development in Lexington has been a core talking point in Calipari's pitch.
"It's been great, building a relationship between me and Coach Cal," Lively told KSR this summer. "We've been talking about, if I go there, they can make me the best player I can possibly be. When I think about myself and my game, I remind myself of Anthony Davis. Anthony Davis went there and started to blossom there, and that's something I'm thinking about and feel that's something I could do as well.
"He's been talking about how, individually, I can do a lot more than some of the other bigs that have come through the program at my age, but there's a lot more he can do with my game and he's showing me the ropes of how he's going to get me better."
It's a school he could "definitely" see himself attending.
"Kentucky has always been one of the top programs, they've always competed, they've always brought great energy," he told KSR. "That's something I could definitely be a part of. If I were to go there, we would win, and that's just something I'd love to be a part of."
As for Duke, his stance on the program hasn't changed in the slightest following Mike Krzyzewski's retirement announcement.
"My stance with the Duke program is still high, I still love the Duke program," he told KSR. "Even though Coach K has left, he was on the Zoom call with me and he said he would still be a part of the whole coaching and building you as a player, developing you throughout the Duke program, if I were to go there."
In his eyes, Duke will remain the same with Jon Scheyer taking over as head coach.
"(Scheyer's) pitch to me has been great," he added. "He's mainly been talking about, even though Coach K is leaving,  it doesn't mean Duke is going to change at all. They're still a top program in the nation, they still have the respect. Even though Coach K has stepped down, I still feel like the coaching staff isn't going to change in any way, shape or form."
Predictions
Lively's camp did a phenomenal job preventing leaks at the time of his abrupt commitment announcement, with official predictions being limited to educated guesses and reading of tea leaves.
As the weekend crept forward, though, Duke buzz grew louder and Crystal Ball and FutureCast predictions started rolling in.
Now just hours away from a decision, a consensus has been formed.
Crystal Ball (247Sports) – 100% Duke (ten predictions, seven being of high confidence)
FutureCast (Rivals) – 100% Duke (five predictions)
15 total predictions have come in since Lively's commitment announcement on Friday, with all favoring the Duke Blue Devils.
Team Rankings
Kentucky enters the day ranked No. 1 in the 247Sports Team Rankings with 65.87 points, ahead of North Carolina (65.40) and Duke (64.98). A commitment from Lively would give UK a team score of 70.18, followed by another boost to 71.07 with the addition of five-star guard Cason Wallace.
Should Lively commit to Duke this evening, the Blue Devils would move up to No. 1 with 69.78 points. Duke is also in hot pursuit of five-star forward Mark Mitchell and four-star guard JJ Starling, who are both scheduled to take official visits to Durham in the coming weeks. Adding both gives Duke a final score of 70.94.
As for Kentucky, Adem Bona joins Wallace at the top of the priority list for John Calipari and his staff. Adding both would give UK a projected team score of 70.83, just behind Duke at No. 2 overall.
At that point, Kentucky would need to add a commitment from any top-50 prospect in the senior class to retake the No. 1 spot. But does UK need six high school signees, especially without knowing who leaves for the draft or whether there will be any outgoing transfers in the spring? Would Calipari rather hit the transfer portal to round out the roster, if necessary?
An upset by Kentucky today would essentially lock up the No. 1 recruiting class for the Wildcats, while a commitment for Duke likely solidifies the top spot for the Blue Devils. Simple as that.
---
We'll find out for certain when Lively makes it official at 6 p.m. ET.