Dev Jaiswal's Thursday Night News and Views

The Scripps National Spelling Bee was tonight, and even though Gokul Venkatachalam and Vanya Shivashankar were crowned co-champions (kids today are so soft),
the real hero was Dev Jaiswal
. Dev went out midway through the finals on the word "iridocylitis," which, if you ask me, was harder than half the words Vanya got, but whatever. Dev, from Matthew Mitchell's hometown of Louisville, Mississippi, handled the loss in the best way possible: saluting the crowd and kissing his mom and sister. Dev was clearly the crowd favorite, and even made it on Drake's Instagram:
In a battle of "real MVPs," it's a tie between Dev and Vanya's dad, who wore a "The Beefather" teeshirt:
I hope you guys enjoyed our impromptu live blog for the event. Dev and The Beefather, these news and views are for you.
Tony Barbee met with the media
Last week, Barbee was promoted from "special assistant to the head coach" to "assistant coach," filling the spot vacated by Slice Rohrssen. Today, Barbee met with local media to talk about his new role, which will let him get back on the court and work with players again. "I saw [the players] every day. It was hard sitting there every day and not being able to help the guys in that role, but obviously I got a great feel for all of the returners and what they bring to the floor as players," Barbee said, admitting that one day, he wants to be a head coach again. "I see myself as a head coach and want to get back in that role, but now that I'm an assistant I'm going to do that to the best of my ability and help Coach in any role that he needs me to fill."
His quote about Tyler Ulis makes me excited for next season
When asked what impresses him most about Tyler Ulis, Barbee pointed to the sophomore point guard's incredible poise. "His composure. It was uncanny for a freshman point guard at this level to play with the composure he plays with. It's not natural," Barbee said. "That's one of his unique talents. He doesn't get rattled by anything. He's fearless. I think we all saw that last year. College basketball is about guard play, for the most part. If you've got good bigs and good guards, you're going to be one of the best teams in the country. When you start with a point guard like Tyler, you're starting at a pretty good place."
Barbee hinted the staff could still add one more player...
...cough, Jamal Murray
. Of course, Barbee didn't mention Murray by name, but said because of the available scholarships, "if there's an ability to add a piece or two out there that we think could help us, we'll do that"; however, he stressed that the staff is "very comfortable" with the roster they've already got for next season.
Kentucky's new permanent SEC opponents are Florida, Tennessee, and Vanderbilt
Today, the SEC released a new scheduling format in an attempt to fix the last one, which was horrible. Kentucky's new permanent SEC opponents will be Florida, Tennessee, and Vanderbilt, meaning we'll play each of them twice, unlike this season, in which the Cats only played the Vols and the 'Dores once. UK will play at least one game against the other ten teams in the conference, and the remaining two games of the 18-game schedule will be picked on a rotating basis each season. Here's the new format in full:
Alabama — Auburn / Mississippi State / LSU Arkansas — Missouri / Texas A&M / LSU Auburn — Alabama / Ole Miss / Georgia Florida — Kentucky / Georgia / Vanderbilt Georgia — South Carolina / Florida / Auburn Kentucky — Florida / Tennessee / Vanderbilt LSU — Texas A&M / Alabama / Arkansas Ole Miss — Mississippi State / Auburn / Missouri Mississippi State — Ole Miss / Alabama / South Carolina Missouri — Arkansas / Texas A&M / Ole Miss South Carolina — Georgia / Tennessee / Mississippi State Tennessee — Vanderbilt / Kentucky / South Carolina Texas A&M — LSU / Arkansas / Missouri Vanderbilt — Tennessee / Kentucky / Florida
The new turf is being installed at Commonwealth Stadium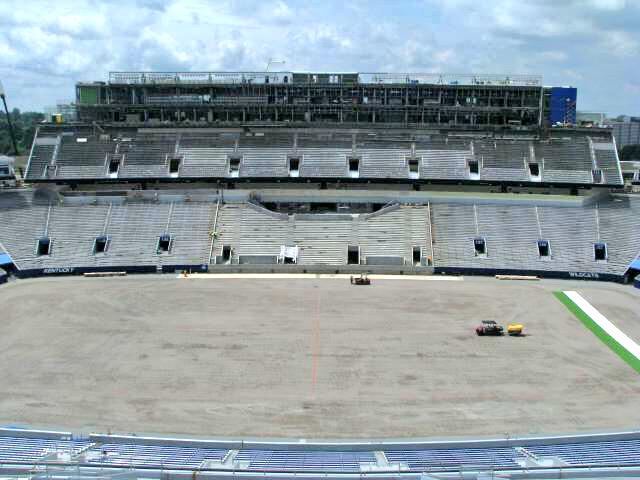 ...and UK invited the media in to take a look, which meant about a million pictures flooded social media of the same thing at once. That's saying a lot since we've seen new constructions pics almost every week and it's going to take about four weeks for the turf to be completely installed, so I'll share my favorite pic of the day: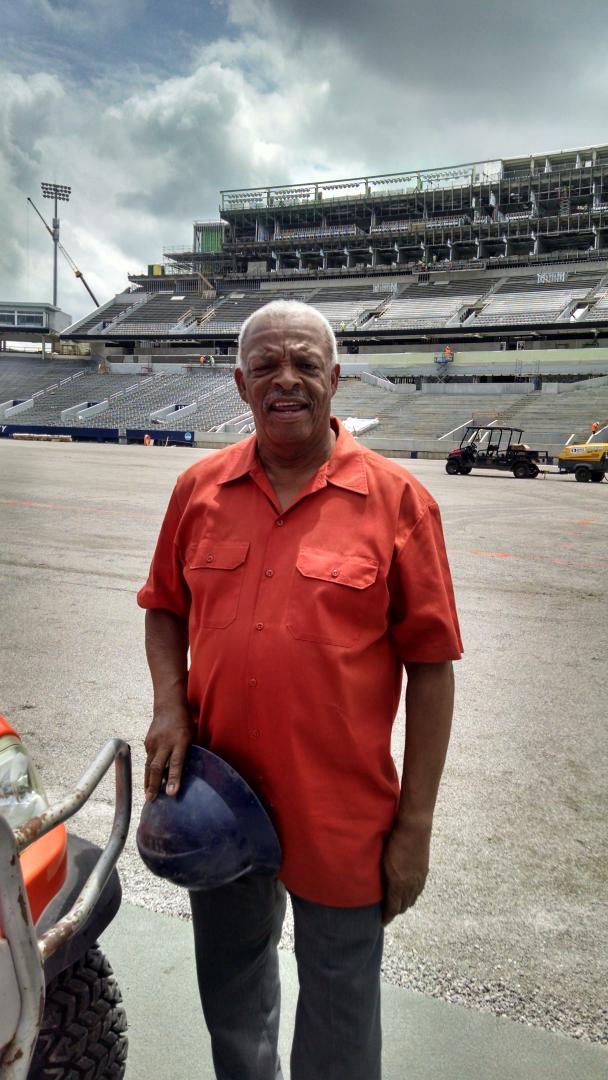 I love Lonny.
The Chicago Bulls fired Tom Thibodeau today
...which means it's only a matter of time before we hear Calipari to Chicago rumors. Which means it's a good time to revisit Calipari's remarks from yesterday about staying at Kentucky:
"It took me 20 years to get the job," Calipari told the Cats Pause's Darrell Bird. "For me to leave something like this, you're going to have to uproot me. That's how I feel."
To uproot something means to pull it out of the ground. Pretty powerful language, even a day later. We need Darrell to share his audio of it so we can play it on loop on the site.
These students thanked Cal with a great pic
[caption id="" align="alignnone" width="600"]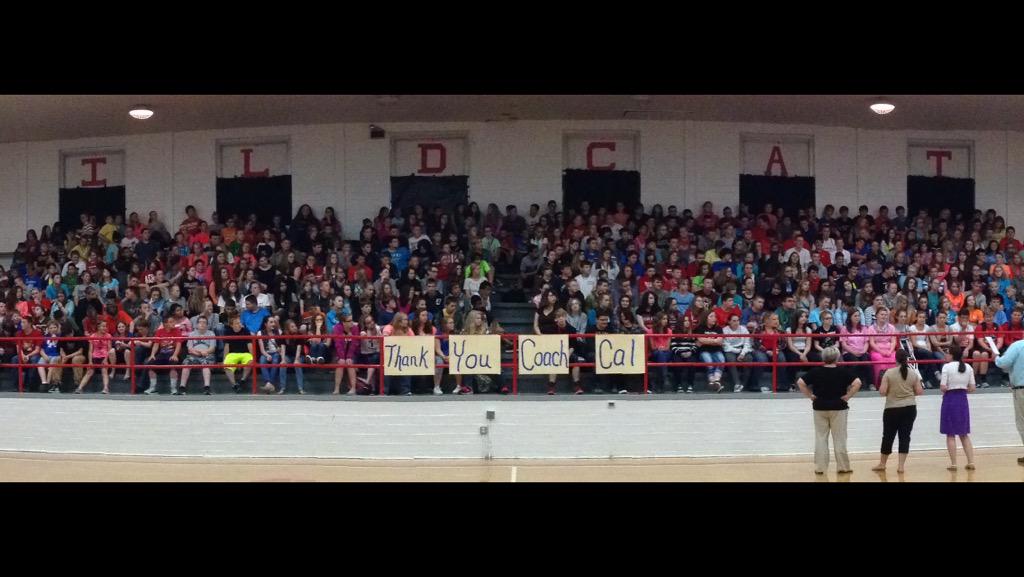 @UKCrazyCatLady[/caption] According to
LaurenHC on Twitter
, John Calipari's foundation sponsors a financial literacy computer program that her middle school students use. To thank Cal, all 450 of them posed for this picture today. But he's the guy who's ruining college basketball, right?
If this picture doesn't make you smile, you don't have a heart
Giving Lonny some competition there, guys.
Julius Randle likes the idea of an all-Kentucky frontcourt in LA
Randle participated in a Lakers workout today, after which The OC Register's Bill Oram asked him what he thought of an all-Kentucky frontcourt if the Lakers draft Karl Towns. Julius laughed and responded, "It wouldn't be bad at all." No, it wouldn't. Neither would all the Lakers gear I'd order.
Yes, we're aware the comments section is on the fritz
It hasn't just been a slow day today. The comments section is currently undergoing maitenance and we hope to have it back up and running by tomorrow morning so UK_JB can call "First" on the show thread.
Matt's gone, but tomorrow you can ask Ryan and Drew anything on the radio
Matt left for his two-week vacation today and Ryan, Drew, and Freddie Maggard will kick off the all-star lineup of guest hosts tomorrow morning. Ryan and Drew are even upping the ante with another edition of "Ask Anything Fridays," which may end up getting them kicked off the radio. In the second hour, KSR contributor and former UK quarterback Freddie Maggard will join them to talk the oblong ball. Sounds like the perfect way to kick off the weekend to me.