Devin Hyatt, Will Norman have fall official visits scheduled with Kentucky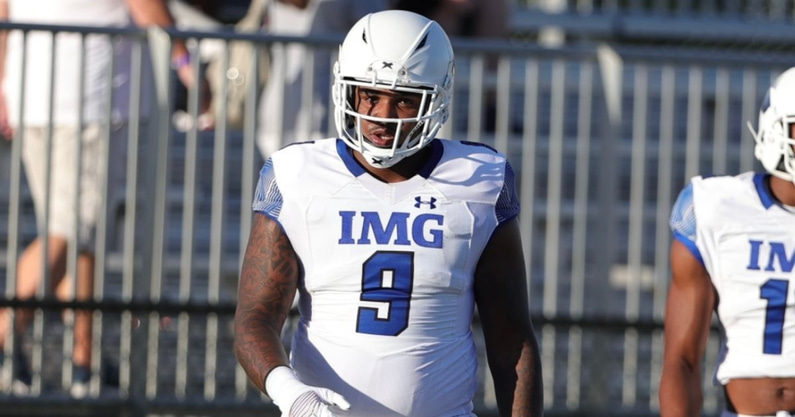 IMG (Fla.) Academy is a preparatory boarding school that fields some of the best high school teams in many sports. The football squad brings players from all over the country together to play a national schedule. The program consistently has numerous FBS prospects yearly that sign with schools all over the country.
This high school powerhouse has been running at an efficient level for a long time, but Kentucky has not been able to really get its foot in the door. That appears to be changing in the 2023 cycle.
Both wide receiver Devin Hyatt and defensive lineman Will Norman are rising senior prospects at IMG Academy who have some big-time Power Five interest. Kentucky is making a move in each recruitment.
Devin Hyatt (6-1, 179) is a South Carolina native that moved to IMG Academy for his junior season. The wide receiver is the No. 416 ranked prospect in the class of 2023 according to the On3 Consensus, a complete and equally weighted industry-generated average that utilizes all four major recruiting media companies. Josh Edwards of 247 Sports reports that the four-star prospect will be in Lexington on Nov. 11 to begin his official visit to Kentucky.
Hyatt is also planning on taking an official visit to Auburn on Oct. 28. The wideout took an unofficial to Kentucky in June.
Will Norman (6-4, 276) took an official visit to Florida in June but is planning to have a busy fall. The New Jersey native is the No. 156 ranked prospect in the class of 2023 according to the On3 Consensus. Norman has taken multiple trips to see Florida, Penn State, Rutgers, and Texas A&M.
The blue-chipper spoke with Rusty Wright of Rivals and confirmed that he plans to take an official visit to Kentucky in the fall.
"I will be taking an OV out to Kentucky," Norman told Wright. "I'd like to take one of my bye weeks to Kentucky to see what they are talking about."
The four-star recruit is also considering Jackson State, Miami, and Tennessee. The prospect grew up a basketball player and that is helping draw him to Kentucky.
"I want to have an opportunity to see what the campus is like," said Norman. "I want to have that on the list as an option. I definitely want to see what the hype is about, especially after they came off a great SEC run last year."
Kentucky still has a lot of work to do in the class of 2023. Fall official visits will need to be used wisely this year to help the coaching staff close on some key targets. The coaching staff has gotten a pair of big ones scheduled out of IMG Academy.