Early Scouting Report: Vanderbilt Commodores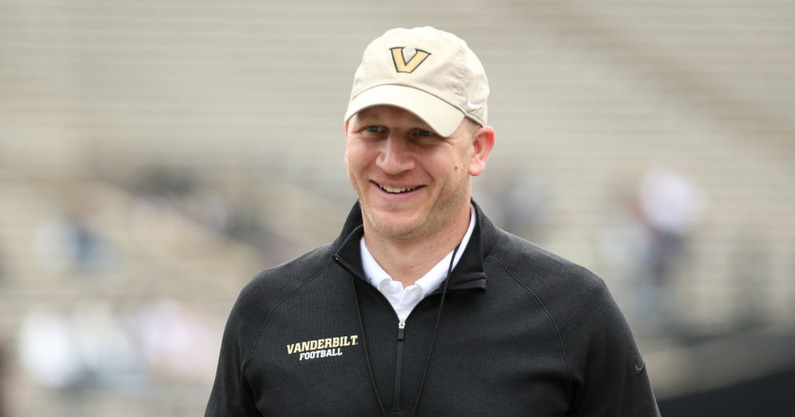 The Vanderbilt football program is at the beginning of yet another long rebuild. However, the Commodores are hopeful that this one will be different with an alum at the helm.
Clark Lea is entering year two on the West End after a brutal first season that included a bunch of blowout losses. However, the Commodores have some stability with 14 returning starters, but road trips to Alabama and Georgia could mean a very long year.
Our early scouting report series continues with an SEC East program that is looking to snap a 21-game conference losing streak.
Nuts and Bolts
There are a lot of issues with Vanderbilt football. Lack of funding is probably the biggest. However, Clark Lea is from Middle Tennessee and comes from a connected background. Vanderbilt is hopeful that will lead to increased fundraising efforts.
In March, Vanderbilt started a $300 million investment campaign. The Commodores have already secured $200 million of that figure and are working to get the remaining $100 million. These funds will help give the football program a much-needed facelift.
Part of the campaign will pay for both a football operations center and an indoor practice facility. There will also be stadium upgrades to help improve the fan experience on gamedays. Vanderbilt is attempting to become a more serious player in college football.
On the recruiting trail, Lea and his staff can now sell that future blueprint. There were some good early returns in the class of 2022 as the Commodores signed five top-500 recruits in its 27-man class. Due to the high academic standards, using heavy transfer portal volume won't really be an option for Lea. Vandy must nail high school evaluations and develop talent once young players are on campus.
After reeling the No. 41 overall class out of 69 current/future Power Five teams per average star rating, Vandy is off to a good start but must continually stack these types of classes to give itself a chance at competing for bowl bids down the road.
Talent acquisition still matters. Funding the program could give the Commodores a better chance at raising its recruiting profile.
Transfer Portal recap
Due to the high academic standards at Vanderbilt, the transfer portal will likely never be a huge part of the roster-building process for Lea and his staff. Unfortunately, the Commodores had to dig into it this offseason due to the amount of turnover on the roster.
Vandy lost 17 players to the transfer portal since the end of the 2021 season with seven players landing at Power Five programs. Most of the damage came on defense with three of the top 10 tacklers and other contributors leaving the program.
On offense, starting tackle Tyler Steen left for Alabama creating another big hole to fill. Vandy added six players to the roster from the portal. North Texas tackle Jacob Brammer is likely the biggest as he'll step into a starting role left by Steen.
If you're digging into transfer rankings, you will not see Vanderbilt at the top.
Vanderbilt offense
After a late offensive coordinator change right before the 2021 season started, Joey Lynch is entering year two on the West End as Vanderbilt's play-caller. The former OC at Ball State and Colorado State was dealt a rough hand in year one and the numbers are proof of that.
Scoring: 15.8 (No. 128 overall)
Success Rate: 34.5% (No. 127 overall)
Yards Per Play: 4.5 (No. 124 overall)
Yards Per Rush. 3.5 (No. 106 overall)
Yards Per Attempt: 5.6 (No. 126 overall)
Explosive Play Rate: 8.5% (No. 127 overall)
Points Per Scoring Opportunity: 3.6 (No. 109 overall)
As the data shows, Vanderbilt had not only one of the worst offenses in the Power Five but one of the worst offenses in college football. The Commodores scored less than 10 points in four games last season and only reached the 30-point threshold once. The line had issues creating movement, and there was a carousel that never stopped at quarterback.
Vanderbilt stopped that carousel immediately in 2022. Clark Lea named Mike Wright (6-4, 195, Jr.) and the College Park (Ga.) Woodward Academy product is likely the most important player on Vandy's roster this season.
In five starts last season, the dual-threat quarterback posted some anemic passing numbers but brought real value as a rusher. Wright rushed for 152 yards in a close home loss to Missouri, and his secondary reaction skills at quarterback gives Vanderbilt some off-script ability on offense. If this unit takes a big jump, it will be due to Wright's playmaking.
Tailback enters the year as one of the big strengths of the team. Former Temple transfer Ray Davis (5-9, 205, Sr.) led the Commodores in yards per rush (4.8) last season but was knocked out of the lineup after three games. His absence got other players some experience.
Both Rocko Griffin (5-9, 203, Jr.) and Patrick Smith (5-10, 185, So.) played over 250 snaps last season with the latter showing some real promise as a true freshman. If Smith could become a legit option at tailback, it could give Vandy a building block for the future. The only issue now is finding some guys to block for them.
Vanderbilt returns three starters on the offensive line, but the loss of Tyler Steen to Alabama stings. Bradley Ashmore (6-6, 310, Jr.) has started 17 games in his first two collegiate seasons showing some real promise at right tackle last year. The Commodores need to find him some help.
If Wright has time to pass the ball, there are some weapons to take advantage of. Will Sheppard (6-3, 200, Jr.) recorded 41 receptions for 560 yards last season and has a chance to turn into a real WR1 for this offense. Vandy must force-feed the Louisiana native the football.
At tight end, Ben Bresnahan (6-4, 243, RSr.) played through injuries last season, but the Georgia native is now fully healthy. In 2020, Bresnahan was a quality pass-catching option with 28 receptions for 300 yards. Expect the veteran to post more numbers this year.
Vanderbilt has huge questions to answer on the offensive line and that is the number one thing lowering the ceiling for the offense. However, having a mobile quarterback should help the big guys. If Wright is good and can consistently get Sheppard involved, the offense should see all of its numbers from 2021 rise.
Vanderbilt defense
Defensive coordinator Jesse Minter was a one-and-done at Vanderbilt after Jim Harbaugh and Michigan came calling. Clark Lea was able to scoop up Virginia defensive coordinator Nick Howell after head coach Bronco Mendenhall resigned in Charlottesville.
The defense is currently ahead of the offense in this rebuild, but this group has a long way to go.
Scoring: 35.8 (No. 119 overall)
Success Rate: 46.8% (No. 111 overall)
Yards Per Play: 6.7 (No. 120 overall)
Yards Per Rush: 5.5 (No. 121 overall)
Yards Per Attempt: 8.1 (T-104 overall)
Havoc Rate: 9.1% (No. 117 overall)
Pressure Rate: 16.4% (No. 129 overall)
Points Per Scoring Opportunity: 4.6 (No. 110 overall)
As the data shows, things were ugly for the Commodores last season. However, seven starters return, and Vanderbilt could have some real assets to build around for 2022.
At nose tackle, Daevion Davis (6-2, 285, Sr.) is a versatile player that can fill multiple roles. The Madison (Ala.) James Clemens product led the team with six pass breakups last season despite missing three games. Around him, Nate Clifton (6-5, 280, RJr.), Malik Langham (6-5, 308, RSr.), and Michael Owusu (6-5, 232, Super) provide experience.
At the second level, Anfernee Orji (6-2, 230, Sr.) is back after leading the defense in tackles (92) and tackles for loss (13). The former top-500 recruit is a playmaking inside linebacker who was required to clean up a lot for a defense with holes. The Commodores are hopeful Orji can take the next step and be an All-SEC caliber off-ball linebacker.
In the secondary, Jaylen Mahoney (5-11, 195, Sr.) has started 24 games over the last three seasons and should have a shot at All-SEC honors with a strong year. Mahoney provided the Commodores with some ball production last season, and the is the best coverage player on the team.
With Davis, Orji, and Mahoney, Vanderbilt has three upperclassmen who were all in the same recruiting class and are entering their fourth year on campus together. That trio will lead the way, and if the Commodores get strong play from these seniors, it should help this defense climb out of the gutter.
Outlook
Last year was very much a year zero situation for Clark Lea at Vanderbilt. The 2022 season should be seen as more of a year 0.5 for the former Notre Dame defensive coordinator.
Vanderbilt returns some legit experience on both sides of the ball, but this roster was hurt by transfer departures. There are some upperclassmen that the Commodores can lean on on offense and defense. Those veterans will need to perform for this squad to break a long SEC losing streak. However, this roster has been hurt by players having to play before they're ready. Vanderbilt needs to improve on redshirting newcomers to enhance their player development and keep the roster from turning over too quickly.
Drawing Alabama out of the West is tough, but the non-conference is manageable. Vandy gets Wake Forest at home in Week 2, and the Demon Deacons will likely be without star quarterback Sam Hartman but must make two non-con road trips while also getting Missouri on the road.
However, this team gets two byes thanks to playing in week zero, and the Nov. 5 matchup with South Carolina off of a bye feels like a great opportunity. Expect the win count to rise, but this team will still be the worst squad in the SEC. The Commodores are playing the long game, and finding a better answer at quarterback along with improvement across the board are the top priorities for this season.
Lea's program doesn't need wins, but proof of concept needs to be shown on the West End.