East Region Notebook: Things are Fairleigh open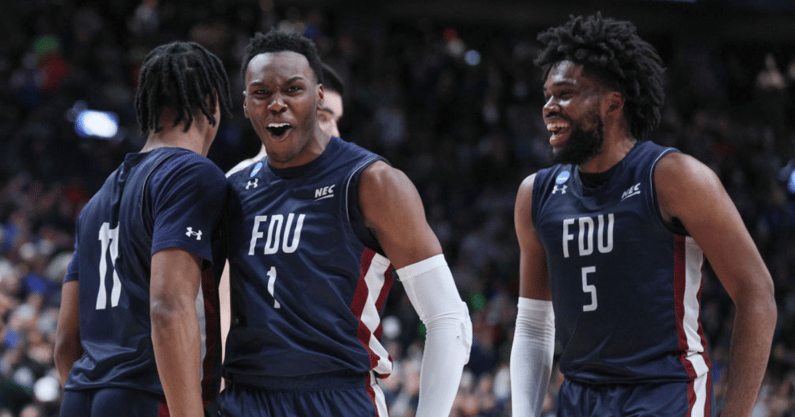 Eight games down, four games to go this weekend. Chalk did not hold at the top of the East region.
We saw history repeat itself on Friday night in Columbus. For the second time in the last five NCAA Tournaments, a No. 16 has left the first round victorious. It was a bad night to be an adult beverage around a Fairleigh Dickinson supporter.
Big Ten outright regular season and tournament champ Purdue is a one-and-done in 2023. Now feels like a good time to reassess where this region sits before second weekend spots in Madison Square Garden are locked up over the next two days.
Let's open the notebook and recap what we just witnessed in the opening round of the Big Dance.
First round results
No 16 Fairleigh Dickinson 63, No. 1 Purdue 58
No. 9 Florida Atlantic 66, No. 8 Memphis 65
No. 5 Duke 74, No. 12 Oral Roberts 51
No. 4 Tennessee 58, No. 13 Louisiana 55
No. 6 Kentucky 61, No. 11 Providence 53
No. 3 Kansas State 77, No. 14 Montana State 65
No. 7 Michigan State 72, No. 10 USC 62
No. 2 Marquette 78, No. 15 Vermont 61
Nothing but chalk outside of the top.
Second round schedule
No. 5 Duke vs. No. 4 Tennessee (Saturday, 2:40 p.m. ET, CBS)
No. 6 Kentucky vs. No. 3 Kansas State (Sunday, 2:40 p.m. ET, CBS)
No. 7 Michigan State vs. No. 2 Marquette (Sunday, 5:15 p.m. ET, CBS)
No. 16 Fairleigh Dickinson vs. No. 9 Florida Atlantic (Sunday, 7:45 p.m., TruTV)
Biggest upset: Fairleigh Dickinson
Did anyone have Fairleigh Dickinson beating Purdue on their bracket? Quite possible. That still doesn't make a No. 16 seed upsetting a No. 1 seed any less jarring.
Fairleigh Dickinson head coach Tobin Anderson called his shot after the Knights knocked off Texas Southern in the play-in game on Wednesday. Two days later, the Northeast Conference champ delivered the goods as a 23-point underdog.
Likely national player of the year Zach Edey had a huge game for the Boilermakers (21 points, 15 rebounds, 3 blocks) but the No. 1 seed scored just 58 points in 64 possessions. Matt Painter's squad was only 5 of 26 (19.2%) from three with 16 turnovers. That equaled disaster for the Big Ten power as Purdue's young guards had a tough outing.
FDU took advantage of a bad shooting performance by Purdue making just enough shots to pull away for the victory. The upset result has opened up the bracket in the East.
Best performance: Duke
Oral Roberts was a trendy dog entering the Big Dance. In Jon Scheyer's first NCAA Tournament game as a head coach, Duke ended the threat early.
The ACC Tournament champs have now won 10 consecutive games following the beatdown where Duke jumped out to a 15-0 lead and never looked back. The No. 5 seed was on cruise control for most of the evening in Orlando marching to the second round after their fifth consecutive cover.
The Blue Devils will now switch to road jerseys against No. 4 seed Tennessee on Saturday afternoon.
Top individual stat: Oscar Tshiebwe rebounds
Oscar Tshiebwe dealt with foul trouble during Kentucky's first-round win over Providence on Friday night in Greensboro. That did not stop the senior big from re-writing another record.
In Kentucky's 61-53 victory, Tshiebwe played 33 minutes, scored eight points on 10 field goal attempts, and grabbed 25 rebounds (11 offensive). The Wildcats labored on the offensive end (0.95 points per possession, 38.3% shooting on 47 two-point field goal attempts) but the Cats are advancing to the second round for the first time since 2019 thanks to a plus-17 (48-31) advantage on the glass.
Tshiebwe came through when Kentucky needed a big performance.
Best clutch moment: Florida Atlantic sends Memphis home
In the nightcap in Columbus, Florida Atlantic and Memphis delivered the goods in a classic 8-9 game. However, this one had bigger stakes with a No. 16 seed awaiting the winner. After trading leads late, FAU got a critical bucket for one of the biggest wins in program history.
Nick Boyd's field goal put the C-USA champ up by one with just seconds remaining improving FAU's record to 32-3. Now Dusty May's program is just a victory over Fairleigh Dickinson on Sunday away from making the Sweet 16.
What a season in Boca Raton.
Best second-round game: No. 5 Tennessee vs. No. 4 Duke
A pair of top-10 defenses. Two frontcourts with a ton of size. Rick Barnes vs. Jon Scheyer. It's all going down in Orlando on Saturday afternoon.
The winner of the Duke-Tennessee tilt on Saturday might become the betting favorite to win the East in Madison Square Garden next week. Scheyer has a chance to make an early statement in his head coaching career. Barnes can quickly make folks forget about his inefficient tournament results.
The contest between these pair of top-20 teams should be a good one.