EKU's Walt Wells returns to coaching after heart attack: "He was dead"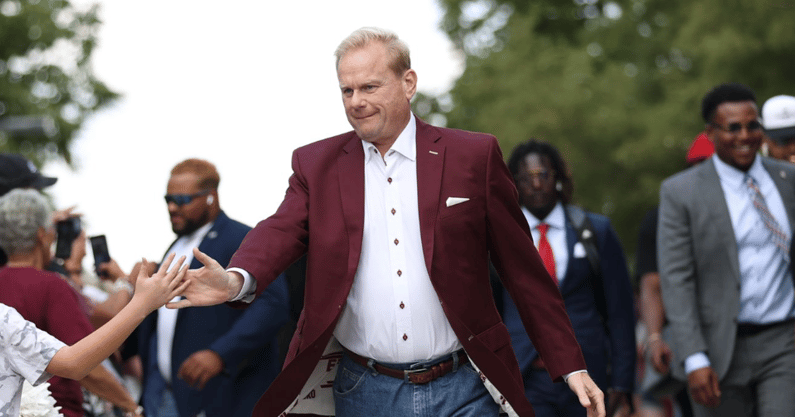 Eastern Kentucky head football coach Walt Wells suffered a cardiac episode back on August 28, one that nearly ended his life. In fact, if you ask his wife, Jen Wells, he was dead — at least temporarily.
A little over three weeks later, the 54-year-old coach is now back on the sidelines, and his story is being told.
"He was dead," Jen Wells told Sports Illustrated's Richard Johnson. "There was no ifs, ands or buts about it."
Wells dropped to the floor in his office the morning of Sunday, Aug. 28 and was luckily found shortly after by EKU's director of football operations, Thomas Bowling. Trainers rushed to attend to Wells while an ambulance was called to bring the head coach to UK Hospital in Lexington. There, doctors found a 95% blockage to the main artery — the "widowmaker" — and immediately put a stent in his artery from his wrist up to his heart. It was a complicated process that took several hours and required "some special equipment," one with a low success rate.
20 percent, in fact.
"He had a pretty long blockage, which was also calcified, which means [this attack has] been brewing for a while, so he's probably had some buildup of blockages," interventional cardiologist Amartya Kundu, the head physician who treated Wells, told Sports Illustrated. "It took us a few hours to work our way through it. We had to use some special equipment, but in the end, we had a pretty good result."

But the subsequent days were crucial for the 54-year-old Wells, who was put on a ventilator as soon as he arrived at the hospital to protect his airways until doctors were certain he could breathe on his own. Initially, the medical team told his wife he might have sustained damage to his heart, kidneys or brain. Due to the decisive acts of all involved—in Kundu's words, Peterson and Vigliotti "brought him back"—the coach avoided any organ damage, including to his actual heart muscle. It was "miraculous," according to Kundu, who ballparked someone in Wells's condition leaving the hospital alive at around 20%.

Sports Illustrated
Miraculously, he walked out of the hospital on Sept. 1, the day before EKU's season-opener at Eastern Michigan. Wells watched the game at home with his wife, and then one day later, returned to the scene of his medical emergency to watch film.
A week later, the Colonels defeated Bowling Green in seven overtimes, a victory Wells was in attendance to see. After the game, he spoke to his team in the locker room, an emotional moment for the head coach who narrowly avoided death just two weeks before.
And he has those who acted quickly that Sunday morning in late August to thank not only for his return to coaching, but life itself.
"[Thomas Bowling] could've walked out the door," Wells told Sports Illustrated. "And if he had walked out the door and I had just laid there, they would have come back, and I would have been cold as a cucumber, just laying there. For him to have the discipline, the consistency to walk in to see if I needed anything else, to just check on me to see how I was doing and then see me laying there on the floor, it shows what kind of person he is."
Wells, a quality control coach at Kentucky from 2018-19, was named ASUN Coach of the Year and AFCA FCS Region Number 3 Coach of the Year in 2021. And now after a serious health scare, there are more accolades for the 54-year-old coach to rack up.
---
Make sure you read Richard Johnson's complete feature on Coach Wells over at Sports Illustrated right here. Promise it's worth your time.