Erik Korem: Stoops' secret weapon and the facility that could keep him here
One man tried to make his way across the crowded floor at the Nutter Field House Saturday morning, backpack slung over his shoulders and eyes on the exit. All along the way, fans stopped him to ask questions, and patiently, he obliged, even though it meant whatever was next on the agenda would have to wait. While more prominent staff members and starting football players stood idly by,
Erik Korem was the rock star
, fans rushing up to get in one last compliment, question, or threat to keep him in the room. "I'm tying a rope on you. I don't want you to ever leave us," UK football superfan Suzanne Allen whispered to Korem, reaching out and pulling his arm towards her. "They need to raise your salary, do whatever they have to do to keep you." Korem smiled and assured Suzanne that he and his family are very happy in Lexington. While I admire Suzanne's determination to keep Korem here by tying a rope to him, after listening to his presentation at the UK Football Women's Clinic, I don't think it's necessary. He's already tethered to Kentucky by the new state-of-the-art $45 million practice facility, which Stoops gave him complete control over to design from the ground up.
A "first of its kind" facility
Korem talks about the training facility with the same passion, excitement, and pride one would a child, because, basically, this is his baby. The 100,000-square foot facility will serve as a one-stop shop for the football program, and include a massage therapy room, high-performance weight room, sports science facility, and team doctor's office with an in-house X-ray machine. Players will want for nothing, with a tutoring center, full-service kitchen, Gatorade and juice bar, and lounge all under the same roof.
"This building encompasses everything that involves the student athlete's life, from training to eating to meetings and academics," Korem said, singling out the new CATS tutorial center in particular, noting that it often takes players 20 minutes to walk from the current training center to CATS. Even just a few trips back and forth a day takes away a lot of time they could be dedicating to football. "It's going to simplify things and bring all of that under one building. I think it's really going to speed up our development process and it's really going to make us feel like we've got a cool home."
We've already heard about a lot of these features, but Korem gave the clinic and KSR some exclusive details:
A sensory deprivation tank similar to those used by Navy SEALS and special warfare units. This will help calm players down and alleviate stress, promoting faster mental recovery from workouts, games, life, etc. (Can I use that, too?)
An indoor turf area, 25 yards long by 20 yards wide for players to warm up on before lifting and utilize for speed drills
Glass garage doors that open right up onto the training fields from the indoor turf so the players can extend their workouts outside during warm weather
A 70-foot long, 6-foot deep cold plunge tank capable of holding 30-40 players at once. Korem saw the concept in Australia and prefers the large pool to more common cold tubs because the deeper you get in the water, the higher the pressure gets. In addition, players will be able to move around in the pool, which will release the microbubbles that surround the body, creating a better cooling effect. The first of its kind in the US. "The cold plunge tank was a big deal," Korem admits.
Turf training hills, one sloped at 20 degrees and one at 15 degrees, along with two plyometric ramps. Oregon is the only other program in the country -- college or pro -- with this feature.
Korem says the state-of-the-art high performance lab is the first of its kind, and he and head strength and conditioning coach Corey Edmond are still customizing equipment as it comes in. "We created some of our own stuff, so I'm excited for people to look at us and see it's not just in the high-performance realm, it's a lot of stuff," he said. "I think the people of Kentucky are going to be pretty stinking proud of this building."
"God made Bud Dupree. We just polished him up."
What makes Korem's high-performance program even more impressive are the results it's producing heading into year three. Like Avery Williamson last year, Bud Dupree and Za'Darius Smith opted to train with Korem for the NFL Combine instead of paying for outside training, and the results spoke for themselves. Dupree was one of the standouts at the Combine, turning in the fastest results for a player his size, vaulting his stock into the first round. Pittsburgh is now grooming him as a starter heading into training camp. "You can't make Bud Dupree," Korem said. "God made Bud Dupree and we just polished him up. He's still going to get better." What's the method to Korem's magic? He worked as a speed development consultant with track and field athletes during the 2008 Olympics and applied those drills and tactics to the Combine training. Dupree had all of his meals before the Combine designed by a nutritionist and delivered to him to achieve maximum results. Korem's program has been so successful that many former players in the NFL, including Williamson, Randall Cobb, and Tim Masthay, are coming back each offseason to train at UK. The craziest part? Korem says he enjoys helping former players prepare for the combine and train so much that he does it all on his own time. The high-performance program has always been interesting, but now that it's turning UK players into first round NFL Draft picks, it's an integral part of the new Kentucky football.
The best is yet to come
At SEC Media Days, senior offensive tackle Jordan Swindle trotted out the much-ballyhooed stat that two years ago, only five player on the team could run over 19 MPH, and now, over 33 players run over 19 MPH. I mentioned that stat to Korem and he laughed. "I have to correct Jordan. Our first year, we had five that could run over 19 MPH in the first game and next year, it was like 14, and two weeks ago in training, we had 31 over 20 MPH, so I didn't even count the guys running over 19, so it's even faster." (For perspective, when Boom Williams broke out for his first touchdown against Ohio, he was clocked at 21.7 MPH.) While Korem and Coach Edmond have been focusing on acceleration with the Catapult tracking system, a lot of the improvement, of course, is due to Stoops and the staff recruiting better talent. "I'll be honest, you have to bring in good talent. It makes your job way easier when you have good talent to work with," Korem said. Ready for another mind-blowing stat? Korem said when he and Stoops' staff came in, only six to eight guys could jump over 30 inches vertically.
After one summer, 35 players could jump over 30 inches and now, 40-50 players clear the benchmark.
Whoa.
"Getting the best players better is important, but one thing Coach Edmond always talks about, if we can improve the average player, that's really important. So, if our average player is significantly better, then we're a better football team," Korem said, noting how players now pass the eye test. "All you have to do is look at our guys in their uniforms and you can tell we look better, we've lost a lot of fat, we've gained a lot of muscle. In between the ears, we've improved as well. Our guys are making big strides and being more accountable. Mentally tough and it's only going to get better."
[caption id="" align="alignnone" width="600"]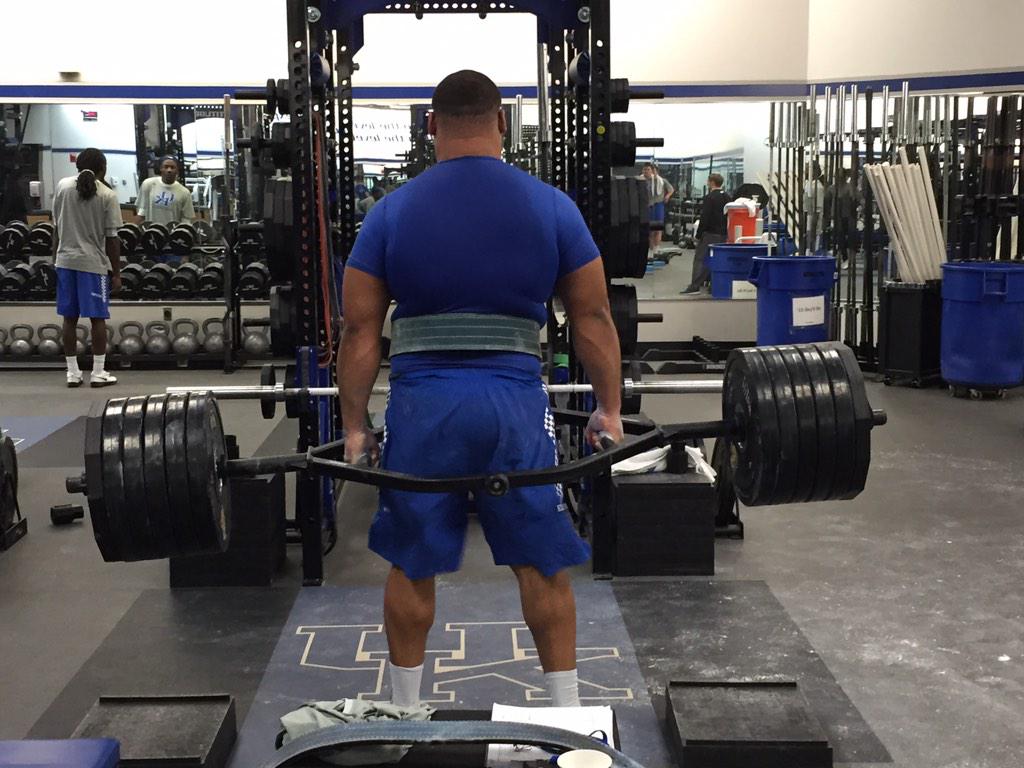 Jacob Hyde[/caption]
All-in on results
Korem said he's spent a good part of this offseason helping players form better habits to support improved performance, and he's noticed players are taking ownership of their training both in and out of the weight room.
"I want guys to manage the training process themselves. We want guys to become self-aware, we're creating ways for guys to see the data on their cell phones," Korem said. "Guys will pull me aside and say, 'Coach, I wasn't at my best, why not?' I'll say, 'well, let's look at the past three days, what were your habits like? And then when guys start buying in, getting to bed earlier, turning the video games off, hydrating more, and all of a sudden the changes come and they buy in? That's when the locker room culture changes because 'hey, this stuff works.'"
"To us, it's the 22 hours outside the building that will affect their performance more than anything else," Korem said. "We train two hours. They've got 22 other hours that they're training but they don't even know it."
Now they do, and that awareness is paying off.
So, about that rope...
Since his first summer at Kentucky, Korem's high-performance program has been turning heads, attention he credits to the hard work of his entire staff, specifically Coach Edmond. Korem told me that representatives from NFL teams, NBA teams, and Australian rules football teams regularly contact him to pick his brain about what he's doing at Kentucky. In fact, he said he talked to an NFL team just the other day. (I can feel Suzanne's arm reaching out instinctively.) When I asked if these teams try to poach him, Korem admitted he's had some offers, but he remains loyal to Mark Stoops.
"There have been some opportunities," Korem said. "But I'm happy here and Coach Stoops is a great man to work for. To me, it's all about people, really. If you're working with a good group of people, it makes things so much fun and I think we have a good group of people here."
Also, a brand new training facility that will open next July; a facility that Korem's been dreaming of his entire career, and is now molding, brick by brick.
"As far as my input, the administration said 'hey, what do you want in this building?'" Korem said. "The high-performance lab, I think that's kind of unheard of. When I explained to Coach Stoops what would go in there, he said, 'hey, let's do it.' You don't want to be different just for different's sake, but you want to actually have things that will make a difference."
For a program trying to succeed in a league as competitive as the SEC, you have to be a little different to make a difference.