Experts weigh in on Shaedon Sharpe's draft eligibility and future at UK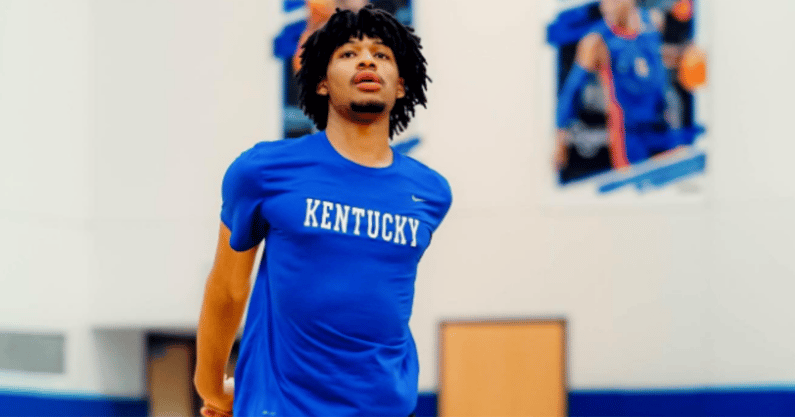 Will Shaedon Sharpe play at Kentucky this season? What about the 2022-23 season? Ever?
Those questions are now all valid with the confirmation that Sharpe will be draft-eligible this offseason, as reported by ESPN's Jonathan Givony on Thursday. The five-star guard has always met the criteria for age — he will turn 19 in May — but the details of his graduation have always always been a bit unclear.
League rules state a player must be 19 years old the year of the draft and one full NBA season removed from high school. That would require Sharpe to have completed his graduation requirements before October 2021. According to Givony, the Kentucky freshman had sufficient credits to graduate prior to the deadline, thus making him eligible via petition.
Now that the door has been opened for a potential first-year departure, will he take advantage of that opportunity? Will he play before taking that opportunity? Or will he decide to move forward with his original plan of redshirting this year and suiting up in the fall?
National insiders weighed in on the news throughout the afternoon on their respective platforms. Take a look:
Travis Branham, 247Sports
"According to sources, the plan from the get-go dating back to early November was to sit out this season," Branham wrote. "As of recent conversations, the plan remains the same. … Based on the information at hand, I would be shocked if Sharpe suits up for Kentucky next season.
"… One NBA scout who evaluated Sharpe this summer told 247Sports that he's arguably the top perimeter prospect. Unless the NBA's perception of Sharpe changes in the next week or so, he'd have little to win by playing for the Wildcats."
Jonathan Givony, ESPN
"If Shaedon Sharpe is going to play for Kentucky this season, it will likely happen in the next 2-3 games," Givony tweeted. "If not, he likely sits out and then has a decision to make this spring about whether to enter the NBA Draft. He has some great options either way."
"Sharpe has not yet made his intentions known regarding his plans for the upcoming draft, which likely will depend at least partially on whether he plays this season," Givony wrote in a separate article. "He could ultimately elect to wait until the 2023 NBA draft, especially if he does not suit up for Kentucky this season."
Jeremy Woo, Sports Illustrated
"NBA teams have long been aware of the situation, but many were unclear on whether or not he would be eligible due to questions over HS credits and graduation situation," Woo tweeted. "There's still a review process with the league that has to happen if he applies for entry.
"In other words, the NBA still has to accept the academic piece from Sharpe's end in order for him to enter the draft. That has not happened yet. Regardless, Sharpe is a Top-10 caliber prospect who warrants heavy attention, particularly if he suits up at Kentucky this season."
Matt Babcock, Basketball News
"In early November, it was brought to my attention by Wes Brown, a top talent evaluator from Canada, that Sharpe could be eligible for the 2022 NBA Draft," Babcock wrote. "So I'm not surprised to hear this news. However, from my understanding, although certainly possible, I don't think it's a foregone conclusion that he will be in this upcoming draft.
"… If Sharpe does decide to enter his name in the 2022 NBA Draft, he will likely receive legitimate interest from teams selecting in the lottery. So, naturally, I will be monitoring his situation closely."
"One unique element with Shaedon Sharpe's situation is that although he is a highly-touted prospect, NBA scouts do not have clearance to attend most high school events and subsequently have not seen much of Sharpe, if at all," Babcock added in a follow-up tweet.
Jeff Goodman, Stadium