FINAL: Kentucky WBB drops third straight game in 77-52 loss to Florida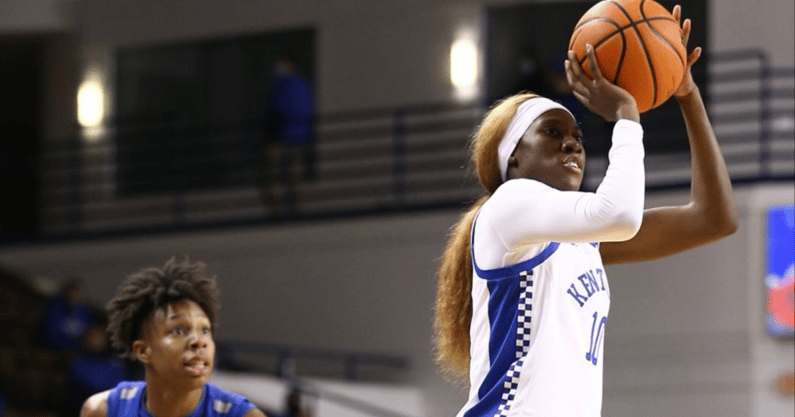 Things have gone from bad to worse for Kentucky Women's Basketball.
On Thursday night, the No. 23 Wildcats (8-6) fell 77-52 to the unranked Florida Gators (14-5). While there's no excuse for the performance, Kentucky was never at full strength.
Just an hour before tip-off, Kentucky Women's Basketball announced Dre'Una Edwards was out due to disciplinary matters. This is Edwards' second missed game this season, the first due to failing to uphold the team's academic standards.
Rhyne Howard led the 'Cats with 17 points, 10 rebounds and three assists. Howard went 7-21 from the field in 37 minutes of play. As a team, UK made just 18-66 (27%) of their attempts from the field and a horrific 4-18 (22%) from beyond the arc.
How it played out for Kentucky WBB
From the tip, it was clear Kentucky wasn't used to being without Edwards. The 'Cats began the game 2-8 from the floor, allowing Florida to gain a 10-4 lead. However, after switching to a zone, UK started to find a rhythm. The team made their final five field goals of the period to cut Florida's lead to 20-16 heading into the second frame.
The second period would get ugly though. Not even three minutes into the frame, Robyn Benton went down with a leg injury and never returned. With Benton out, the 'Cats had seven healthy players on the roster. Florida outscored UK 24-10 in the period to take a commanding 44-26 lead at halftime.
The rest of the contest was simply a matter of running out the clock. Florida began the third period on a 13-2 run. The 'Cats struggled to score, making just three of their 15 attempts in the period. With Edwards out, the paint was clogged, preventing Howard and freshman Jada Walker from finding their typical slashing scoring.
Despite closing out the period on a 7-0 run, Kentucky went into the final frame trailing 59-37. Florida finished business in the fourth period, outscoring Kentucky 18-15.
For the game, Florida outrebounded the 'Cats 48-31. Conversely, the Gators scored more second-chance points than UK. Florida even dominated the perimeter, shooting a commendable 7-15 (47%) from range.
Outside of Howard, Kentucky found little offensive help. Jazmine Massengill contributed 10 points on 3-10 shooting. Walker added 12 points of her own.
Kentucky has just three days to resolve its issues. The Wildcats will take on Ole Miss at noon on Jan. 23. in Rupp Arena. The game will be broadcast on the SEC Network.