FINAL: Kentucky WBB fall in a 84-58 loss to No. 5 Tennessee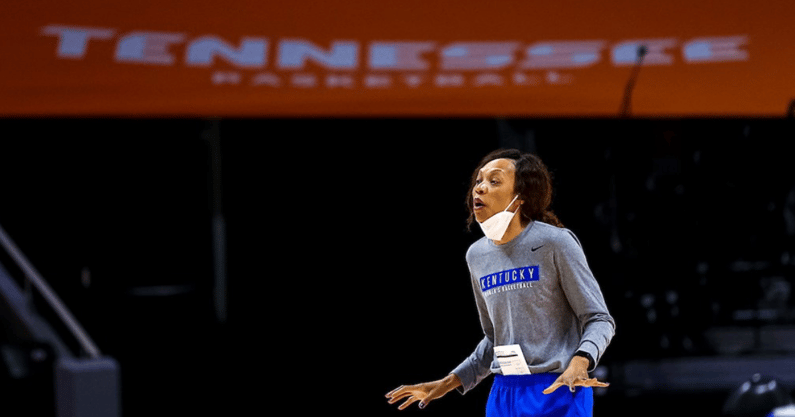 Nothing went right for Kentucky Women's Basketball in the Battle for the Border on Sunday afternoon. The No. 19 (8-5) Wildcats fell to the No. 5 Tennessee Volunteers (16-1) in an 84-58 blowout loss.
The loss drops Kentucky's SEC record to 1-2. Moreover, the contest is Kentucky's second loss in a row by 20 points or more. Rhyne Howard led UK with 24 points and five rebounds. Tennessee guard Rae Burrell's 14 points powered the Volunteers to victory.
How it played out for Kentucky WBB
It didn't take long for Howard to start piling up highlight plays. The 6-foot-2 guard scored nine points in the first period. Kentucky's defense was equally impressive. UK's press caused issues for the Volunteers, who went scoreless for nearly five minutes. The 'Cats actually strolled into the second period ahead 17-11.
Unfortunately, Kentucky's promising first period didn't translate to the rest of the contest. Kentucky shot just 4-12 in the second period, while Tennessee went 11-17 from the field.
The large disparity in shots came from offensive boards. Tennessee doubled Kentucky's offensive rebounds in the first half. Powered by their extra attempts, Tennessee led Kentucky 38-27 at the half.
Unfortunately for the 'Cats, their poor second-quarter performance spilled into the next half. Tennessee opened up the period on a 15-2 run. Head coach Kyra Elzy answered with a change of defense, leading to a 7-0 run for the 'Cats. Nonetheless, Tennessee finished the frame strong to take a commanding 64-43 lead into the final period.
Tennessee put the 'Cats out of their misery in the final 10 minutes, outscoring Kentucky by five points in the fourth quarter. For the game, the Volunteers snagged 21 more rebounds than UK. Furthermore, Tennessee was dominant on the perimeter. The Volunteers went 10-20 from beyond the arc.
Outside of Howard, Jazmine Massengill was the only other 'Cat to score double figures. The veteran guard contributed 13 points. Dre'Una Edwards added seven points and four rebounds of her own.
Kentucky will have four days to compose themselves before they take on their next conference opponent. On Thursday, the Wildcats face the Florida Gators at 7 p.m. in Memorial Coliseum.