First Impressions of UK's Basketball Future
[caption id="" align="alignnone" width="1024"]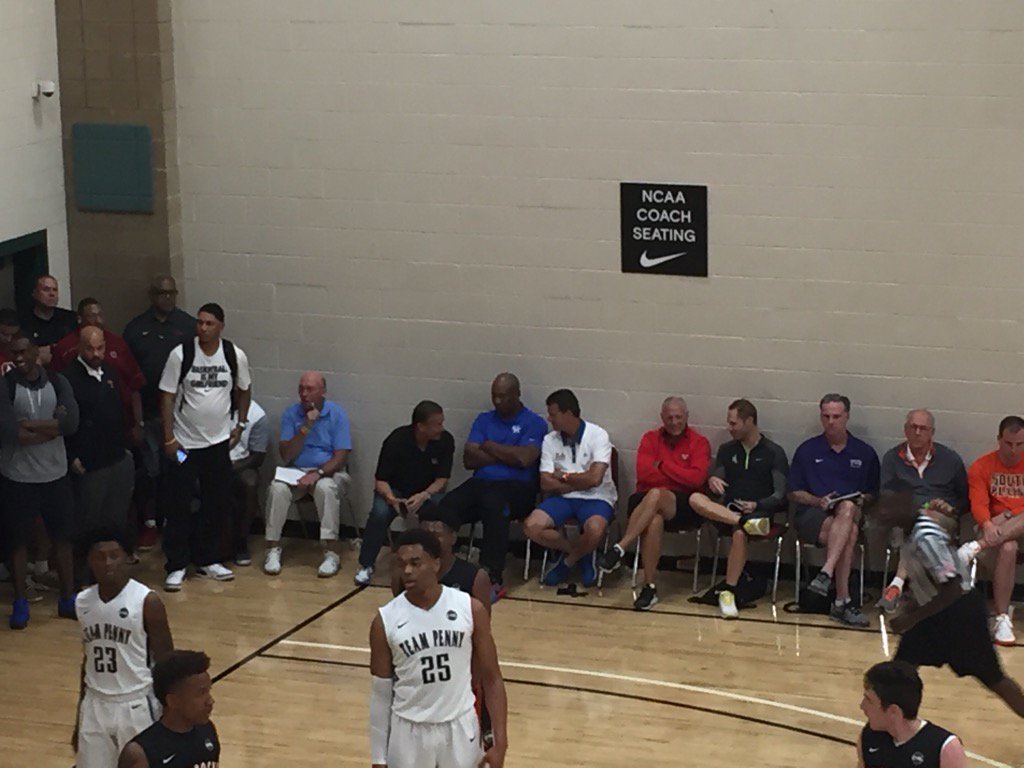 Calipari and Kenny Payne watch uncommitted P.J. Washington (25) at the Peach Jam.[/caption] Every year around this time The Peach Jam, Nike's National Championship, provides the BBN with a sneak peek of the possible players with a future in Lexington. Yesterday marked the one year anniversary of my first trip to the tournament.  My initial takeaways on the future Wildcats were semi-newsworthy at the time, but in hindsight they are much more interesting.
Knox vs. Diallo
The second game I saw at the Peach Jam was an action-packed showdown between two future Kentucky stars.  Now they are friends and teammates.  A year ago they were throwing each other to the ground.
"Going for the dunk in the fast break, Diallo took out Knox.  Knox's head hit the wooden bleachers and Diallo got hit with an intentional...Probably wasn't intentional, but Diallo showed no mercy (almost got the block) so the refs will give him none."
Reading between the lines of my 140 character Tweets, I became a big fan of Diallo on that play.  In many AAU settings, most players will easily surrender a transition bucket to the opposing team's best player, but Diallo isn't like most players.  He went for the block, and when he didn't get it, he made sure Knox was going to earn those points from the free throw line. I was impressed with Diallo after that play, but questioned his shooting form on every jump shot he took. Knox on the other hand was the total package.
"Of all the SFs I've seen in this talented SF class, Knox is the most physically impressive. Not a bad 3-point shot either."
He had all of the tools -- a smooth shot, exceptional ball handling, a weapon in transition -- and he was physically gifted well beyond his peers.  To be fair, Jarred Vanderbilt was in a walking boot and did not play, but Knox still had it all.  He came up big in the biggest moments too.
"Knox just made a poster to go up 4 with .35 to play.  If that's the dagger, it's one of the most impressive I've ever seen."
I don't recall the specific play to describe it, because it was not the dagger.
"Diallo's defense kept his team in the game. Not enough to win, but he did all the little things. Knox was annoyed every time they matched up."
Two minutes later, Diallo did enough for his team to win.
"Then a guy hits a fadeaway three to tie it at the buzzer. I spoke too soon."
"A guy" was named Hamidou Diallo.  I could not see who it was because every person in the audience was standing when he let the deep, contested game-tying three fly.
Here's the Diallo buzzer beater: pic.twitter.com/t4PrjPvhsb

– Chris Fisher (@ChrisFisher247) July 7, 2016
Hami kept the team on his back and carried the NY Rens to an overtime victory over Knox's E1T1.
P.J. Washington vs. Marvin Bagley
The first game I watched at the Peach Jam did not feature as much drama, but there was still some awesomeness to be seen thanks to P.J. Washington.
"PJ Washington with a tough finish at the rim, an And 1 over 6'11" #NotTooShabby"
Upon further investigation, I discovered that 6'11" guy was Marvin Bagley, the No. 1 player in the 2018 class.  A center with guard skills, some think he's the best recruit in a decade.  He receives that tag because his skills are incomparable to any player his size.
"Bagley, the #1 player in 18, just had a nice top in transition.  A 6'11" athlete that I can find no immediate comparison for."
Bagley hasn't given much away in his recruitment, but the Kentucky Wildcats are currently his Crystal Ball leader at 50 percent, just ahead of Duke, UCLA, USC and Arizona.  A West Coast kid, getting him across the country may be difficult, but if anyone can do it, Calipari can.  I'll have updates on Bagley from the Peach Jam next week.
Quade Green vs. P.J. Washington
[caption id="" align="alignnone" width="587"]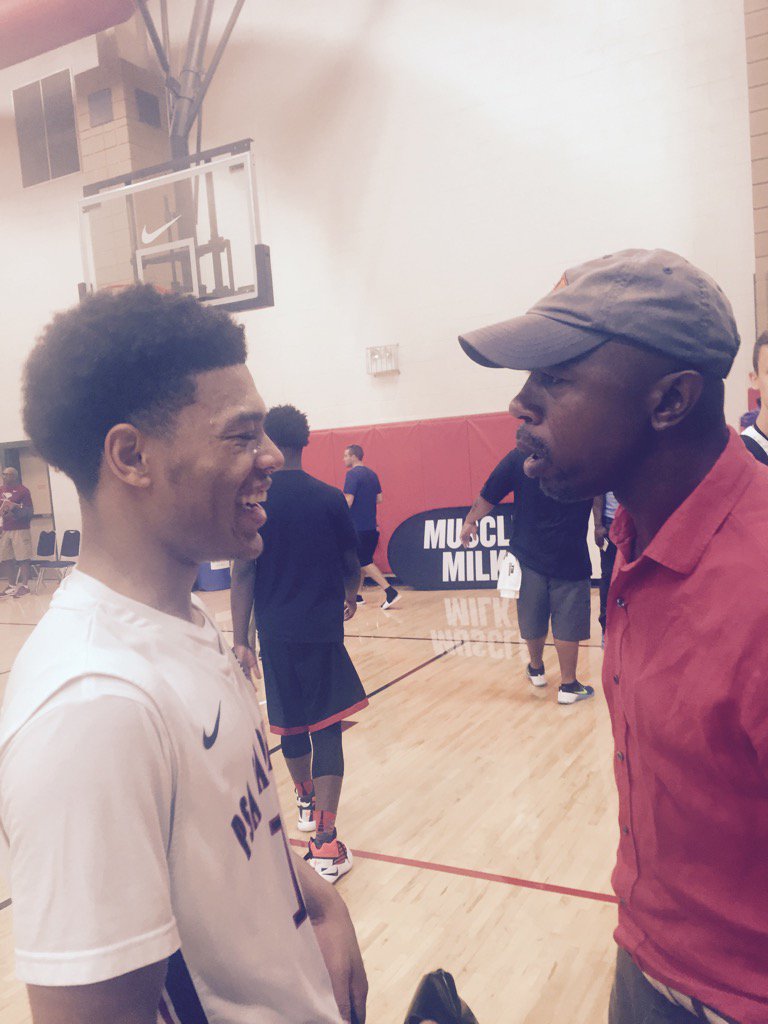 Green with Greg Anthony following a quarterfinal Peach Jam win via @AdamZagoria[/caption] Quade Green was the person I knew the least entering the event.  Leaving the event he was one of my favorite players. Nobody was more clutch than Quade.  His PSA Cardinals teammate, Mo Bamba, received all the attention, but Green stole the show at the end of games.  He penetrated to finish with contact near the rim, or created space with a step-back.  At the highest level in the semifinals against Washington's Team Penny, PSA couldn't win without him.
"Team Penny is up 17 now in the first half. The difference? Quade Green isn't playing like himself tonight"
32 minutes later...
"Green has come back to life and it's a one point game"
29 minutes later...
"PSA wins thanks to Green's second half heroics. Came from 18 down for the win"
Next weekend I'll get a first look at guys that could become Wildcats in the 2018-19 season at the Peach Jam in North Augusta, South Carolina.  Who knows, maybe Cameron Reddish could be the next P.J. Washington...