Five Things You Need to Know About Tim Boyle
[caption id="" align="alignnone" width="648"]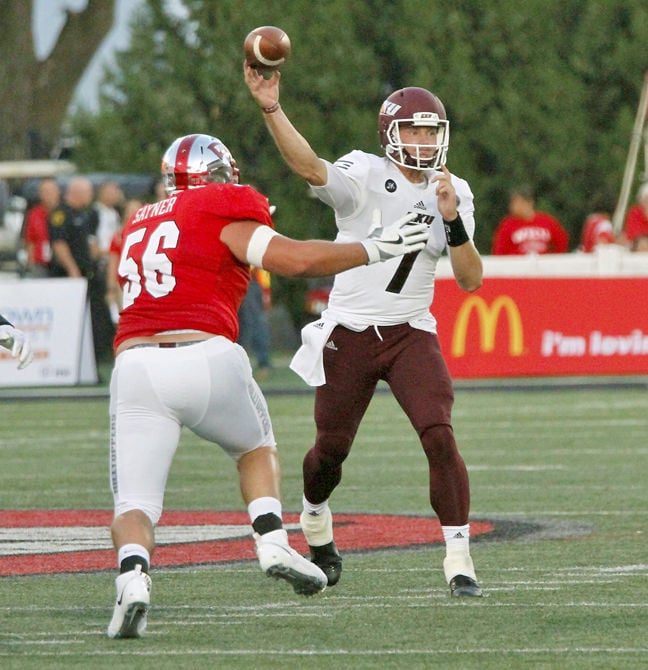 Nathan Hutchinson, Register Sports Editor[/caption] My weekly "stalking Division I athletes game day post" is back with Eastern Kentucky quarterback Tim Boyle. Here are five things you need to know about the 6-foot-4, 226-pounds senior quarterback..
He transferred from UConn
Boyle spent three seasons at Connecticut before transferring to Eastern Kentucky. As a Husky, Boyle finished 133 of 275 for 1,237 yard, one touchdown and one interception. "It's tough," Boyle told the Hartford Courant after he decided to transfer, "I wanted to come to UConn, being an in-state guy, try to help the program reach new heights and I think a lot of people came to UConn for that reason. Obviously, I wish things would have been better." Boyle played under three different coaches, three different coordinators, three different quarterback coaches while at UConn, which can't be easy. [caption id="" align="alignnone" width="650"]
Brad Horrigan/Hartford Courant[/caption]
He started his first game for Eastern on Saturday against WKU
After sitting out last season due to NCAA transfer rules, Boyle was named the Colonel's starting quarterback in early August. In his first game since Nov. 28, 2015, Boyle went 29-of-46 for 320 yards and two touchdowns against Western Kentucky. Boyle did not throw an interception or get sacked on Saturday and head coach Mark  Elder was pleased with his performance. "He managed the game really well, but yet put up good numbers," Elder said. "Sometimes, quarterbacks hate hearing the words, 'Hey, we want you to manage the game.' Manage the game doesn't mean that you're going to go 9-for-12 for 120 yards. It means that you have to take what's given. And he took what was given. Sometimes he checked the ball down and got 5 yards. One time, he checked the ball down for minus-2. I'm good with that. Why? Because that was the right throw. "We can talk about being a great manager of the football game, and that can still mean you can put up 300-plus yards passing. So I was pleased with that. Pleased with the fact that he looked like a veteran, because he is."
He hung out with Jason Witten
Boyle attended at the Jason Witten Football Camp in Elizabeth, Tenn. Boyle did not participate in the camp, as the camp is for kids ages 7-18. I don't rally know why he was there, but he did get a pick with the Dallas Cowboy's tight end. [caption id="attachment_227401" align="alignnone" width="400"]
@timboyle_7[/caption]
He golfs with Drew Barker
According to this tweet from Eastern Kentucky wide receiver, Cameron Fogle, Boyle and Drew Barker have golfed together. For anyone who is confused by this, Barker and Fogle are childhood friends. I do not know how Boyle got an invite to this Conner football golf outing, but he did. https://twitter.com/CFogle22/status/726157730885554176
His high school won three-straight state championships
Boyle attended Xavier High School in Middletown, Connecticut. He won a state championship as a sophomore, junior and senior (2010, 2011, 2012). As a senior Boyle threw for 2,500 yards and 24 touchdowns and rushed for 295 yards on 60 carries and five touchdowns. Boyle was named Connecticut High School Coaches' Association Player of the Year and was one of three finalists for the Walter Camp Football Foundation Connecticut Player of the Year Award