Fleming County vs. Harrison County: Kroger KSR Hometown Classic Preview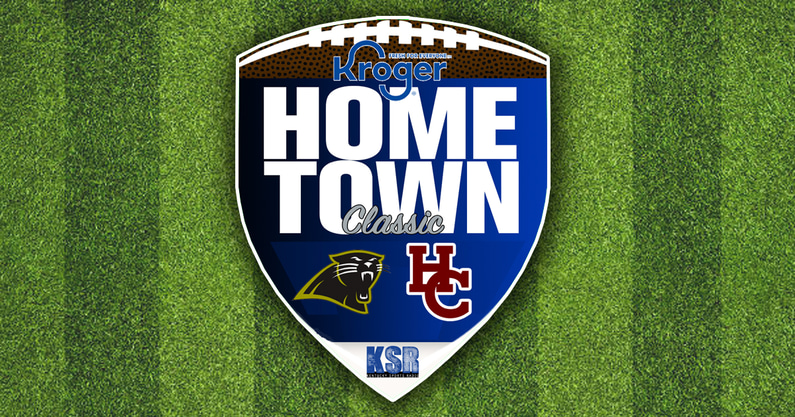 It's the final week of the regular season and KSR is headed to Cynthiana for Fleming County at Harrison County. Here's all that you need to know before Friday's matchup:
Harrison County
Record: 2-7
Coach: Marshall Graham
Key Players:
Kaydon Custard, QB — 58-132, 1,147 yards, 6 touchdowns, 5 interceptions; 158 rushes, 688 yards, 8 touchdowns.
Jacobie White, WR — 12 receptions, 329 yards, 3 touchdowns.
Fleming County
Record: 6-4
Coach: Bill Spencer
Key Players:
Zeke Conn, QB/LB — 94-152, 1,453 yards, 20 touchdowns, 5 interceptions. 90 tackles, 29 solo, 7 TFL.
Austin Trent, RB — 76 rushes, 583 yards, 7 touchdowns.
Logan Pinkley, WR — 39 receptions, 795 yards, 8 touchdowns.
Kroger KSR Hometown Classic
As first announced in August, the Kroger KSR Hometown Classic comes with hardware. The winning team will be awarded a belt at the conclusion of the game.
The original game was set to feature Shawnee at Jackson County, but was canceled due to COVID-19 precautions.
Harrison County vs. Fleming County Preview
The outlook of Harrison County's season is bleak; only winning two games in a regular season is brutal enough. They'll have another tall task ahead of them in Fleming County this Friday in the Kroger KSR Hometown Classic.
One positive, however: sophomore quarterback Kaydon Custard. His 1,835 all-purpose yards are good for nearly 80 percent (2,329) of his team's total offense. His dual-threat ability has kept opposing defenses honest as he's thrown for 1,147 yards and run for 688 more, equaling 14 total scores.
For the Panthers, their quarterback is a do-it-all type of player as well—but not in the way you'd think. Fleming County quarterback Zeke Conn doubles as a linebacker, ranking 12th in 3A with 90 total tackles. His 1,453 passing yards are also ranked fifth in the division as well.
With three straight losses prior to their bye last week, the Thorobreds haven't won a game at all in October.
The exact opposite, Fleming County boasts a five-game win streak and hasn't lost since September. Outscoring their opponents 149-31 during that stretch, the Panthers are playing their best football of the season right now.
Can Harrison County pull off the upset and take the inaugural Kroger KSR Hometown Classic crown for themselves? Find out when the game kicks off at 7:30 p.m. EST on Friday night.
KSR's Predictions
Barkley's Prediction — Fleming County 32, Harrison County 6
Troy's Prediction — Fleming County 35, Harrison County 26
A Message from Kroger:
We're excited to tell you about something new from our friends at Kroger. Did you know Kroger is America's largest grocery chain that started over 135 years ago? They are doing something they've never done before: bringing fresh groceries right to you with a new service called Hometown Pickup. 
That's right, for those of you in Cynthiana, Midway, Eminence, Bedford, McKee, Dry Ridge, Carlisle, Eubank, Georgetown, Mt. Vernon, Jackson, Frenchburg, Irvine, Mt. Olivet, and Paris, Kentucky you can now order all your groceries online and pick them up at a central location in your hometown. No more long drives into the city to get fresh food for you and your family. Now THAT is truly Fresh for Everyone. Thanks, Kroger. 
Learn more and place your first order at Kroger.com/hometown.