Former Kentucky QB Joey Gatewood commits to Louisville -- as a TE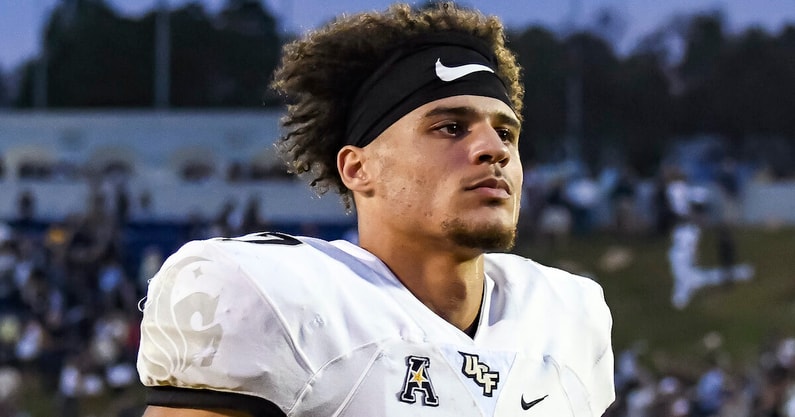 Remember Joey Gatewood? At one point, he was seen as the next Cam Newton, a potential face of the Kentucky football program at quarterback. He came from Auburn as a former top-50 overall recruit and top-five player at his position, looking to be the dual-threat playmaker his potential and physical tools said he could be.
The 6-foot-5 quarterback committed to Kentucky in 2019 and was ruled eligible for the 2020 season, totaling 109 passing yards and 62 rushing yards playing behind Terry Wilson. Then the Wildcats brought in Will Levis the following offseason and ultimately named him the starter, pushing Gatewood to the portal for a second time. He'd follow his former Auburn head coach Gus Malzahn to Central Florida, spending two years with the Knights that saw him change positions entirely. He threw for 17 yards (2-8 passing) and a touchdown while rushing for 142 yards and a touchdown as a quarterback in 2021, then tried his hand at wide receiver in 2022, failing to accumulate any stats.
That led to another portal announcement, exploring his transfer options back on December 14, 2022. And now five long months later, Gatewood has found his next home — and it's an interesting one.
The former blue-chip quarterback has committed to Louisville, joining new head coach Jeff Brohm and the Cardinals for his final year of eligibility. And in an added twist, Gatewood will be changing positions again, this time playing tight end for his new school.
Standing 6-foot-5, 233 pounds, Gatewood's got the build and athleticism. But he's never caught a pass at the collegiate level, nor has he blocked on the offensive line against high-major pass-rushers.
Yet we're going to try that now? Taking a scholarship at a position of need? I mean, I guess.
Best of luck to the former Wildcat. Should be quite the adventure this fall.