Frederick Douglass vs. Owensboro Preview: Kroger KSR Game of the Week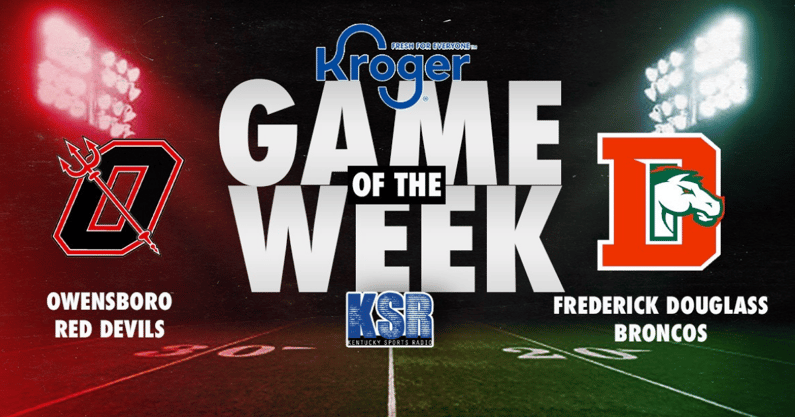 For the final time in the 2021 KHSAA football season, the Kroger KSR Game of the Week will stay in Lexington as the Owensboro Red Devils head to the Farm to battle the Frederick Douglass Broncos.
Join KSR as kickoff is slated for 6 p.m. on Friday night in Lexington.
Frederick Douglass Broncos
KSR State Ranking: No. 9
Record: 12-1
Road to Semifinal:
Def. Montgomery County 57-7
Def. Scott County 48-7
Def. Southwestern 37-6
Key Players:
Sam Cornett, QB — 138-217, 2,123 yards, 22 touchdowns, 3 interceptions
Dane Key, WR — 43 receptions, 729 yards, 7 touchdowns
Cameron Dunn, WR — 42 receptions, 571 yards, 7 touchdowns
Ty Bryant, RB — 28 carries, 247 yards, 10 touchdowns
Owensboro Red Devils
KSR State Ranking: No. 10
Record: 12-1
Road to Semifinal:
Def. Grayson County 42-7
Def. Graves County 43-0
Def. Bullitt Central 56-12
Key Players:
Kasey Boone, QB — 77-125, 1,304 yards, 22 touchdowns, 6 interceptions
Tramel Barksdale, RB — 137 carries, 1,777 yards, 14 touchdowns
Kenyatta Carbon, RB — 58 carries, 654 yards, 12 touchdowns
Jeremiah Goodwin, LB — 12 sacks
Frederick Douglass vs. Owensboro Preview
In a rematch of 2020's Class 5A semifinal, Frederick Douglass will once again do battle with Owensboro. The Red Devils pulled off the 28-27 victory, before dropping the 5A State Championship game 17-7 against Bowling Green.
That, however, was last season and a lot has changed. Owensboro star quarterback Gavin Wimsatt decided to head to Rutgers early after playing three games for the Red Devils this season. Douglass also has had to adapt to the losses of current Kentucky football freshmen Dekel Crowdus and 2020's co-Mr. Kentucky football, Jager Burton—it's safe to say, both teams have adapted just fine.
If one word could describe these squad's postseason runs, it would be domination. Douglass has outscored their opponents 142-20 through three games while Owensboro has a near-identical score of 141-19 against their playoff foes.
Frederick Douglass usually relies on the arm of quarterback and recent Louisville commit Samuel Cornett, but was led by running backs TJ Horton and Ty Bryant, who combined for 17 carries for 193 yards and three touchdowns in a winning effort against Southwestern last Friday.
Owensboro also relied on their rushing game in their quarterfinal game against Bullitt Central where their two-headed monster in Tramel Barksdale and Kenyatta Carbon combined for 13 carries for 173 yards and two touchdowns.
The point is that these two teams are playing an incredibly similar and dominant style of football that are both worthy of a shot to play in the 5A state championship game. If one thing is for certain, this game has all the makings to be one of the most memorable outings of the 2021 postseason.
KSR's Predictions
Barkley's Prediction: Douglass 28, Owensboro 27
Jude Howell's Prediction: Douglass 31, Owensboro 28
Troy's Prediction: Too close to call
A Message from Kroger:
We're excited to tell you about something new from our friends at Kroger. Did you know Kroger is America's largest grocery chain that started over 135 years ago? They are doing something they've never done before: bringing fresh groceries right to you with a new service called Hometown Pickup. 
That's right, for those of you in Cynthiana, Midway, Eminence, Bedford, McKee, Dry Ridge, Carlisle, Eubank, Georgetown, Mt. Vernon, Jackson, Frenchburg, Irvine, Mt. Olivet, and Paris, Kentucky you can now order all your groceries online and pick them up at a central location in your hometown. No more long drives into the city to get fresh food for you and your family. Now THAT is truly Fresh for Everyone. Thanks, Kroger. 
Learn more and place your first order at Kroger.com/hometown.