Friday's Top 10: It's almost Memorial Day Weekend
One more day of work for most of you and then it's nothing but sunshine (or rain if you're in Central Kentucky) for Memorial Day weekend. Let's all hold hands and try to power through one more Friday and then we'll share a hot dog and cold one sometime tomorrow afternoon.  
1. Kentucky got whooped in baseball last night.
The Cats' second SEC tournament game was an ugly one as they fell to LSU, 10-0, in the third round. Kentucky's SEC Pitcher of the Year, Sean Hjelle, threw a career-high 10 strikeouts in the game, but gave up 10 runs to the Tigers in a very bizarre performance. Kentucky will now face South Carolina in an elimination game at 4 pm today on the SEC Network. It's a rematch of Wednesday's second-round game, won by Kentucky.
2. UK Softball begins its super regional run today.
After watching the baseball team in the SEC tournament, you should flip over to ESPNU to catch the Kentucky softball team in action in the NCAA tournament's super regional. They will begin their three-game series against Oregon in Oregon at 7 pm.
3. The Warriors and Cavs to meet in the NBA Finals, finally.
Cleveland made quick work of Boston in Game 5 last night and now we finally have the NBA Finals matchup we knew we would get all along. It's too bad we have to wait until next Thursday for Game 1 though. I'm sure ESPN will beat us to death with previews of the series between now and then.
4. Ruthless fans wore Taylor Wyndham jerseys to watch Tebow last night.
[caption id="" align="alignnone" width="1200"]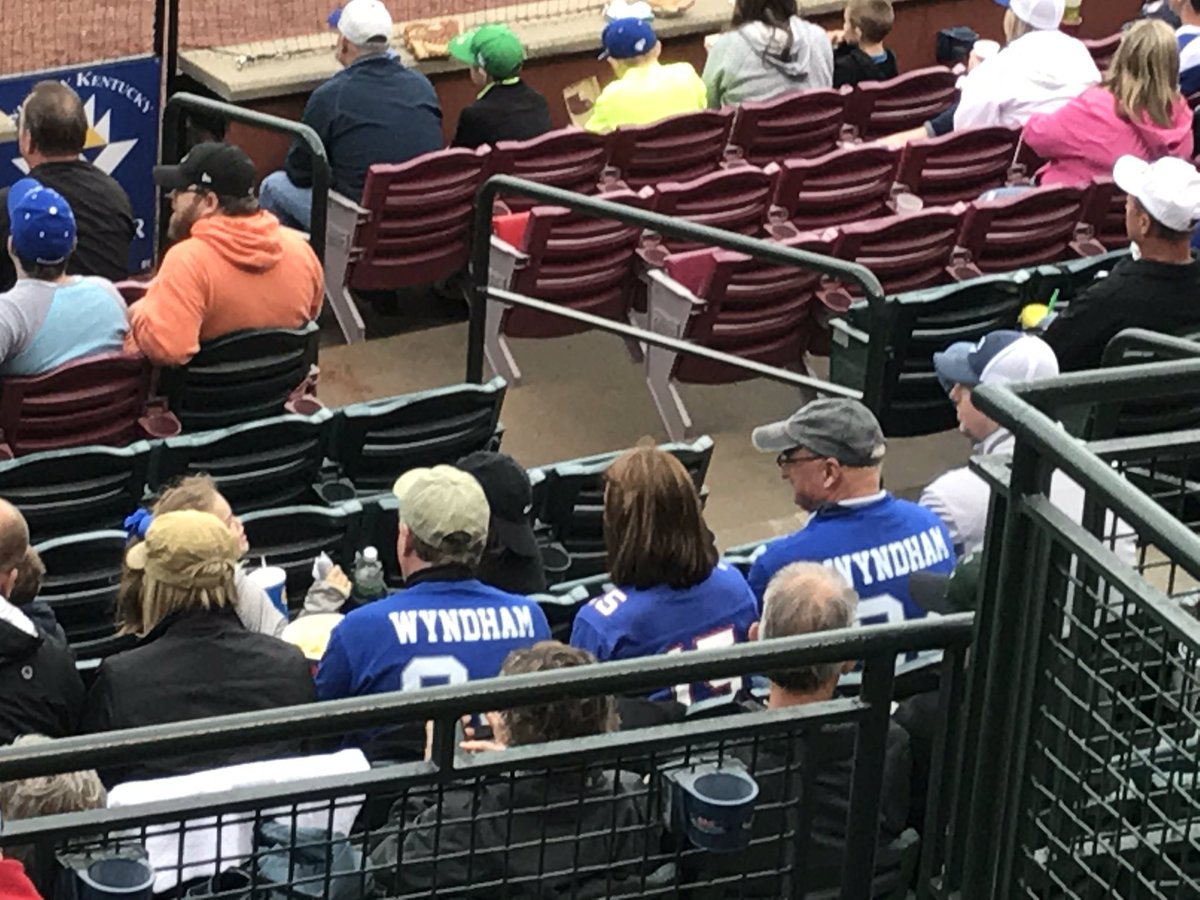 @GoBigBlueNation
[/caption] Tim Tebow is in town for his series against the Lexington Legends and there were some fans spotted in the crowd in Taylor Wyndham jerseys, which, I assume, is a reference to
Wyndham's blindside hit that sent Tebow to the hospital
. Too far?
5. It's KSR night at tonight's Legends game.
Come out and watch us throw the first pitch prior to Tebow's second game in Lexington. And if you find Ryan Lemond somewhere in the park during the game, ask him to buy you beer. Tell him I said he owes you one.
6. We now know UK's Big 12/SEC Challenge game.
Big Blue Nation, we're going to Morgantown. The 10-game Big 12/SEC Challenge schedule was released on Thursday and Kentucky finds itself traveling to West Virginia for its matchup. Kansas has been the opponent the past two years, but Kansas is already on the schedule in the Champions Classic, so another team had to get the honor of losing to John Calipari this season. That honor goes to Bob Huggins and his Mountaineers.
7. The starting five debate is fun.
There's a healthy discussion going on in the comments section of our
"Predicting The Roster: Who will start inside?"
post. Check it out and then chime in with the starting rotation you think Coach Cal will go with at the beginning of the season. I'm sticking with my Green/Diallo/Knox/Washington/Killeya-Jones lineup, but the possibilities are insane. Is it basketball season yet?
8. The Cats are No. 4 in NBC preseason rankings; No. 3 in FoxSports.com preseason rankings.
Many websites updated their way-too-early college basketball rankings after the NBA draft withdrawal deadline. See what NBC said about UK at No. 4
here
and how the teams stacked up for FoxSports.com
here
.
9. The Girl Scout cookie thief has been captured!
Remember the Girl Scout cookie thief we talked about on the show last week? Well she's been found and arrested.
According to LEX18
, the $26,000 worth of cookies have to be destroyed because they could be tainted. She faces up to 10 years in prison.
10. Today's show is coming to you live from Whitaker Bank Ballpark.
Come out and see us this morning! We're warming up for our first pitch by doing two hours of radio from the field. We'll be giving away tickets too, so get out there.