GAMEDAY: Short-handed Kentucky hits the road to take on top-ranked Alabama
David once defied all odds to slay Goliath. Hopefully Mark Stoops packed his sling shot for the Wildcats' road trip to Tuscaloosa to take on the top-ranked Alabama Crimson Tide. Kickoff is set for 4 pm ET on the SEC Network. Alabama is No. 1 again, but this year they've taken a different route to the peak of college football. Averaging 47.5 points per game, the Crimson Tide have the best scoring offense and passing offense in power five football. Mac Jones has turned into a Heisman Trophy candidate by completing more than 78% of his passes for a 210.32 passer rating, each ranking in the top three nationally. He creates big plays with the help of the most talented group of wide receivers in college football, led by Devonta Smith. A difficult challenge under normal circumstances, Kentucky is seeking its first win in Tuscaloosa with a depleted roster. We will not receive specifics from UK, but Friday night reports indicate that injuries and COVID-19 protocols have knocked out as many 16 Wildcats from this afternoon's game, including running back Chris Rodriguez and linebacker Jamin Davis. That's right, Kentucky is going to have to beat the best team in college football without their best offensive and defensive weapons. Kentucky's linebackers and tight ends have been hit particularly hard by COVID-19 and the accompanying protocols. The first significant COVID-19 blow to Kentucky's football program could not have come at a worse time. Or is it? Winning at Alabama was already going to be an improbable task. At least they now Stoops has a reason to play the second team for the entire second half. Today's game could get ugly.
Vegas, TV, Radio
The Wildcats are 32-point underdogs at Alabama, a place where the Wildcats have never won. The total is at 58, depending on where you place your wagers. Tom Hart, Jordan Rogers and Cole Cubelic will be on the call for the SEC Network beginning at 4 pm ET. If you can't watch all of the action, you can hear the Voice of the Wildcats, Tom Leach, on a variety of platforms.
AM: 840 WHAS, 630 WLAP
FM: 98.1 WBUL
Satellite: XM-190 and Sirius-137
Online: iHeart Radio
Get Ready with the KSR Pregame Show
Turn to 630 WLAP on your radio dial or stream online with
iHeart Radio
 beginning at 1 pm ET to hear Matt Jones, Ryan Lemond, Drew Franklin and Freddie Maggard break down the Cats and the Crimson Tide. Need to change it up? We have a complete podcast lineup available to make sure you're prepared for today's game.
Today's Uniforms
The game may get ugly, but the Cats will look pretty in this specular blue-white-blue combination. [caption id="attachment_316577" align="alignnone" width="2560"]
Todd Van Emst | AU Athletics
[/caption]
College Football on TV
This is a sentence I never thought I'd type: "The top-ten Indiana Hoosiers headline college football's Saturday slate."
Noon: #9 Indiana at #3 Ohio State on Fox
Noon: #4 Clemson at Florida State on ABC
Noon: #6 Florida at Vandy on ABC
Noon: App. State at #15 Coastal Carolina on ESPN
Noon: LSU at Arkansas on SECN
3:30: #10 Wisconsin at #19 Northwestern on ABC
3:30: #7 Cincinnati at UCF on ESPN
3:30: UCLA at #11 Oregon on ESPN2
7:00: Tennessee at #23 Auburn on ESPN
7:30:Miss. State at #13 Georgia on SECN
7:30: #14 Oklahoma State at #18 Oklahoma on ABC
8:00: Arizona at Washington on Fox
10:30: #20 USC at Arizona on ESPN
Big Blue Madness
The unusual COVID-19 edition of the event at Memorial Coliseum started later than usual thanks to an extended volleyball match between Georgia and Florida. Once the event got rolling, it was much of the same, with a twist. Instead of being introduced by the big-voice on the PA, the families of the women's basketball team introduced the players, while former Wildcats introduced the men. The best part of BBM was removed from the videos UK shared (why, I do not know) yet there's still
plenty to consume
the morning after if you could not stay up late for the event. https://www.youtube.com/watch?v=8zGlc4OTjW8
Isaiah Jackson isn't fair
A human should not be able to jump from the free throw line and windmill dunk. Jackson is a freak in all the right ways. https://twitter.com/SECNetwork/status/1329999116357824512?s=20 [caption id="" align="alignnone" width="600"]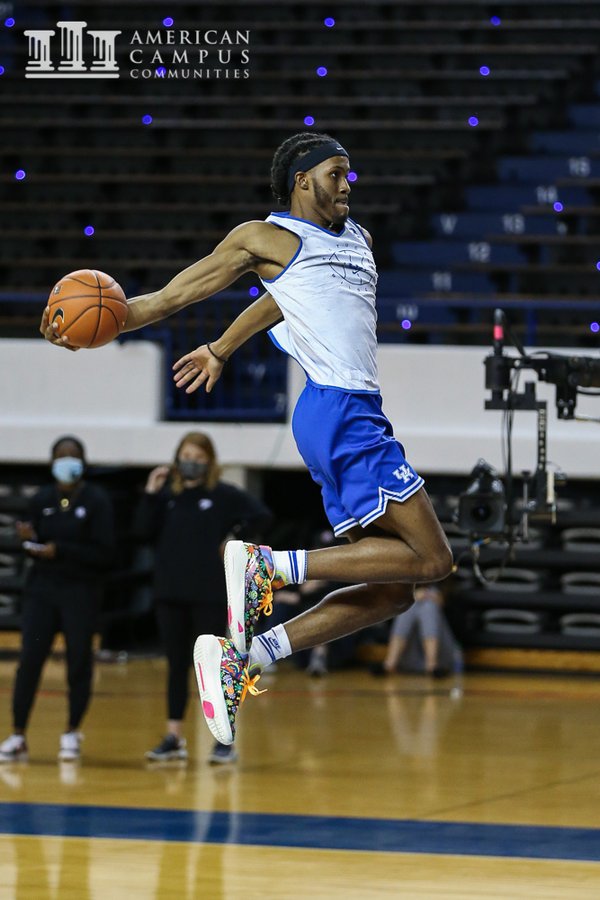 @KentuckyMBB
[/caption]
NBA Free Agency Frenzy
Players could officially ink new deals starting Friday night. De'Aaron Fox was one of the first to put pen to paper, agreeing to an enormous five-year year deal the Sacramento Kings that could be worth up to $195.6 million. Insane. Elsewhere around the league, Enes Kanter was traded from the Boston Celtics back to the Portland Trail Blazers. Patrick Patterson will run it back for one more year with the Clippers, while his former teammate, Louisville Cardinal and Sixth Man of the Year Montrezl Harrell, will now play for the other team in the Staples Center, sharing a backcourt with Anthony Davis on the Los Angeles Lakers.
High School Football Playoff Scores
Kroger's KSR Game of the Week turned into a blowout with a 49-13 Pikeville victory over Sayre, but not every first round playoff game ended so lopsided.
CAL 7, DeSales 3
Eminence 21, Frankfort 20
Dunbar 23, Tates Creek 20
Bryan Station 14, Madison Central 13
Owensboro Catholic 40, McLean County 22
Lloyd Memorial 20, Newport 13
Shelby Valley 29, Martin County 22
Knox Central 46, Wayne County 36
Franklin County 41, Shelby County 12
Pulaski County 33, North Laurel 12
Southwestern 42, Whitley County 15