Georgia is getting lift from undervalued recruits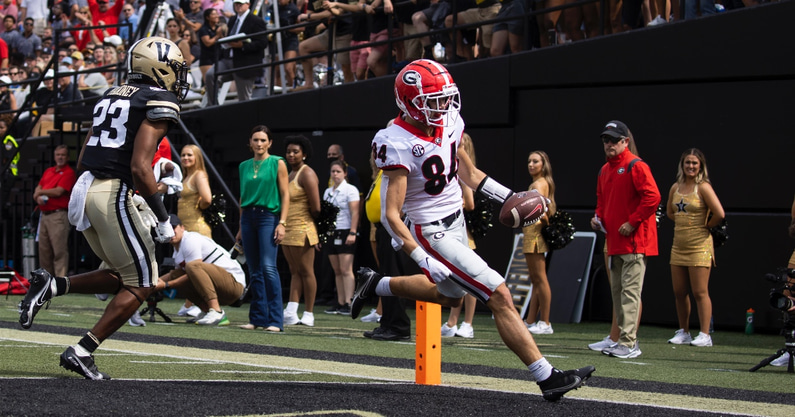 Kirby Smart has truly built a juggernaut football program at the University of Georgia. The Bulldogs consistently have one of the top rosters in college football.
Entering the 2021 season, UGA had 19 former five-star recruits on their roster with a blue-chip ratio of 80 percent trailing only Alabama. Just about every week, Kirby Smart will have the more talented team on the field.
The accumulation of talent combined with strong coaching and development has allowed the Bulldogs to go 50-9 since 2017 with a top-10 finish every year. UGA has pros on the field, but even the Bulldogs are not immune to attrition.
Thanks to a combination of factors — transfer portal, injuries, early draft entrants — the Bulldogs have found themselves very thin at a multitude of positions in 2021.
A low three-star recruit and a pair of former walk-ons are making some noise for the top-ranked Bulldogs.
Stetson Bennett
A walk-on to the Georgia football program out of Blackshear (Ga.) Pierce County High, Stetson Bennett entered the UGA program in 2017. After serving as the scout team quarterback, the 5-foot-11 gunslinger decided to move over to junior college since playing time and a scholarship opportunity did not seem to be available at Georgia.
After throwing for 16 touchdowns at Jones College in 2018, Kirby Smart offered Bennett a scholarship as the Bulldogs had a lack of depth at the position following Justin Fields transferring out of the program.
After backing up Jake Fromm in 2019, Bennett found himself battling D'Wan Mathis for the starting job in 2020 due to Wake Forest transfer Jamie Newman opting out and USC transfer JT Daniels recovering from an injury.
Bennett would replace Mathis in the first game of the season and would go on to start five games for the Bulldogs averaging 7.61 yards per attempt and throwing for eight touchdowns. However, he was replaced by Daniels in November and entered his redshirt senior year as the backup again.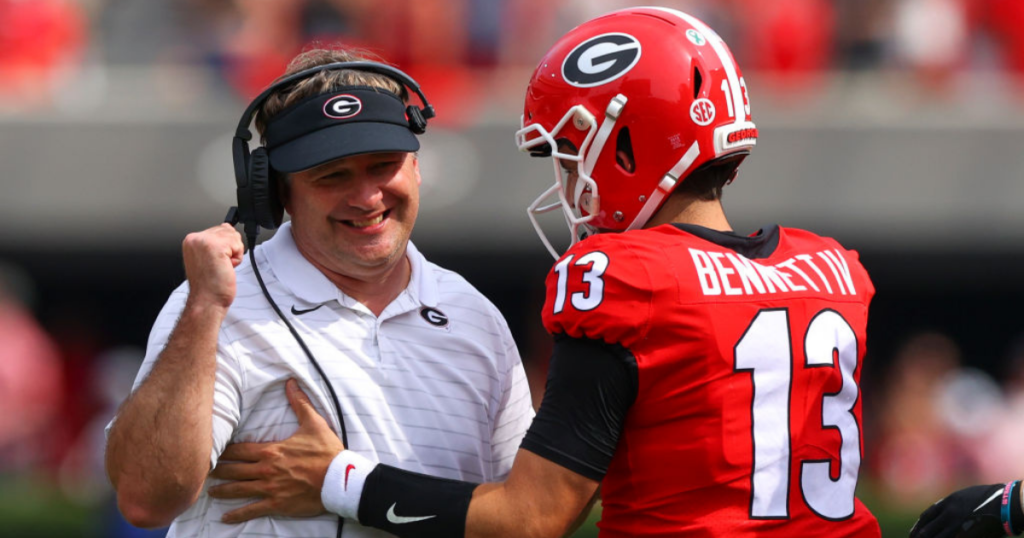 Another injury has opened the door for the resilient quarterback, and he'll likely be making his fourth start of the season against Kentucky. So far, Bennett is averaging 12 yards per attempt in 2021 and looks to be in total control of the offense.
The Bulldogs ask the veteran to manage the game and won't put a lot on his plate in the run-heavy attack, but Bennett is a huge part of UGA's success.
Ladd McConkey
Wide receiver was set to be a position of strength for the Georgia Bulldogs in 2021. That was until the injury bug hit.
George Pickens tore his ACL in spring practice. Both Kearis Jackson and Arian Smith are dealing with nagging injuries. Dominick Blaylock hasn't played in two years. Jermaine Burton and Marcus Rosemy-Jacksaint have been limited in practice over the last few weeks.
UGA has holes at receiver. Redshirt freshman Ladd McConkey has stepped in.
The lowest-ranked offensive player in a stacked class of 2020, McConkey has quickly made a positive impact in Todd Monken's offense.
The Chatsworth (Ga.) North Murray High product has started four games and has 16 receptions for 280 yards and two touchdowns. Against Auburn, McConkey reeled in a 60-yard touchdown on a deep post to blow the game open in the second half. He is essential to UGA's passing game.
McConkey is the top wide receiver target for Stetson Bennett, and UGA has shifted him from the slot to outside wide receiver as the second-year player is emerging as a playmaker.
Dan Jackson
The Georgia secondary was gutted following the 2020 season. The Bulldogs lost both starting cornerbacks and free safety to the NFL. Slot cornerback Tyrique Stevenson moved on to Miami, and Major Burns left for LSU. These losses created a huge void.
UGA entered the season having a thin depth chart situation in the secondary, and injuries have not helped. West Virginia transfer Tykee Smith has yet to play after suffering an injury in fall camp. Outside cornerback Ameer Speed will not play on Saturday due to an ankle injury. Against Auburn, starting strong safety Christopher Smith suffered a separated shoulder.
That is a lot of injuries for a thin unit. Therefore, the Bulldogs could be starting a walk-on at safety against Kentucky.
Redshirt sophomore Dan Jackson stepped in for Smith in the Auburn game and led the team with six tackles. The 190-pound defensive back blocked a punt for a touchdown against Arkansas. UGA will be asking him to play a lot of snaps in a huge game against Kentucky.
The Bulldogs have talent all over the place, but three undervalued players have carved out significant roles in 2021.