Go Big Moo's Tuesday Night News and Views
(Images via @MadelynStampley and @lvm_4)
Of all of the random things to happen in Lexington this week, I did not expect a steer getting loose on UK's campus to be one of them. This morning around 10 a.m., a large steer escaped the Agriculture school off Nicholasville Road and Cooper Drive, sending policemen, students, and bystanders on a wild cow chase for nearly two hours. The steer hunt took over Twitter and even closed parts of Cooper Drive until Adam Menker, star of the UK rodeo team, lassoed the steer. With the help of Bluegrass Stockyards, the steer was sedated and returned to the Ag College unharmed. Twitter gonna be Twitter, so at least two parody accounts for the steer were made, along with endless puns and hashtags. My favorite? #GoBigMoo UK steer, these news and views are for you.
John Calipari was named NABC Coach of the Year today
...Which (slightly) makes up for the US Basketball Writers Association snubbing him last week. This is the third time Cal has received the award from the National Association of Basketball Coaches, the first being in 1996 at UMass and second at Memphis in 2009. On Friday, Cal will find out of he wins AP Coach of the Year and his chances look pretty good considering the AP decided to hand out the awards during the Final Four team press conferences on Friday instead of holding a separate press conference on Thursday as originally scheduled. Cal is also one of four finalists for the Naismith Men's College Coach of the Year award, which will be announced on Sunday, and one of twelve finalists eligible to go in to the Naismith Memorial Basketball Hall of Fame in September. The Class of 2015 will be announced
on Monday
at a press conference in Indianapolis, prior to the national championship game. If Cal runs the table AND the Cats go 40-0, I fully expect him to walk into his postgame press conference like this on Monday:
Aaron says the team is going into the Final Four with a different mindset than last year
Aaron Harrison, Dakari Johnson, and Karl Towns all met with the media this afternoon before leaving for Indianapolis. This is Aaron and Dakari's second straight Final Four, and both said they're going into it with a different mindset than they had in Dallas last year. "I think last year we were just excited to be there," Aaron said." This year we're not going to be satisfied with just the feeling. We're just going up there to win." Dakari agreed. "Last year it wasn't expected. This year it's expected from us so you know we are going out there to win and last year it kind of just felt like we were happy to be there." Unfinished business.
Shannon Spake walked the team to class this morning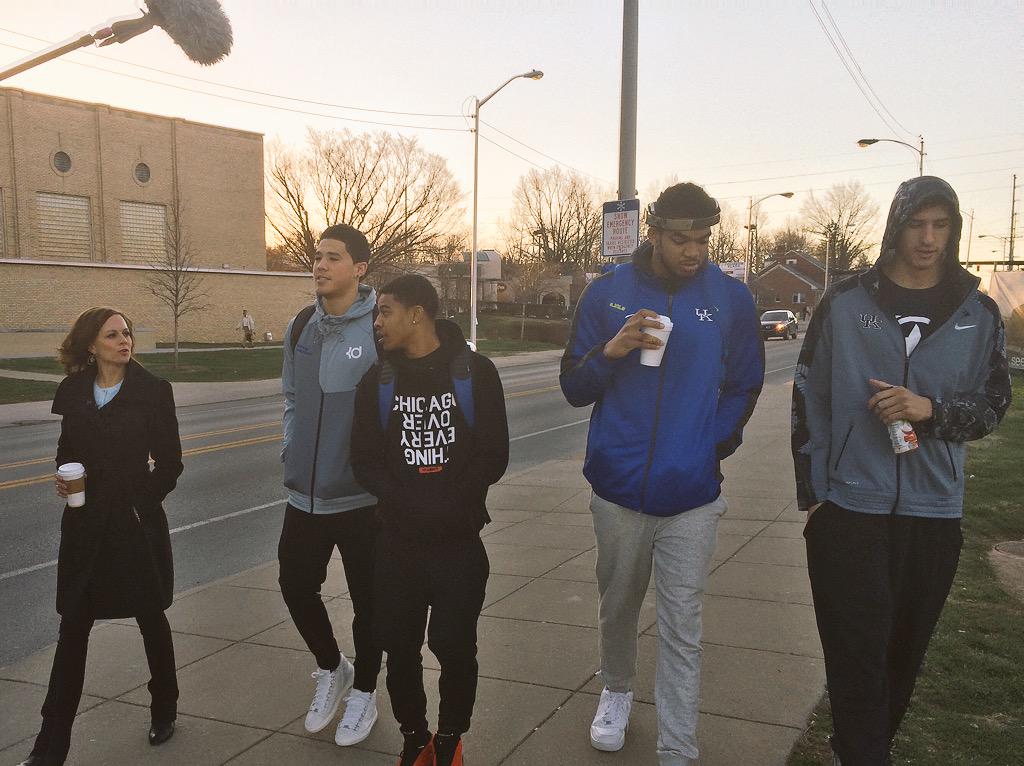 Tyler Ulis, Devin Booker, Karl Towns, and Derek Willis were nice enough to let Shannon Spake accompany them to their 8 a.m. class this morning for a segment on SportsCenter, becoming even more the envy of Drew Franklin. I haven't seen the segment, but when it comes online, I'll share it with you and then send it to Bobby Knight to prove that, even the Tuesday before the Final Four, these kids (including the potential #1 pick in the draft) do go to class.
Wisconsin is preparing for Willie Cauley-Stein with a 6'6" freshman
According to Sports Illustrated's Brian Hamilton, Frank Kaminsky says the Badgers are preparing Willie Cauley-Stein's length with 6'6" freshman Matt Ferris. "I think Matt Ferris will give us a great look at Willie Cauley-Stein," Kaminsky said.
Sure, if someone else is sitting on Ferris' shoulders.
Apparently Wisconsin also plays Super Smash Brothers on Nintendo 64
And talk about a weird coincidence. At today's presser, our ole buddy Jeff Goodman asked the Badgers about FIFA, and Nigel Hayes decided to talk about Super Smash Bros. instead:
"We care more about suckoffs than Smash battles. We're a Super Smash Bros. team, so FIFA has really taken a backseat to that. All we care about is our suckoffs."
Before you get all inappropriate on the Google machine, "suckoffs" is Super Smash Bros. lingo for sucking the opponent in with Kirby and falling off the edge with them. At first, I thought this was a shot at UK's famous habit for playing the game, but it turns out Wisconsin actually enjoys it too.
I mean, this calls for a Super Smash Brothers battle on Friday, right?
Dave Baker, Rex Chapman and Michael Eaves were chosen for UK's Team Stream
I'll be honest, I was pretty shocked when I saw that Rex will return to UK's homer coverage of Saturday night's game. He'll be joined by Buzz Baker and Michael Eaves, the main sports anchor for Al Jazeera America who went to college at UK and worked for WKYT in the mid to late 90's.
To hear the trio call the game, tune into TNT at 8:30 p.m. on Saturday night.
Will a certain part of a certain Lexington statue need painting this weekend?
https://youtu.be/Jf4VUsyHBZA Shoutout to Bucky Small Hooves for this bizarre video, which honors a certain pair of big cojones.
Doron Lamb suffered a season-ending wrist injury
Lamb was averaging 17.7 points per game with the Westchester Knicks, and recently set a franchise record for the most points scored in a single game with 40. Westchester will retain Doron's D-League rights for the next two seasons. Let's hope this doesn't also affect his Twitter game.
There will be quite a few potential first-round draft picks on the floor Saturday night
According to Chad Ford, at least seven, four from Kentucky and three from Wisconsin. We're used to Kentucky have a substantial advantage in talent over other teams, and while the margin is still great, Wisconsin has some legit players. Sam Dekker wanted to make that clear in Wisconsin's press conference today.
"We know Kentucky's got a lot of guys who will be first rounders who will be good," Dekker said. "So do we."
Tomorrow is April Fools' Day and I'm not biting
I think April Fools' Day is the dumbest holiday in existence, so you have my promise that I won't pull any dumb pranks on you on the website tomorrow; however, I'm sure the rest of the world will, so be on the lookout for fake articles about the Cats or John Calipari.