"Grandpa" Eddie Gran has made Kentucky Football a Staple in South Florida
Mark Stoops' unprecedented Kentucky football recruiting success started in Ohio with the help of Vince Marrow.  The Cats quickly achieved similar success in South Florida when Eddie Gran joined the coaching staff in 2016. Over the last two years Kentucky's offensive coordinator has signed 14 players from South Florida.  This year UK has already received four commitments from the area, including the Cats' future quarterback, Nik Scalzo.  Gran's incredible run at Kentucky did not happen overnight.
---
Almost two million people live in Broward County, Florida.  Miami-Dade's northern border is the 17th-most populous county in America and arguably the most-talented area for high school football in country. Broward County has been a second home for Gran since he began his coaching career in the early 90s.  In that time Gran has developed a reputation that is second to none among high school coaches. "In South Florida,
100 percent his name carries weight around here
. He's been recruiting down here for 30 some-odd years," said Matt DuBuc, the head coach of Cardinal Gibbons High School in Ft. Lauderdale. "Across the board, I've been doing this 17 years and
I haven't seen anybody as good as Eddie
. He knows the kids, he knows the coaches, he follows up. He just does a great job recruiting. Everybody's got a niche and I think his niche is talent evaluation and getting the kids he targets." Gran's name is well-known throughout the tight-knit, talented high school football community.  He developed that reputation by being a genuine recruiter.  It's difficult to describe, but when Nik Scalzo first met UK's offensive coordinator, something clicked. "The first time I met him I knew that's someone I wanted to play for," Scalzo said. [caption id="" align="alignnone" width="1200"]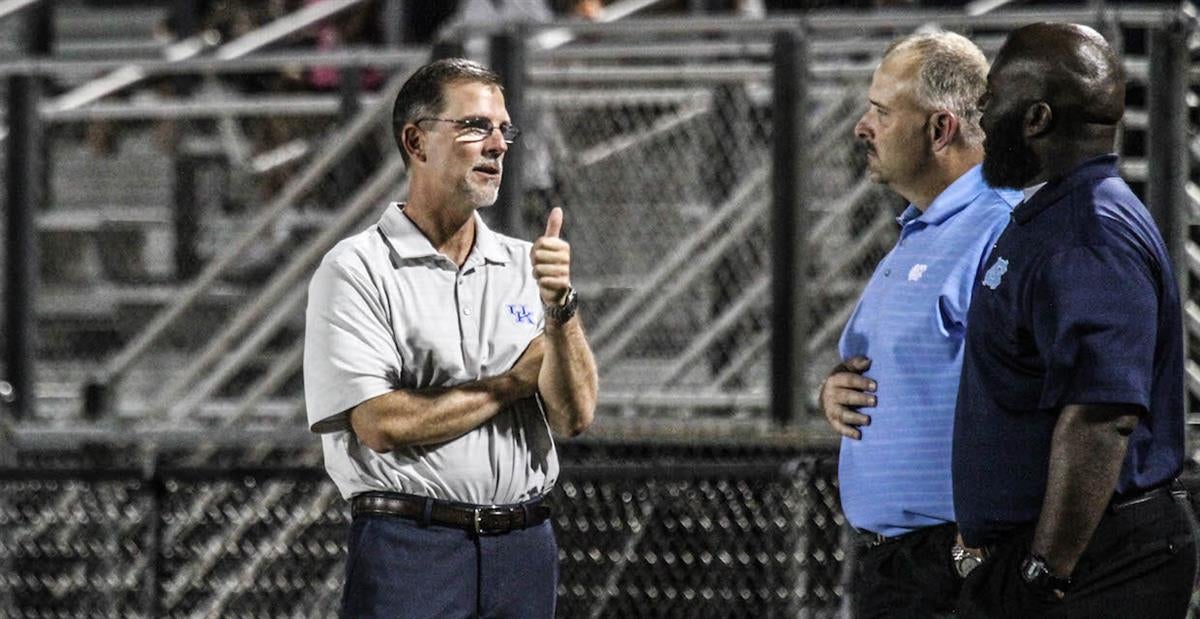 Gran on a high school sideline, via 247.
[/caption] Nik's father Jerry has seen Gran operate from a father's perspective and a coach's perspective.  A former Clemson wide receiver and current assistant at Cardinal Gibbons, Gran has always treated Jerry Scalzo the same.  His steady presence and demeanor inspired a nickname, "Grandpa Eddie." "
You can just count on him and it's not fake
," Jerry Scalzo said. "He's not the guy that's gonna come on campus just to schmooze the kids. He really invests in the kids." That investment does not end once a player commits. "Heck, I walked into Nik's room last night and they were on the phone together, just talking about what the week's going to be like. That's important to me. I wanted to make sure when he did go up there that he's with people who are going to be like family. It's an extension of me." Scalzo's sentiment is shared by the parents of most players.  While their sons are being recruited, they must be able to trust the coach is going to do whatever it takes to make sure their son is surrounded by those who want him to succeed. Joining the "family" has been a big part of UK's recruiting pitch across the country.  Gran's recruiting success has created a South Florida family within the team.  When the Scalzos visited campus last spring, they were surprised to see Nik's old youth basketball coach, Steve Fitzgerald, the father of UK defensive lineman Abule Abadi-Fitzgerald.  Fitzgerald's testimony sold the Scalzos on UK. "He said they visited like 20 schools. Going there (UK) and seeing how it was like a family and our how our faith lined up and how it's just an extension of their family -- it just put confirmation in my heart that we knew that we knew." UK recruiting coordinator Vince Marrow doesn't think Gran is the grandpa of the family, more like the wise father. "I can see it, but Eddie ain't that old," he laughed.   "
Kind of like how I am up north, I think Eddie has a good knack
.  People respect him.  He's been doing it for awhile and I think he comes off as a father-figure to a lot of them guys.  I think he's trustworthy.  They look at that and a lot of guys want to send their players to him." If the parents ever want to send their son home, despite the distance, they're never that far away.  Allegiant Airlines offers a $100 round trip flight from Ft. Lauderdale to Lexington that leaves Florida early Saturday morning and returns Sunday afternoon.
---
The reputation Gran has developed over the years in South Florida has given UK logo recognition.  Once restricted only for the Florida football powerhouses, now Kentucky is one of the big dogs. "It's really well-known down here, probably more than a lot of the other colleges that aren't so close like Miami, FSU and Florida," Nik Scalzo said.  "
It's definitely bigger down here than it probably is anywhere else, other than Lexington
." After beating Florida at The Swamp, Kentucky's logo has left an even more lasting impression in South Florida. "It's huge," Gran said last week.  "This just puts a feather in the cap, and you've got a chance to go down there and do more." [mobile_ad]