High school football player charged after exposing himself in team picture
On this morning's show, you may have heard Matt mention a story about
a high school football player in Arizona who's now in hot water after exposing his genitals in a team picture
. That picture appeared in not only the football team's game programs, but the yearbook, which was distributed to 3,400 students. Police finally were made aware of the photo on Saturday and contacted the player, 19-year-old Hunter Osborn, who confessed to the stupid prank and now faces 70 criminal charges. [caption id="" align="alignnone" width="197"]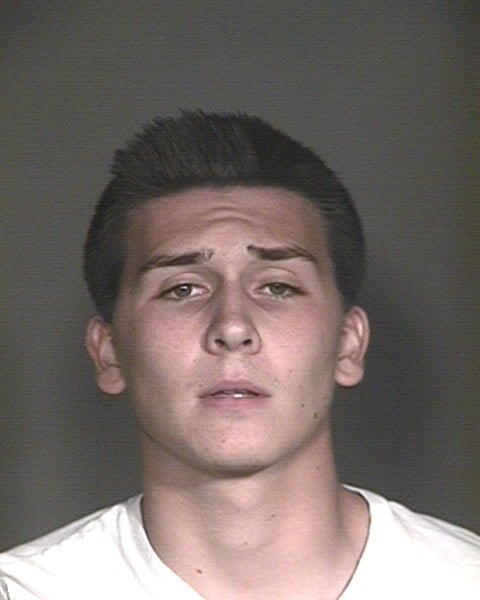 Osborn's mug shot (Mesa Police Department)[/caption] From CBS 5 in Arizona:
Osborn, who was 18 when the picture was taken, told investigators he was dared to reveal his privates by a football teammate and said he was "disgusted" with himself, according to court paperwork. Based on the photo and admission, Osborn was booked for 69 counts of indecent exposure -- a class 1 misdemeanor -- and one count of furnishing harmful items to minors -- a class 4 felony.
Yikes.
Osborn's friends have started a petition on Change.org to #FreeHunter
:
The problem isn't with just the photo but instead that it was published in the school yearbook and distributed. He was jailed on the night of his senior prom with 69 counts of indecent exposure, a class 1 misdemeanor, and a class 4 felony. He didn't put the picture in the yearbook, he didn't create the page, he wasn't the editor that approved it, or the teacher responsible for publishing it and distributing it to students. The teacher responsible for the yearbook should be fired. Red Mountain High School is using him as a scapegoat instead of taking any responsibility! Hunter needs to be held accountable for his actions but that doesn't mean ruining his life! #FreeHunter
I don't think a teacher should have to take the fall for a stupid prank, but 70 criminal charges does seem way too severe. Thoughts?
[CBS 5]