How Kentucky Might Adjust to Replace Octavious Oxendine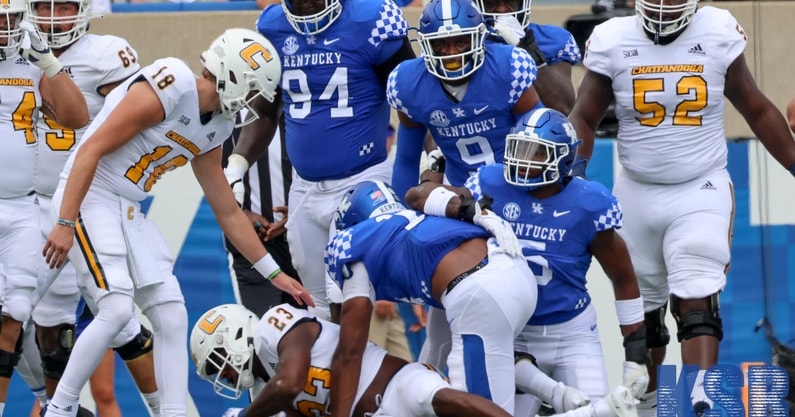 Kentucky received bad news following the 42-21 win over LSU. Redshirt freshman Octavious Oxendine played the best game of his career. Ox earned SEC Defensive Lineman of the Week honors minutes before Mark Stoops announced he would miss the rest of the season with a knee injury.
There's no simple fix for defensive line coach Anwar Stewart. Entering the season Kentucky D-line had only one hole. Ox rose to the occasion to fill the gap at defensive tackle. Now Kentucky must find answers elsewhere.
"I think they understand the urgency of the situation. You can't replicate the physicality and the intensity and the strength that they're about to see," said defensive coordinator Brad White.
"It was good for those guys, Kahlil (Saunders) got some (reps) in that Florida game. Tre (Rybka) has obviously played the entire season. He's had to go against LSU and Florida and Missouri, but this is a big, physical front. It's hard to replicate. We're lucky enough to go against our offensive line in spring and fall camp, so they get a taste of that. But even camp is nothing like game day, which is nothing like two top SEC teams battling for the top of their division. The intensity amps up even more. They're going to have to anchor in there and they're going to have to play big."
A New Guy or a True Freshman?
Redshirt senior Abule Abadi-Fitzgerald was the first to earn the starting spot at defensive tackle. Unfortunately, Abule struggled to take the next step, forcing Stewart to move true freshman Kahlil Saunders into the rotation against Florida.
"Kahlil got valuable game reps against a quality team. Let's just say that showed," Stoops laughed. "But I love him and he's going to be a good player."
Another option is Tre'vonn Rybka. He's shown versatility throughout the first half of the season. Primarily used to spell Josh Paschal as a defensive end, the lengthy athlete has also played nose guard in obvious passing situations. A more explosive option, the position formerly held by his best friend, Ox, requires more bulk to withstand the push of double teams.
"I think I'm good at that position, but I don't think I'm ready yet," Rybka admitted this week. "Personally speaking, I don't think I'm ready to play both sides. It's kind of hard mentally. I think I can do it sooner or later down the road, but right now I don't think I'm ready, because it's kind of all at once and I wasn't ready for it."
Big Personnel
If Rybka isn't ready and Saunders is playing like a true freshman, what does UK do? Their options are limited, but they can fortify the box. This year the Wildcats have primarily lined up in a 3-3-5 defense, allowing Davonte Robinson to get a substantial amount of reps as the nickel. As Adam Luckett suggested on 11 Personnel, Kentucky might have to abandon this look and let Jordan Wright and JJ Weaver play at the same time in a 3-4 alignment.
"We gotta bring our pads, because there's going to be a lot of thumping," White said. "I can promise you that."